We (Indians) always try to maintain a reasonably very high savings rate (the national saving rate is about 30 per cent of GDP). Even a daily wage laborer who earns say Rs 300 per day will try to save some money for the future. But are we investing these savings in the right and best Investment Options (financial products) is a billion dollar question.
Unfortunately, in India a major portion of these savings gets invested in unproductive assets like Gold or low-yielding bank fixed deposits or traditional life insurance policies.
Investments in Land (property) & gold together can easily make up around 70% of all household assets. Investments in property & gold are perceived as 'safe bets' in India. Its allure is amplified by the attraction of being safe conduits (avenues) to stash away black money as well as avoid taxes.
We seem to be entrapped in a low-level equilibrium. The distribution of savings among various asset classes is rarely seen with most of the households.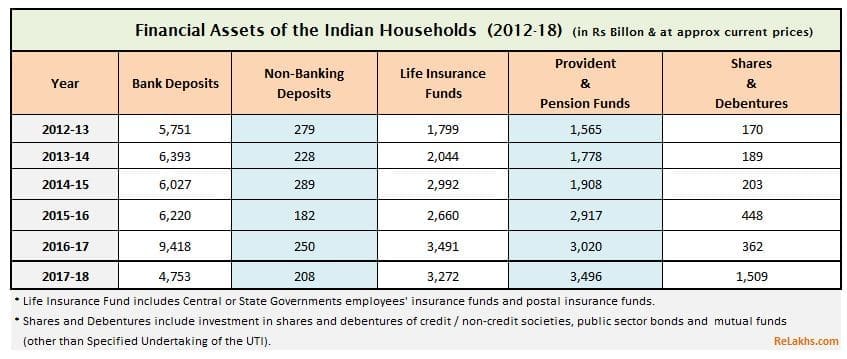 Problems of access to various investment options (financial instruments) and ignorance about the available investment avenues can be attributed as the main reasons for this in-equilibrium.
But things are changing for the better. The gap between financial savings and Physical assets is slowly shrinking, which is a very good sign. Financial inclusion is taking the centre stage. More no of bank accounts are being opened and operated.
The young population wants to invest in new-age financial products and not just in fixed deposits. The Assets Under Management (AUM) of mutual fund houses have been steadily increasing in the last 4 to 5 years.
In this post, let us list out the possible Investment options that are available in India. Let's discuss, what are the best possible investment options for short-term? What are the best investment Schemes for long-term goals? What are the best tax saving investment options?
List of Investment Options in India 2020-21

As discussed earlier, the major portion of Indian household savings are being invested in the below investment options;
Fixed deposits
Gold
Land & property
Chit Funds
So, do we really have only these investment options to invest our savings? Let's list out all the possible investment options that are available in India;
Post office Schemes

Monthly Income Scheme (MIS)

Senior Citizens Savings Scheme (SrCSS)

Term Deposits

Recurring Deposits

Public Provident Fund (PPF)

Kisan Vikas Patra (KVP)

National Savings Certificate (NSC)

Bank

Bank Fixed Deposits (FDs)

Recurring Deposits (RDs)

Public Provident Fund (PPF)

Sukanya Savings Deposit Scheme

PPF

Company Fixed Deposits

offered by NBFCs

Chit Funds

Mutual Funds

Stocks (Direct equities)

IPOs (Initial Public Offers)

Secondary Markets

Real estate

Gold, Silver & other valuable

Jewelry

Gold bars & Coins

Gold Exchange Traded Funds (ETFs)

Life Insurance

Unit Linked Insurance Plans

Pension Plans

Money-back Plans

Endowment Plans
How to shortlist or select best investment options for 2020 & beyond?
Before selecting any financial product, kindly set your Financial goal(s). Your goals should be realistic, measurable, clear and attainable. You can then shortlist the right investment options by considering the below factors; (Factors to consider before investing….)
Financial Product side factors:
The features, rules, guidelines, terms & conditions of a financial product (an investment option) should be simple, clear& easy to understand.
The expenses, fees, loads and investment charges should be reasonable.
It should be reasonably liquid & flexible.
It's great if it is a tax efficient investment option.
Investor side factors:
Your age & financial profile.
The time-frame (investment horizon) – Short, medium and long-term.
Your investment objective(s) & financial goal(s).
Your expected rate of return (Kindly give importance to real rate of return).
Type of investor : Do-It-Yourself or depend on intermediaries (agent/advisor)
Best Saving options to accumulate Emergency Fund 2020-21
Bank Fixed Deposits (preferably eFDs / online FDs)
Sweep-in Savings Bank Accounts (Auto-sweep accounts)
Liquid Debt Mutual Fund Schemes
Cash-in-hand 🙂
Best Investment or Saving Options for short-term in 2020-21

Short-term Debt Mutual Fund Schemes
Bank Fixed Deposits
Recurring Deposits
Best Investment options for Long-term Goals 2020 & beyond

Shares (direct Equity)
Equity oriented Mutual Funds
Public Provident Fund
Real-Estate investments
Best Investment options for Medium-term Goals in 2020-21

Secured Non-Convertible Debentures – Cumulative option
Mutual Fund MIPs – Growth options
Best Investment options to get periodic fixed income from 2020 & beyond

Post Office Monthly Income Scheme (Maximum investment limit is INR 4.5 lakhs in single account and INR 9 lakhs in joint account)
Post Office Senior Citizens Savings Scheme (if you are above 60 years. Maximum investment limit is Rs 15 Lakh. Interest amount paid quarterly.)
Bank or Post office Fixed Deposits.
Debt Mutual Funds – Dividend option
Monthly Income Plans (MIPs) of Mutual Fund Schemes – Dividend option (beneficial if you are in 30% tax slab)
Rental income from Real estate property investments
Secured Non-Convertible Debentures (NCD – Payment option) (debentures can be best suited for low tax bracket individuals)
Best tax saving Investment options for long-term 2020-21
Our culture and tradition encourages us to save more. We generally tend to save more for goals such as Kid's education or a home purchase and less for retirement, may be because we are more likely to expect our retirement years to be financed by income of other family members (children).
We are also extremely risk averse and generally place greater importance on safety than rate of return on investments. I do not believe in classifying investors as conservative, moderate & aggressive. If you would like to accumulate sufficient corpus for a long-term goal, you may have to take calculated risk and invest in right financial product(s) which can beat inflation & give better tax-adjusted returns. If your investment horizon is short, kindly give high priority to safety & liquidity and do not chase returns aggressively.
Your investment portfolio should have a fair mix of both conservative as well as aggressive investment options. Kindly try to maintain an ideal asset allocation.
If you would like to know more information or discuss about any of the above investment option(s), kindly leave a comment. Cheers!
Kindly read my latest article : Features & Snapshot of 22 most popular Investment Options in India, all in one place!
Continue reading :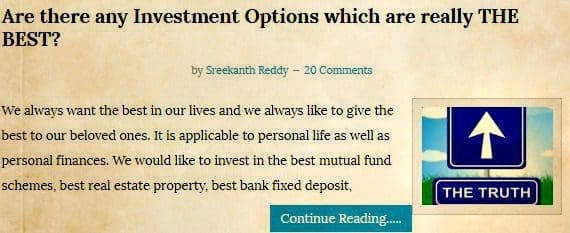 (Image courtesy of fantasista at FreeDigitalPhotos.net)