If you have followed Budget 2016 proposals, one of the major news-making item (especially for the salaried persons) was about providing an one-time portability option from EPF (Employees Provident Fund) to NPS (National Pension System).
Till date, there has been no major announcement on this proposal. But here comes the latest news on 'transfer of EPF to NPS'.
If you have been contributing to EPF or Superannuation Account, you now have the option of transferring your PF or Superannuation funds to NPS. Kindly note that this is allowed only one-time.
The Pension Fund Regulatory and Development Authority (PFRDA) has issued broad guidelines for giving effect to transfer of PF amount to NPS Scheme.
Transfer of EPF or Superannuation funds to NPS : Latest guidelines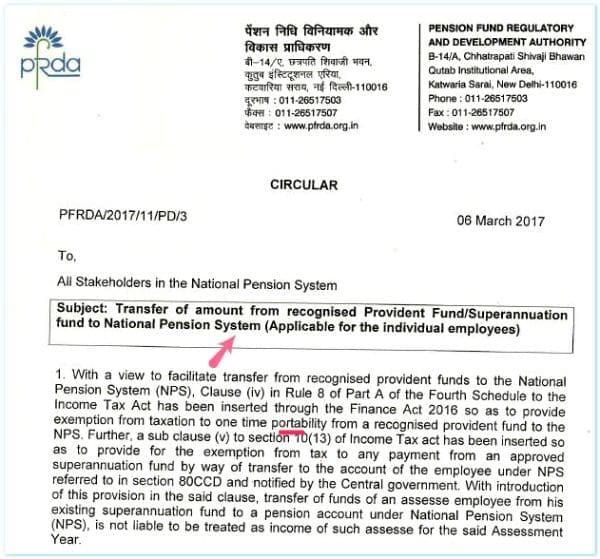 In case you are interested in transferring your EPF account balance to NPS, below are the guidelines;
To transfer funds from PF to NPS, it is mandatory to have NPS Tier 1 account. The subscriber can open NPS account through his/her employer, Points-of-Presence (i.e, banks or any entities registered as PoPs with PFRDA) or through

eNPS portal

.
The member of Recognized EPF or Superannuation Fund trust has to submit the transfer request through his/her employer.
Based on your (EPF member / employee), the EPF / Superannuation trust may initiate the transfer of balance from EPF to NPS.
Recognized PF / Superannuation fund trust may issue the cheque effecting the transfer.
Transfer of EPF to NPS by a Govt employee ;

The employee should request the PF/Superannuation fund to issue a letter to his present employer mentioning that the amount is being transferred from the fund to be credited to the NPS Tier-1 account of the employee.
The present employer or Point of presence (POP) i.e., the nodal office while uploading the fund has to mention the transfer from PF/superannuation fund in the remarks column while uploading.

Transfer of EPF to NPS by a Private sector employee ;

In case of private sector employees, the employees should request the recognized PF/superannuation fund to issue a letter to the present employer/PoP as the case may be mentioning that amount is being transferred from the PF/Superannuation fund to be credit in the NPS account of the employee/individual Tier-I account.
The POP will get the amount collected and the same has to be uploaded in the NPS account of the subscriber
Transfer of funds from EPF to NPS & Income Tax implications
PFRDA in its circular has clearly mentioned that as per the provisions in the Income Tax Act, the amount transferred from Recognised PF / superannuation fund to NPS will not be treated as Income of the current financial year and is hence not taxable.
It has also been pointed out that the employee can not make income tax claim on the transferred amount under section 80CCD.
My opinion
Personally, I believe that NPS with its current product structure, may not be a great investment avenue. If your employer offers only NPS, then you do not have choice but to contribute to NPS.
In case, you are currently contributing to EPF, should you switch to NPS? If you have the option to pick EPF or NPS, which one is better?
My pick would be EPF. Why? Kindly read this article @ 'Why NPS is not a great investment option?'
Given a choice, I will consider EPF as part of Debt allocation and would prefer investing in Equity oriented Mutual funds for my Retirement goal.
(This article is based on limited available information, the above details can be modified or updated soon) (Image courtesy of Mister GC at FreeDigitalPhotos.net) (Source & Reference : PFRDA Circular) (Post first published on : 07-March-2017)