My article on 'The 6 most common Personal Finance Mistakes' have become very popular among my blog readers. After reading this article, one of my blog readers has suggested me to publish an article on the 'personal financial mistakes that I have committed '.
In this post, I have shared about my personal financial mistakes and some of the investment or personal finance lessons that I have learnt over the past 10 years.
I got my first job in 2003. As soon as I completed my MBA, I got selected in a campus placement. It was with one of the top Job Portals in India.
In 2004, I had joined Infosys BPO. The salary which I used to get was sufficient to meet my monthly living expenses. So, no major savings or investments were done during this period.
Later in 2005, I had joined an US Mortgage Processing company in Bangalore with a good hike in my salary. This had resulted in good amount of monthly savings. Like any other employee, I too started worrying about my TDS (tax deducted at source).
I had started thinking – how to save taxes? Where to invest my savings? Which are best investment options? How to make quick bucks by investing my monthly savings? 🙂
In the same year (2005), I got married and my wife too was employed in the IT field. So, double income, more savings, more thoughts about investment planning..
I believe that I have committed most of my Personal Finance mistakes between 2005 to 2007 and took corrective action during 2008 to 2010. Below are the details;
Related latest article : "A comprehensive list of the most common MONEY mistakes!"
My Personal Financial Mistakes
Mixing Insurance & Investment
I believe that this is the most and very common personal finance mistake that many of us commit. I invested in an ULIP (Unit Linked Plan) in 2005 for two reasons – i) to claim life insurance premium as tax deduction under section 80c & ii) one of my good friends was a Life insurance agent and wanted to help him achieve his business target 🙂
The ULIPs which were issued before Sep 2010 had very high cost structure. The charges (such as premium allocation, policy administration in ULIPs) are usually front-loaded, which means only a smaller proportion of my premiums were invested in the initial years. So, I was very disappointed looking at the returns generated by my ULIP. Finally, I had surrendered this policy in 2010.
I had also bought one Traditional Life insurance policy (Endowment plan) in my name in 2006. The reasons for buying this plan are same as with the case of ULIP. In 2010, I had realized that all I need is one Term insurance plan and there is no requirement to have high cost – low yielding Endowment plan. I had surrendered this policy in 2010.
(Read : Traditional Life Insurance Plan – a terrible Investment option?)
Short Term Trading & Intra-day trading
My first investment in stock markets was in Ashok Leyland scrip in 2004. I remained invested in this stock for just 3 days only. I would have monitored the price of this stock for atleast 100 times over those 3 days 🙂 . My aim was to get atleast 5% returns on this investment. I had lost patience and sold it for loss on the fourth day.
I lost huge amount of money by doing day-trading also. I have lost money trying to make a quick buck. I used to trade in stocks purely based on tips and recommendations given by the analysts. All this happened during 2004 to 2007. I played short-term investing game without knowing the rules of the game.
I had incurred a total loss of Rs 3,08,129 because of Intra-day trading (during 2005-2007 period).

Invested in lot of Mutual Fund NFOs (New Fund Offers)
I used to buy and sell Mutual fund units very frequently during 2005 to 2008. I had invested in way too many Mutual fund schemes (in total 15 MF Schemes) without any proper research. Also, I had invested in many New Fund offers (NFOs) when I had an option to invest in well performing funds with good long track record.
During 2009-10, I started tagging my financial goals with the investments and redeemed all the unwanted mutual fund investments.
In 2009, I had requested for a consolidated mutual fund account statement from my distributor to understand and quantify the loss that I had incurred. Yesterday, I had spent almost one hour to trace this statement and finally succeeded in finding it. Below are some of the screenshots of my NFO MF investments in 2005-2006.



Not claimed the speculative losses in Income Tax Returns
As shown in one of the above pics, I had incurred huge losses because of intra-day trading. This is categorized as speculative loss. The loss from speculative business can be set off against profit from another speculative business income. Also, un-absorbed speculation business loss can be carried forward for a period of 4 years. I had not set off my speculative losses against speculative profits (had a chance in one of the FYs).
Lent money to a Friend
A friend in need is a friend indeed. We generally approach our friends or close family members when we are in need of any financial help.
In 2005, one of my office colleagues (my immediate boss) had requested me to lend him money. He had told me that his mother was seriously ill (kidney related disease) and borrowed Rs 85,000 from me (I later came to know that it was a lie).
All I could get back is Rs 12,000 only. I tried all possible ways to get back my money but all proved to be in-vain.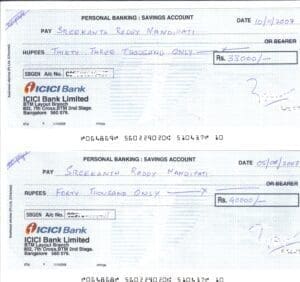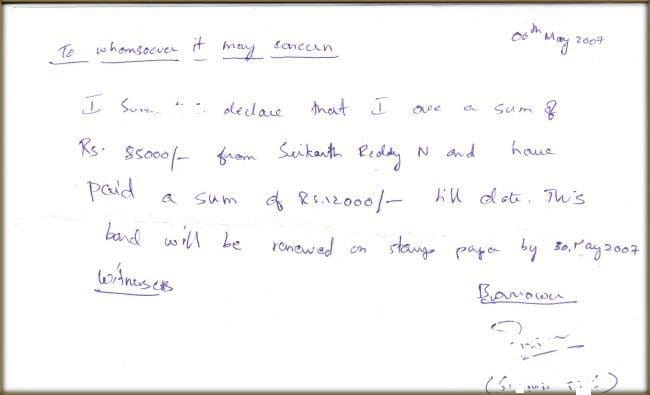 Below are his hand-written agreement (got it in 2007) on plain paper and post-dated cheques (which I couldn't en-cash).
I might have lost money doing share-trading but this mistake of mine has hurt me the most till date. He is now working for an Indian IT Company as a Senior level manager.
You can find similar cases like mine in the comments section of my article 'What is Promissory Note?'.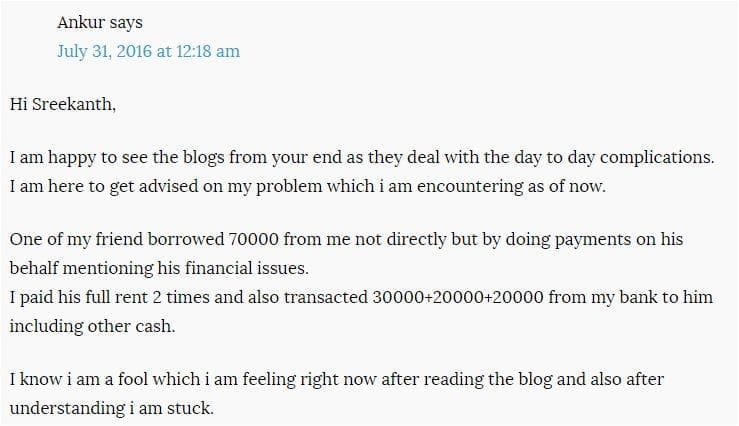 As Shakespeare wrote, "For loan oft loses both itself and friend." If you lend money to a friend or family member, beware that you may not get your money back and your relationship may never go back to normal. So, you lose both friendship and money. Think twice before lending money to a friend. Sometimes its better not to lend money to a friend keeping their best interests in mind.
Below are some of the Investment or personal finance lessons that I have learnt over the last few years;
Most of the Personal Finance or investment lessons can be learnt only by experience. Once you learn, try your best not to repeat the same mistakes again. Write down the mistakes that you have committed and don't repeat them.
Don't start your investment planning by identifying a product first. Instead, create your investment plan by identifying your financial goals first and then shortlist the investment options that are suitable to you. (Read : '

How to create a solid investment plan?

' & '

List of best Investment options

')
Learn to say a firm NO to unwanted financial products even if they are being sold by your near and dear ones.
Try not to take or not to give money to friends/relatives. If you do not want to lend money, gently refuse the loan and identify the best alternate to help your friend or loved ones.
Don't gamble with investments. Avoid short term trading and/or Intra-day trading in Stock markets. (Read : '

10 reasons to avoid Short-term Trading in Stock Markets

')
We invest in a Time Deposit (Fixed Deposit) and wait for 365 days to get 8% returns. So, lets' implement the same strategy with respect to stock market investments (if any). Invest for long-term.
Understand the power of compounding. (Read : '

What is Time Value of Money?

')
Invest as early as possible, as much as possible and as frequently as possible in suitable investment avenues.
It is prudent to invest in investment options that you can understand.
The day when you feel happy and excited to invest more in stock markets for your long-term goals, that day you can consider yourself as a balanced and matured investor 🙂
Sometimes, booking losses or surrendering unwanted life insurance policies can be beneficial. It's ok to make mistakes but don't wait unnecessarily and compound your mistakes.
Following tips blindly and having heard mentality is very dangerous to your financial life.
Know what is 'conflict of interest' when buying financial products from banks / advisers / agents / distributors.
Keep your investment plan as simple as possible.
Tag your financial goals with your investments.
Kindly understand what is diversification. Over diversification or under diversification, both may not be beneficial.
Have realistic expectations from your investments.
Live within your means.
Don't take financial advice from too many people.
Take professional help to prepare and file income tax return.
Generally most of us tend to make investments based on the tax treatment or the tax benefits available at the investment stage only. However, we need to be aware of the taxation rules applicable in all the three stages i.e., investment, accumulation and withdrawal. (Read : 'Tax treatment of various Financial Investments')
Did you make any personal finance mistake(s)? What are the Investment lessons that you have learnt in your financial life? Kindly share your views. Cheers!
(Image courtesy of Sira Anamwong at FreeDigitalPhotos.net) (Post published on : 12-Aug-2016)