Are you a salaried Employee? Do you contribute a portion of your monthly salary towards Employees' Provident Fund (EPF)? Are you aware that your employer also contributes a matching amount towards your EPF account? Do you know about the various components of your employer's PF contribution? Are you aware of 'how interest is calculated on your monthly subscriptions to Provident Fund?
I was in need of the EPF statement to resolve all the above queries and answer them in a simple and easy to understand manner. Since I am a self employed individual, I can't contribute to Employees provident Fund and do not have online access to EPF UAN (Universal Account Number) member portal. (You can view or download your EPF statement online @ EPFO's UAN Member Portal)
Many thanks to one of my good friends for sharing his latest employees' provident fund statement and that has helped me in preparing this post. Before analyzing the EPF statement and how EPF's interest is calculated, let us first understand the various components of EPF.
---
Latest Update (Budget 2021) : Interest on EPF Contributions above Rs 2.5 lakh is Taxable | Budget 2021
---
What are the Components of my Employees Provident Fund (EPF account)?
If you take out your monthly pay-slip and check, you can understand that every month 12% of your "salary" is contributed towards EPF account. Your total monthly contribution is routed towards Employees' Provident Fund.
Your employer also contributes 12% of the salary to your EPF a/c. But your employer's monthly contribution is routed towards various components of PF.
Out of this 12% of your employer's monthly contribution, 8.33% goes towards EPS (Employees Pension Scheme) and only 3.67% is invested in Employees' Provident Fund (EPF). So, you contribute 12% of your basic salary and your employer contributes 3.6% of your basic salary towards EPF deposits.
What are the new amendments made to EPF & EPS schemes?
Below are the amendments/changes made to EPFO's EPS scheme in August 2014. (EPFO is Employees' Provident Fund Organisation)
EPF a/c is mandatory if your salary is less than Rs 15,000 pm. Previously this amount was limited to Rs 6,500 pm. (The definition of SALARY for EPF calculation is : Salary = Basic + Dearness Allowance)

Latest Update

(01-Mar-2019)

: As per the Supreme Court judgement, employers cannot segregate 'special allowance' from basic wages for purpose of PF deductions.
Cash allowances (dearness allowances) including but not limited to travel allowance, canteen allowance, special allowance, management allowance, conveyance allowance, education allowance, medical allowance, special holidays, night shift incentives and city compensatory allowances to employees are part of 'basic wages' for calculation of Provident Fund contributions.

As mentioned above, you contribute certain portion of your monthly salary towards EPS (Pension). You receive the pension amount from this Employees' Pension Scheme. The minimum pension to a pension holder is now decided as Rs 1,000 pm.
The EPF's account holder can nominate any family member as a nominee. On any unfortunate event (on death), the family member of the EPF subscriber will receive Rs 3 Lakh as insurance coverage. Previously this was around Rs 1.56 Lakh only. (Do not forget to inform your nominee about this provision).
The minimum contribution used to be 12% of Rs 6,500 in most of the employees' cases, now this is 12% of Rs 15,000 pm.

So, you may now be depositing Rs 1,800 towards EPF. Whereas, you employer may now be contributing Rs 550 pm and Rs 1,250 pm towards EPF and EPS (pension) respectively.
Kindly note that the above figures are for minimum contributions. Check your pay-slip or EPF statement to know about your employer's and your contribution percentages.
Understanding the components/sections in EPF online Statement:
Above is the latest EPF online statement (Sep 2012 to Dec 2014) that I have received from my friend. Let us understand the different sections available in EPF statement.
The first column (PARTICULARS) gives you the particulars of month-wise contributions, interest updated date and about the executed PF transfers/withdrawals (if any)
The second column has two sections which gives you information about your employer's and your share towards EPF deposit.
PF Withdrawals are listed under third column.
Your Employer's contributions towards your EPS (pension) is provided here.
With reference to the above EPF statement, you can observe that Rs 780 and Rs 239 (12% of Rs 6500 pm) used to be employer's and Employee's contributions towards EPF account. These are now (after September 2014) changed to Rs Rs 1,800 and Rs 550 pm respectively.
Employer's contribution towards EPS account used to be Rs 541 pm and now it is Rs 1,250 (from October 2014 onwards). (Suggest you to check your statements too and understand more about the EPF and EPS contributions).
You can observe that my friends has changed the company and had claimed EPF transfer online. The online EPF transfer details are also available in EPF statement.
You can also observe that there are transactions towards "Interest updated" in the statement as on 31st March of every year. These are the interest payouts on the total monthly contributions. There won't be any interest payout towards EPS contributions.
How is interest on EPF account is calculated?
Before explaining to you about the calculation of interest on EPF deposits, let us understand few relevant points regarding the interest calculation.
The rate of interest is notified by the central government periodically (every fiscal year). The rate of interest on EPF deposits for last three fiscal years are : EPF interest rate in 2012-13 was 8.5%, in 2013-14 it was 8.75% and for this fiscal year (2014-15) too it is 8.75%.
Interest Amount is calculated on the average monthly balance. EPF subscribers are eligible to get interest amount on their contributions and employer's PF deposits.
The interest amount is calculated monthly but the total interest amount is credited once a year only. The credit payout generally happens at the end of March.
The accounting year followed by EPFO office is from March to February.
Let us now understand how the interest is calculated on EPF deposits. Let us consider the same EPF statement as the one given above. My friend had joined in his first job in a Private Limited company in September 2012. His company contributes 8.33% of his Basic salary as "EPF deposit" (Rs 239 pm) every month and 3.67% towards the EPS scheme (Rs 541 pm). (The 12% is subject to minimum of Rs 6,500 in 2012-13). His contribution was 12% of Rs 6,500 which was Rs 780 pm.
Let me put all these figures in MS excel and calculate the total interest earned on EPF deposits from September 2012 to end of March 2013.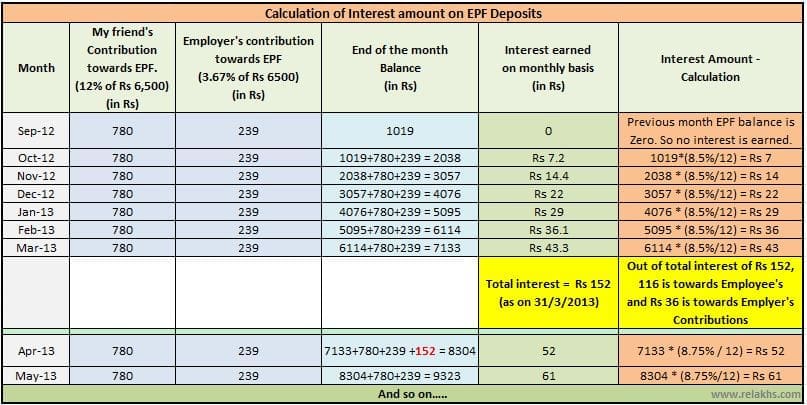 Let me now explain about the calculation part. In the month of September 2012 the interest amount was zero because the available EPF balance was zero in the month of August 2012.
In Oct 2012, Rs 7.2 was the interest earned for September's monthly contribution. We need to consider September month end balance (Rs 1019) and EPF applicable interest rate ( it is 8.5% in 2012-2014) divided by 12 months (we are calculating monthly interest amount). We need to repeat these calculations till March 2013. The total accumulated interest was Rs 152 and was credited on 31/Mar/2013 (as shown in EPF statement).
The total interest amount of Rs 152 was added to April month's balance, along with the monthly deposits. Even after the recent amendments to minimum contribution amount, the interest calculation procedure has not changed.
So, suggest you to try these calculations based on your monthly Provident Fund deposits and understand how is interest calculated on your Provident Fund Account. (Leave your query if you need any assistance).
---
Latest news (March 2021) : EPF interest rate for 2020-21. The Central Board recommends 8.50 % rate of interest to its subscribers for the year 2020-21. EPFO notifies 8.5% as interest Rate on EPF for the year 2020-21.
The previous FYs EPF interest rates are as below;
FY 2019-20 : 8.50%
FY 2018-19 : 8.65%
FY 2017-18 : 8.55%
FY 2016-17 : 8.65%
FY 2015-16 : 8.80%
FY 2014-15 : 8.75%
FY 2013-14 : 8.75%
FY 2012-13 : 8.50%
---
Income Tax Saving Benefits on EPF contributions:
Only your (employee's) contributions towards EPF account are eligible for Income tax deduction under Section 80 C of Income Tax Act. If you have contributed for 5 years in EPF then there is no tax deduction but for less than 5 years TDS (Tax Deduction at Source) is deducted for EPF amount withdrawals. Did you like reading this article? Did you find it informative? Do share this post with your friends. If you have any queries on EPF interest calculations, kindly leave your comment. Cheers!
Continue reading
:
(Image courtesy of adamr at FreeDigitalPhotos.net)