EPF is a popular savings scheme that has been introduced by the EPFO under the supervision of the Government of India. All Organizations with 20 or more employees are required by law to register for the EPF scheme, while those with fewer than 20 employees can also register voluntarily.
The total assets under management by the EPFO are more than Rs 11 lakh crore (US$157.8 billion) as of 2018-19. The number of active PF members under Employees' Provident Fund Organisation (EPFO) are around 4,50,60,972.
When an employee quits an Organization, he/she can Withdraw the accumulated EPF amount (or) Transfer the EPF a/c balance to the latest (new) EPF account.
But, an interesting fact is – "A sum of Rs 27,000 crore is lying as 'unclaimed amount' in the EPF accounts". That's a huge amount!
The reasons for not claiming EPF Scheme benefits can be due to ignorance/ negligence on part of the EPF members, procedural delays by the EPFO or 'no-claim' made by the nominees/legal-heirs after the death of the subscribers.
In this article, let us understand – Why is it important to transfer or withdraw old EPF Account Balance? Whether interest is payable on your in-operative EPF account? How long can you hold your funds in EPF account without withdrawing them? What happens to your EPF amount if you do not claim it? Is it true that such unclaimed EPF monies get transferred to Senior Citizen Welfare Fund…?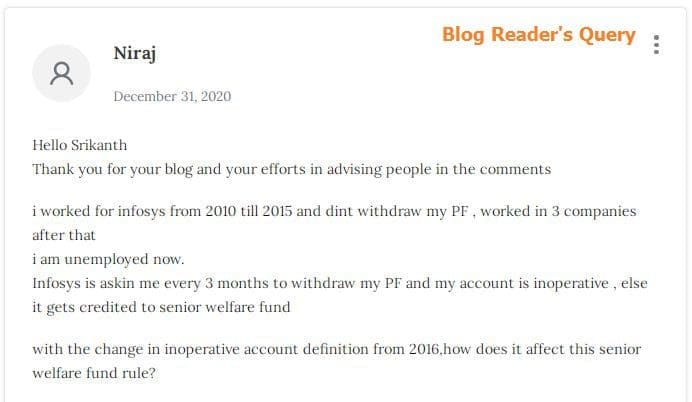 Why should you Transfer or Withdraw Old EPF Account Balance?
If you have forgotten or ignored claiming your old EPF Account balance then its advisable to either get the funds from your dormant EPF account transferred to your latest EPF account (if currently employed and contributing to the EPF scheme) OR withdraw the accumulated PF balance.
Kindly note that failing to withdraw your EPF amount if you are no longer contributing to it can lead to serious consequences. Let's understand..
1 – Any interest income accrued on EPF post retirement / resignation is taxable in your hands.
The ITAT (Income-Tax Appellate Tribunal) in one of its recent orders has clarified that the EPF interest income is taxable, if PF member is not employed. 'Any interest income accrued on EPF post retirement / resignation is taxable in your hands.'
If you resign / retire / get terminated from your job, but do not withdraw your EPF immediately then interest income earned on your EPF balance is taxable during this non-contributory period. The interest income earned during your employment remains tax-exempted though.
For example : Let's say you have joined a company and started contributing to EPF Scheme at the age of 25 years. After remaining employed till the age of 40 years, you decide to quit and start your own business venture. However, you decide not to withdraw your EPF immediately (as EPFO pays interest income even if one does not contribute to EPF). At the age of 55, you decide to withdraw EPF. In this scenario, what are the tax implications on the accumulated EPF interest income and withdrawal of PF balance?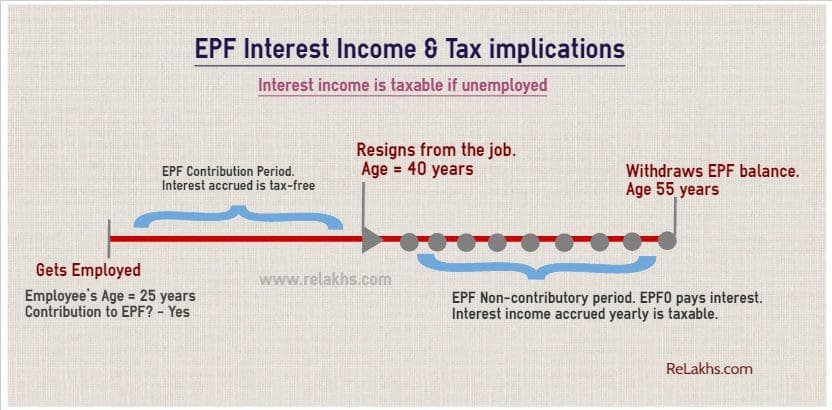 The interest income accumulated during your employment period (from 25 years of your age till 40 years) is tax-free income.
Interest income earned during the non-contributory period (i.e., from 40 years till 55 years) is a taxable income (though your total service period is more than 5 years).
The interest accrued in each financial year during the non-contributory period should be declared in your Income Tax Return under the head 'income from other sources' and taxes (if any) have to be paid. So, interest income is taxable in the year in which it is accrued (on yearly basis).
2 – Inoperative EPF Account does not earn Interest
If an EPF member retires after 55 years of age, then post three years from the date of retirement (i.e., after 58 years), his/her EPF account is treated as "inoperative" and does not earn any interest.
Kindly note that the EPFO pays interest income on all EPF accounts (active / inactive) till an EPF member attains the age of 58 years.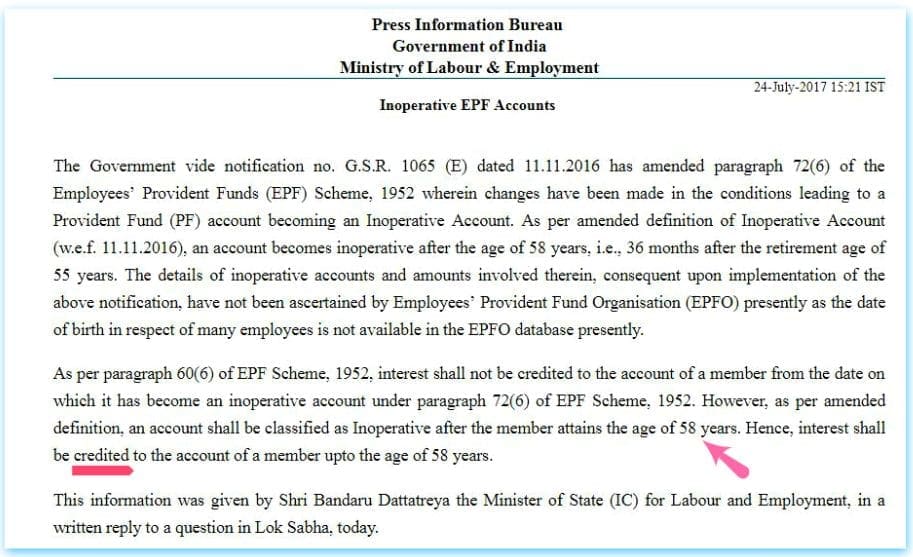 3 – After 7 years of no contributions, your EPF balance is transferred to the 'Senior Citizens Welfare Fund'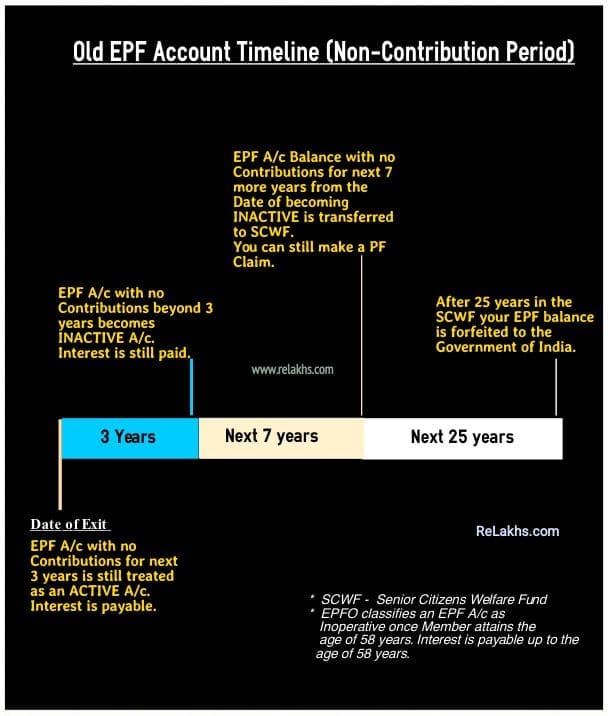 EPF A/c with no Contributions for 3 years (from your date of exit) is still treated as an ACTIVE A/c. Interest is payable such accounts.
Accounts with no Contributions beyond 3 years becomes INACTIVE accounts. Interest is still payable.

Generally, during this period you get email notices from your ex-employers (like Infosys, Accenture, TCS etc.,who have their own Private PF Trusts), advising you to submit PF withdrawal or Transfer claim.

EPF A/c Balance with no contributions for next 7 more years from Date of becoming INACTIVE is transferred to SCWF (Senior Citizens Welfare Fund). Interest is payable but at a reduced rate. You can claim your PF balance easily, provided your ex-employer maintains all your records correctly and up-to-date. It can turn out to be a time-consuming process.

What is SCWF? – A "Senior Citizens' Welfare Fund (SCWF)" has been established under the Finance Act, 2015, to be utilized for such schemes for the promotion of the welfare of senior citizens.
The unclaimed money lying under Small Savings Schemes, Employees Provident Fund, Public Provident Fund schemes, Life and non-life insurance schemes or polices maintained by insurance companies and accounts of Coal Mines Provident Fund is transferred into Senior Citizens' Welfare Fund.

After 25 years in the Senior Citizens Welfare Fund, your EPF balance then gets forfeited to the Government of India. This event is called 'escheat' in legal terminology.
Considering these factors, it may be best for you to transfer or withdraw your EPF balance soon after leaving your company. (You are entitled to withdraw your entire EPF balance after 2 months of unemployment / non-contribution.)
Continue reading :
(Post first published on : 07-January-2021)