During the last one week or so, a lot is being written and talked about the last year's Supreme Court judgement (dated Oct 4, 2016) and its impact on the EPS (Employees Pension Scheme) subscribers and EPS Pensioners.
The Social Media has been abuzz with lot of news items related to 'higher EPS Pension', which have gone viral..
"This man got 1200% hike in his Pension…here is how?"
"Private sector employees can get a higher pension.."
What is this higher EPS Pension news all about? What is the ruling given by the Supreme Court on EPS pension? How to make higher contributions to EPS, to get higher pension during your retirement? What are the eligibility conditions to get higher pension under EPS scheme offered by the EPFO? Should you opt for higher EPS contributions?.. Let's discuss in this post.
Components of your Employees Provident Fund Account (EPF Account)
If you are a salaried individual and contribute to EPF scheme, kindly take out your monthly pay-slip and check, you can understand that every month 12% of your "salary" is contributed towards EPF account. Your total monthly contribution (Employee's share) is contributed to Employees' Provident Fund.
Your employer also contributes 12% of the salary to your EPF a/c. But your employer's monthly contribution is routed towards various components of PF.
Out of this 12% of your employer's monthly contribution, 8.33% goes towards EPS (Employees Pension Scheme) and only 3.67% is invested in Employees' Provident Fund. (Read : 'How is interest calculated on EPF deposits?')
What is the definition of Salary for the purpose of EPF & EPS contributions? – The definition of salary for EPF/EPS is your Basic salary + Dearness Allowance.
So, when we say 12% of your salary that means 12% of your basic + DA gets contributed to EPF.
Similarly, 8.33% of your salary is contributed to EPS. But, the catch here is that there has been a wage ceiling limit for EPS contributions.
Let's understand this with an example. If your current basic salary is say Rs 30,000. How much do you think would be deposited under EPS? Is it 8.33% of Rs 30,000? – No. Since 2014, the ceiling limit is Rs 15,000. So, 8.33% of Rs 15,000 is only deposited for EPS Pension scheme. So, the maximum contribution to EPS is Rs 1,250 a month (8.33% of Rs 15k).
(Kindly note that anyone who joined the EPF Scheme after 1 September 2014 with a basic salary of over Rs 15,000 per month will not be covered by the EPS. However, this is not applicable in case of 'change of job'.)
How is EPS Pension calculated?
If you contribute to EPS for a minimum period of 10 years, you will get pension after 50 years (early pension) or after attaining 58 years of age. So, pension is paid out of the accumulated EPS fund.
But, how is your pension calculated? Below is the general EPS Pension calculation formula ;
(Pic courtesy : The Economic Times)
In case, your basic salary at the time of your retirement is say Rs 50,000, even then your pension will be calculated with a wage ceiling limit of Rs 15,000. So, your pension is being capped.
Higher EPS Pension & Supreme Court Judgement order
Under Para 11(3) of Employees' Pension Scheme 1996 read with Para 26(6) of Employees' Provident Fund Scheme 1952, it has been allowed that if an employee wants to contribute 8.33% of full salary then he/she can do so towards EPS scheme.
For example : In 1995, if your basic salary was say Rs 10,000 then as per statutory ceiling limit, you can contribute maximum 8.33% of Rs 5,000 (limit as in 1995) towards EPS. But, as per the amendment in 1995, one can apply higher EPS contribution through the employer. In this example, it is 8.33% of Rs 10,000 can be deposited in EPS.
So, no-wage ceiling limit leads to higher contributions to EPS and this enables an employee to receive higher EPS pension. But, very few EPF members were aware of this clause.
A group of employees (R C Gupta, Praveen Kohli and others) made use of this Amendment clause and contributed higher EPS amounts (ie 8.33% of full salary and not based on the ceiling limit). They were then contributing to their exempted EPF trusts.
In 2005, following media reports, several other private EPF fund trustees and employees approached EPFO with the demand to remove ceiling on their EPS contribution and raise it to their total salary. EPFO rejected the demand claiming that the response should have come within six months of the 1996 amendment. Cases were filed against EPFO in various high courts.
By 2016 all except one high court ruled against EPFO stating that the six-month deadline was arbitrary and the employees must be allowed to raise their contributions to pension fund without imposing any cut-off date for eligibility.
(In August 2014, the government however amended the EPS Act of 1995 and deleted the above provision that allowed employees to make a higher contribution and draw pension for the full salary. The same amendment enhanced the ceiling on the salary from Rs 6,500 to Rs 15,000 per month.)
As the EPFO denied the higher Pension for the above said employee group, who approached the court of law in 2005. The Supreme Court gave his final judgement in favor of these employees in Oct 2016. However, the EPFO has implemented this order in Oct 2017 only and paid higher pension to the employees w.e.f Nov 2017.
After the revision of pension by the EPFO, Mr Praveen Kohli's started receiving Rs 30,500 as pension instead of Rs 2,372.
We need to note that – there is no free lunch in this world. Mr Kohli had to pay Rs 15.37 lakh as the difference between EPS contribution he had made while in service and the contribution he would have made if he was allowed to raise it to his full salary. But he also got Rs 13.23 lakh as arrears for the higher pension that he was entitled to for four years spent in retirement before November 2017.
Based on the above points, let's see the impact of this judgement under different scenarios ;
If you have joined in a new job after Sep 2014 and started contributing to EPF Scheme then EPS is not at all applicable to you.
In case, you have started contributing to

EPF/EPS after Sep 2014

with a basic salary of less than Rs 15,000 (current wage limit), EPS is applicable till your basic wage reaches Rs 15k.
If you have been contributing higher EPS amount (like in the above petitioners' case) and retired now, but EPFO has denied higher pension, then you have to refund excess EPF withdrawal amount (EPFO would have adjusted higher EPS contribution and paid higher EPF amount) including interest to the EPFO and then can claim higher Pension now. (You have to submit a request to the concerned PF office undertaking to refund excess PF claimed with interest. Your pension amount will then be re-calculated.)
If you have been contributing to EPF scheme prior to 2014, you can submit an application through your employer to the EPFO that you would like to contribute 8.33% of full salary instead of statutory limit. The higher contributions can be accepted from the date of your application and may not be retrospectively.

A word of Advice : If you are young (or) have say 10+ of years for your

retirement,

may be it is prudent to invest in right

investment options

to build your retirement corpus than to increase your contributions to EPS.
Kindly do note that 'Pension income' is a taxable income. So, instead of investing in EPS, you can look at other alternative investments which are more tax efficient.
The pension income generated by your EPS is not an

inflation

-adjusted one. It is a pre-defined and fixed monthly pension amount.
There has also been news that EPFO will be eventually

merged with NPS

(this may not happen that easily owing to pressures from the Trade Unions).
In case, the contribution to the EPS account is increased with retrospective effect to give pension on full salary, a commensurate amount needs to be transferred from the employee's EPF account to EPS account. Besides this, the interest earned by the money for the period it remained with EPF should also go to EPS.

In case, you are about to retire in a few years from now and have not built adequate

retirement kitty

, you may consider opting for higher contributions to EPS.
If you are a retiree and contributed to EPS as per ceiling limit then it is unlikely that you will be going to get a revised pension. The reason being, you are no longer a part of EPS and there is no employer involved.
The Supreme Court's judgement will definitely have an impact on the EPFO's balance sheet. If more EPF subscribers opt for higher pension then the organization can be in for a financial trouble. May be this is the reason why the EPFO has already announced that employees of the Exempted Organizations (where PF is administered by the Private Trusts) can not apply for higher EPS contributions. (Nearly 80 lakh of the estimated 5 crore members of the EPS work in exempt organisations. EPFO may have to face some legal challenges in implementing this rule as well.)
We can also notice that the EPF has already started receiving RTI complaints on this topic, below are few for your reference.
An RTI to know details on Exempted Organizations & EPS Contributions.
You may download the EPS pension calculator from this link and check if it is worth to make higher contributions to EPS or not!
(Source : www.freefincal.com)
You can download the Supreme Court Judgement order by clicking on the below image.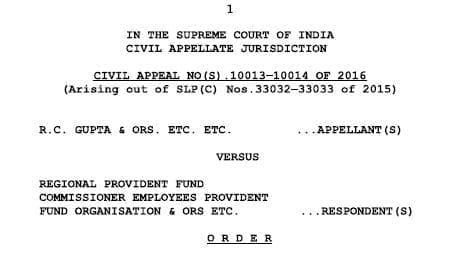 Kindly do share your views on the Supreme Court's ruling on EPS contributions. In case, you find any details in the above article need to corrected/changed, kindly do let us know. Cheers!
Continue reading :
Lump sum Investment options for Retirees/Senior Citizens | Where to invest my Retiral benefits to get Regular Income?
---
Latest Update

(01-Mar-2019)

: As per the Supreme Court judgement, employers cannot segregate 'special allowance' from basic wages for purpose of PF deductions.
Cash allowances (dearness allowances) including but not limited to travel allowance, canteen allowance, special allowance, management allowance, conveyance allowance, education allowance, medical allowance, special holidays, night shift incentives and city compensatory allowances to employees are part of 'basic wages' for calculation of Provident Fund contributions.
---
Latest Update (01-April-2019)
As per the latest Supreme Court ruling, the existing EPF members can subscribe to Higher EPS contribution to get higher EPS pension during retirement phase. Even the retired EPF members (I am not very sure about the PF members who retired before 2014) can contact their ex-employers for higher pension. The retirees have to submit a request to the concerned PF office undertaking to refund excess PF claimed with interest. Your pension amount will then be re-calculated.
---
(References : The Economic Times, EPFO circulars & Freefincal.com) (Post published on 27-Nov-2017)