A young person is more likely to die due to an accident than by natural causes. A Term insurance plan covers the risk arising out of death. A health insurance plan can be beneficial if the insured gets hospitalized. What if an individual meets with an accident but survives with injuries (Total Permanent disability)? This may lead to loss of income for months or even years. This is where a Personal Accident Insurance policy can be very essential.
Accident cover is available in many forms like – as an optional rider with a life insurance policy, as an add-on policy to your motor insurance or home insurance, as a group insurance cover from your employer, and as a standalone plan.
Most of the online term insurance plans do not provide Personal Accident insurance benefits. Some life insurance companies provide Personal accident death benefits as riders but do not provide risk cover for disability (Permanent or temporary) arising out of an accident. These optional riders are not as comprehensive as stand-alone Personal Accident Insurance Policies.
What is Personal Accident Insurance Policy?
A PA insurance policy is a plan which provides monetary compensation in the event of bodily injuries or disability or death caused solely by violent, accidental, visible and external events. Personal accident schemes cover the policyholder against death or disability due to an accident.
What are the risks that are covered in Personal Accident Insurance Scheme?
The magnitude of the accident/mishap doesn't matter, even minor accidents like falling off a bicycle and breaking an arm, or fracturing a leg while playing hockey are covered by  a Personal Accident policy. The policy holder can claim insurance if he is disabled after an accident. Unfortunately if death happens due to an accident then the nominee of the policyholder can claim the sum assured.
A typical PA insurance plan provides;
Accidental Death Benefit

Total Permanent Disability benefit

Permanent Partial Disability benefit

Temporary Partial Disability benefit

Some of the PA insurance plans cover medical expenses (hospitalization expenses).

Some of the PA insurance plans cover loss of income risk too.
Accidental Death Benefit – In case of a death due to accident, the PA policy would pay 100% Sum Assured to the nominee / beneficiary.
Total Permanent Disability (TPD) benefit – In case of TPD, the entire sum assured is generally paid to the policy holder. Some companies also pay more than the sum assured (like 125% of Sum assured is paid). Example – Loss of limbs or eyesight
Permanent Partial Disability benefit – A percentage of sum assured (like say 10% of SA) is paid for a specific period of time or as a onetime payment (like 50% of SA). Example – Loss of an eye or one limb, loss of one finger etc., The disability covered under PPD can be as a percentage of Sum Assured, for example as indicated below..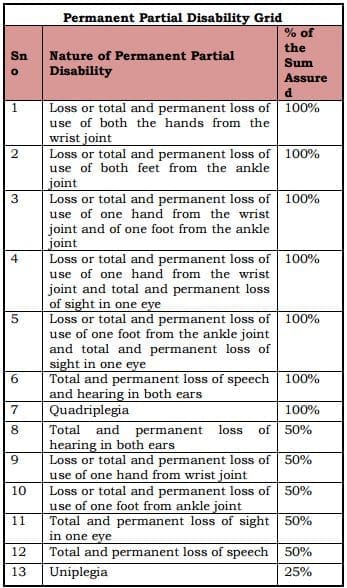 Temporary Partial / Total Disability benefit – This means that for some weeks or months an individual is totally disabled and will not be able to work and earn money. In such scenarios, the policy holder will be paid a percentage of sum assured like 20% of Sum assured or a fixed periodic payment for few weeks. Example – A fractured leg is a temporary disability, and if you have taken a cover against it, your policy will pay a weekly sum of say Rs 1,000 for up to 12 months.
(Be very clear about the definition of 'disability' before buying a personal accident policy. Read the fine print. Permanent total disability is defined as total loss of sight in both eyes, or total loss of use, or dismemberment of both hands or legs, or one hand and one leg. Losing one eye is a permanent, but not total disability. Ask the insurance company or agent to explain the exclusions clearly to you.) 
How is the premium calculated under Personal Accident Insurance Covers?
Generally the premium of personal accident policy depends on the cover you select. It can be same across all the age groups but may vary depending on the type of employment or occupation you are in. Insurance companies categorize the various professions based on the level of risk associated with the jobs, working conditions etc.,
For example – Doctors, Software Engineers, bankers etc., fall under the category of low risk category. An individual who works in a coal mine can be offered a PA policy under high risk category and the company can charge higher premium.
Comparison of Best Personal Accident Insurance Policies 2020-21
Below are some of the top and best Personal Accident Insurance Plans in India. The list includes insurance plans from;
Apollo Munich Personal Accident Plan – Essential
HDFC Ergo Personal Accident Insurance Policy
ICICI Lombard Personal Protect Policy
Max Bupa Health Assurance – Personal Accident Care Plan
Star Health Accident Care Plan
New India Insurance Personal Accident Policy &
Oriental Insurance Personal Accident Insurance Policy
(Click on the below image to open it in a new browser window)
In my view, Apollo Munich has very comprehensive Personal Accident Plans.

Their plans also provide optional covers like in-patient hospitalization expenses, Loan secure etc.,

Apollo Munich Personal Accident – Advanced & Elite Plans offers sum assured of up to Rs 10 Cr. 

Max Bupa's Accident Care plan provides 125% of Sum Assured as insurance cover in case of an accident leading to Permanent Total Disability. But, their premiums are on the higher side.

Max Bupa offers 'CritiCare' critical illnesses optional cover.

Most of the Insurers do not cover accidents arising out of Terrorist acts. But, ICICI Lombard's Personal Protect Policy covers different types of accidents like road, rail accidents, accidents due to natural calamities and also arising out of terrorism/ terrorist acts.
ICICI Lombard provides life-long renewability but only in the absence of a claim.
What the insured (policyholder) has to do in the event of an Accident? (Personal Accident Cover Claim Procedure)
In the event of Accidental injuries;
Immediate written notice should be given to the Insurance Company with all the particulars.
Duly completed Claim form along with the following documents has to be submitted.

Medical Certificate about the nature and extent of accident resulting injuries.
Medical Examiner's Report.
Details of treatment rendered by the attending Doctor/Hospital/Nursing home.
Certificate from the employer to the effect that the Insured was on leave during the period.
Fitness certificate.
In the event of an Accidental death, the following documents are required to be submitted by the nominee:
Post-mortem Report
I.R./Police Report
Punchnama
Medical Report by Doctor/Hospital/Nursing Home
Death Certificate
Original Policy Bond
(The claim procedure or the required documents list may vary from one insurance company to insurance company and also on the type of claim.)
FAQs on Personal Accident Insurance policies
Is the claim payable in case of natural death? – No, it is payable only in case of accidental death under PA insurance scheme.
Are there any tax benefits for the premium paid? – No tax deduction can be claimed on the premiums paid for Personal Accident covers.
Is the insurance coverage available worldwide? – Yes, coverage under PA policy is generally available worldwide. However, claims, if any, will be paid in Indian currency.
Is medical checkup compulsory to take PA insurance cover? – Generally no medical test or examination is required to take Personal Accident policy

(but it can be mandatory depending on the policyholder's age / occupation)

.

Can non-earning individual take Personal Accident Insurance cover ?

– A proof of income such as Income Tax Return , salary slip etc is required for claims. A non earning individual can have policies like Janta Personal Accident Policy , Gramin Personal Accident Policy etc
Can I cover my kids and spouse (housewife) under Personal Accident Policy? – Yes, Children and spouse are eligible for this cover and you can include them in your PA policy. You may opt for Family Package cover. But insurance company may offer only a certain percentage of the sum assured as cover like 25% of SA for kids or 50% of SA for spouse.
Who determines the percentage of compensation in case of partial loss or partial disability? – The amount of compensation for a partial loss depends on the extent of loss and it is clearly specified under the policy terms and conditions.
Are accidents occurring out of acts of terrorism covered under PA policy? – Claims arising out of terrorism or acts of terrorism are generally not covered in PA policies. But, some
Can an NRI take PA policy? NRIs are eligible to buy Personal Accident policies but subject to the terms and conditions as levied by the insurance company.

(For example – The proposer/proposed insured person must have an Indian address for communication. Proposer must be in India at the time of signing the proposal form etc.,)

Is there any specific type of accidents which are excluded from purview of cover? – The following type of accidents are generally not covered;

From intentional self-injury, suicide or attempted suicide.
Whilst under the influence of intoxicating liquor or drugs.
Whilst engaging in sporting activities (aviation or ballooning for example).
Directly or indirectly caused by venereal disease or insanity.
Childbirth or pregnancy related.
War, invasion, act of foreign enemy, hostilities, civil war and many more..
Why you should buy a stand-alone Personal Accident Insurance Policy?
As per the WHO report, India ranks 1st in the number of road accident deaths across the 199 countries reported in the World Road Statistics, 2018 followed by China and US.
A total of 4,67,044 road accidents have been reported by States and Union Territories (UTs) in the calendar year 2018.
Young adults in the age group of 18 – 45 years accounted for nearly 69.6 percent of road accident victims.
Tamil Nadu and Uttar Pradesh remain accounted for the highest number of road accidents and death on account of road accidents respectively in 2018.
These days the probability of accidents is very high. Hence, it is advisable to have a comprehensive Personal Accident Insurance policy besides a term plan (buy a basic term plan) & a health insurance plan. Your PA policy should ideally cover Accidental death, Permanent Total Disability and Permanent Partial Disability. It is good to have Temporary Disability (total/partial) and Medical Expenses also covered. You can take a cover of up to 10 times your annual salary.
Since agents / advisers get very low commissions on Personal Accident Insurance Plans, they usually try to bundle the personal accident cover with some other insurance product (motor/home/life insurance). But, it is better to buy a comprehensive and stand-alone PA cover.  It is advisable to download and go through the prospectus, brochure, policy wordings documents before you buy a Personal Accident Insurance Policy.
Continue reading :
(Image courtesy of Chris Sharp at FreeDigitalPhotos.net)