The main aim of ReLakhs.com is to provide unbiased information on various aspects of Personal Financial Planning. We have been publishing various articles covering the key components of a Personal Financial plan.
We encourage blog readers to go through various articles so that they can get a holistic view on their personal finances. Here is a compilation of important articles that cover the key aspects of Personal Financial Planning published over time.
The key aspects of a simple and basic Personal Financial Plan are;
Know what is your net-worth / current financial position.
Create an Emergency Fund.
Life Insurance planning.
Non-Life insurance planning.
Retirement Planning.
Investment Planning for other goals like Kid's education, marriage etc.,
Estate Planning &
Tax Planning.
List of Articles on the key aspects of Personal Financial Planning
Your current Financial Position : In order to get where you want to go, you need to know where you are now. If an individual wants to evaluate his/her personal financial situation, based on the financial statements, considering the net worth or cash flow, or whether he/she has over-borrowed or has good liquidity, it can be determined by calculating Personal Finance Ratios. Kindly visit the below link to know more about the key ratios of Personal Finance.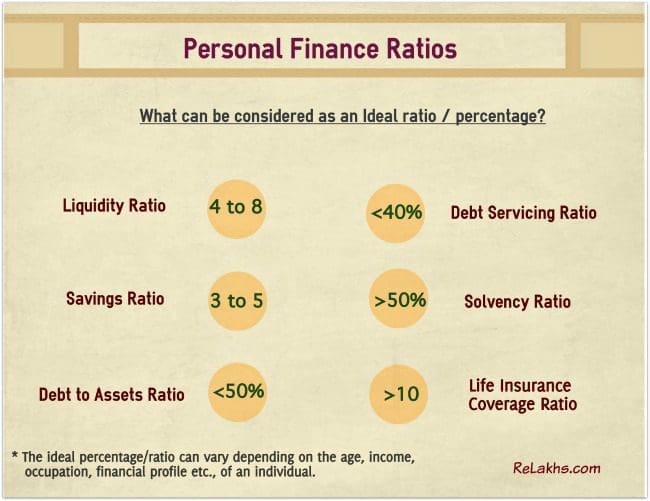 Emergency Fund Accumulation : One the important aspects of a personal financial plan is to 'create and maintain an Emergency Fund. This can be to the extent of 3 to 9 months of your monthly living expenses. But, do not invest this fund in risky investment products. The main objective of maintaining this fund is to have ready cash to meet any unforeseen emergencies. (Related Article : 'What is an Emergency Fund? Why, Where & How to save?')
While investing / saving for an Emergency fund, you should give high priority to 'safety of capital' and 'liquidity'. In case if your family has a history of Critical Illnesses, it is prudent to build a separate Contingency Fund for meeting any unforeseen medical emergencies.
Besides maintaining some portion of your Emergency Fund in Cash, you also have to consider saving / investing in other avenues too. Fixed Deposits, Auto-sweep-in Bank Saving Accounts, Liquid Debt Mutual Funds, Arbitrage Mutual Funds are some of the available options. Kindly visit below links to know more about these saving options.
Protection Planning – Life Insurance : If life is 'unpredictable', insurance can't be optional. If you are an earning member of your family, have dependents and/or have financial liabilities/obligations then you SHOULD have adequate life cover. You can plan to get atleast 10 times of your gross annual salary as the minimum sum assured on your life insurance policy. Based on the changing personal financial profile, you have to enhance your life insurance coverage. Kindly visit below links to know more about importance of having sufficient life cover.
Protection Planning – Non-Life Insurance : If you are an individual with no financial dependents then Life insurance cover can be an optional thing. But non-life insurance plans like Personal Accident Plan with permanent & temporary disability benefits and Health Insurance plan are a must.
Also, Home Insurance is probably one of the most neglected kinds of insurance in our society. It is estimated that less than 1% of the people who can afford it have home insurance in India. We strongly believe that Property insurance is important and essential.
Kindly visit below links to know more about non-life insurance plans.
Investment Planning : The probability of achieving your financial goals (short, medium or long term goals) depends on how well you plan your investments. You have to start your investment plan by identifying your goals first and then select the right investment avenues based on your investment horizon. Your goals can be retirement planning, Kid's education goal and other accumulation goals. Visit below links on investment planning.
Retirement Planning : Retirement is one of the most important stages of your life for which you work and should save for. If you are creating an Investment Plan, your top most priority should be to save and invest for your retirement. Do not think that it's too early to start planning for retirement. It is very important that you start early for your retirement.

You can get a HOME LOAN to buy a property. You can get a PERSONAL LOAN to meet your short-term financial goals. You can get an EDUCATION LOAN to fund your higher education (or) to fund your Kid's higher Education. But, you don't get a loan to fund your RETIREMENT (let's not talk about Reverse mortgage 🙂 )
Kindly visit the below link to know more about Retirement Planning goal (retirement goal calculator available).
Kid's Education Goal Planning : As a parent, one of the most important financial goals to achieve is to plan for your children's education expenses. Considering the fact that the cost of education usually rises twice as fast as normal inflation, you should plan well in advance to meet the higher education expenses of your child.
Kindly visit below link to know more about Kid's Education goal planning (calculator available).
Estate Planning : Estate Planning is the process of making a plan in advance and naming whom you want to receive the things you own after you die. Estate Planning is one of the most neglected aspects of personal financial planning. If the head of the family dies without leaving a Will (Intestate) or without mentioning the nominee names then it is an upheaval task for the legal heirs to access the investments/assets. We have lot of high profile examples for this, like Dhirubhai Ambani, Abraham Lincoln, Picasso, Agatha Christie, who died without writing a Will.
Kindly go through below links to know more about WILLs & their importance.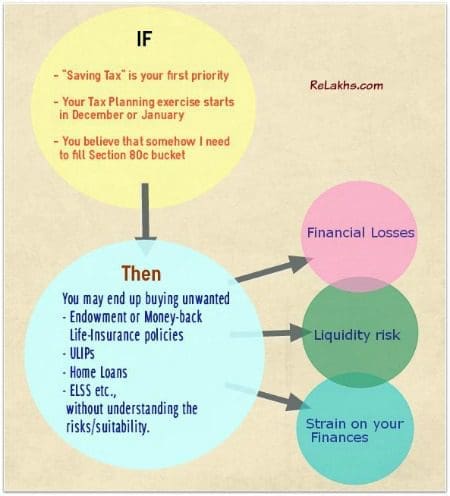 Tax Planning : Death and Taxes are certain. Death happens only once. But, tax planning has to be done every year. Though tax planning is a very importance aspect of your Personal Financial Planning, it should not be the starting point of our investment plan. You should not invest in a financial product just to save on taxes. You should pick an investment option based on your financial goal(s) and if that investment option is a tax efficient one then well and good for you.
Go through below links on Tax planning aspect.
Financial Planning is a dynamic process. It is not a one time activity. Achieving your financial goals doesn't happen overnight, it takes careful planning, execution and continuous monitoring of the progress made.
Do you have a written financial plan? Do you prepare your financial plan by yourself or take help of an Investment advisor? Kindly share your views & comments. Thank you!
Continue reading other related articles on Personal Financial Planning;
(Image courtesy of Stuart Miles at FreeDigitalPhotos.net) (Post Published on : 27-May-2016)