We have 11,681 Mutual Fund Schemes that are currently available in the market (Equity & Debt Schemes). That's a huge number, right? It is a challenging task for any investor to identify and invest in best mutual funds.
A 'good mutual fund scheme' is the one that consistently manages to outperform its category returns and also it's Benchmark's.
Equity mutual funds are one of the best wealth creation tools for your long-term financial goals like; retirement planning, kid's education goal, kid's marriage expenses etc., For medium term financial goals, you can rely on balanced or hybrid mutual funds. In fact, you can create the entire investment plan with mutual funds alone.
I had published on article on 'Best Equity mutual Fund schemes 2015' almost 12 months back. Below is the top 15 mutual funds (category wise) list as per my old article.
Large-cap fund category

UTI Equity Fund

ICICI Pru Focused Blue-chip Equity Fund

UTI Opportunities Fund

Diversified or Multi-cap category

Franklin India Prima plus
ICICI Prudential Dynamic Fund
HDFC Capital Builder

Small & Mid-cap fund category

UTI Midcap
HDFC Midcap
Franklin India Smaller Companies Fund

Hybrid – Equity oriented category

HDFC Balanced
ICICI Prudential Balanced Fund
TATA Balanced Plan A

ELSS / Tax saving category

Franklin India Tax shield

ICICI Pru Tax plan – Regular Plan

Axis Long Term Equity Fund
Let me now present you the latest & updated list of the best mutual funds for SIPs (or) lump sum investments in 2016 and beyond.
Methodology to select Top Performing Equity MF Schemes to invest in 2016:
I have tried my best to analyze and identify top three best equity mutual fund schemes across five different Fund categories – Large Cap, Multi-cap, Small & Mid cap, Balanced and ELSS tax saving categories.
Below parameters have been considered for short-listing the 15 top performing Equity mutual funds that can be considered in 2016 and beyond.
I have considered the past returns generated by these funds for the last 1 year, 5 year, 10 year period and since inception.
Funds with a good track record for the last 5 to 10 years have been preferred. I have considered only those funds which are at least 6 years old.
Equity Funds which have low risk grade have been given comparatively higher rank. Due importance have been given to Standard Deviation, Alpha, Beta, Sharpe Ratio and overall Risk grades of the funds. (Read : '

How to compare & select the right and best Mutual Fund Scheme based on the Risk Ratios?

')
I have considered Expense ratio as one of the criteria.
This year besides moneycontrol, valueresearchonline and Morningstar portals, I have also used few 'mutual funds calculators' available at freefincal.com portal.
Morningstar portal's 'mutual fund screener' has been used to filter funds based on fund performance & risk (risk adjusted), standard deviation, fund portfolio & expense ratio.
The fund returns Vs fund category returns have been given due importance.
Like last time, in this review too I have not considered the STAR ratings of funds provided by ranking agencies. Usually these star ratings reflect the short term (1 or 2 year's) performance of the funds.
Top 15 Best Mutual Funds in India for 2016
Below are some of the top performing best mutual funds that you can consider for investing in 2016 and beyond.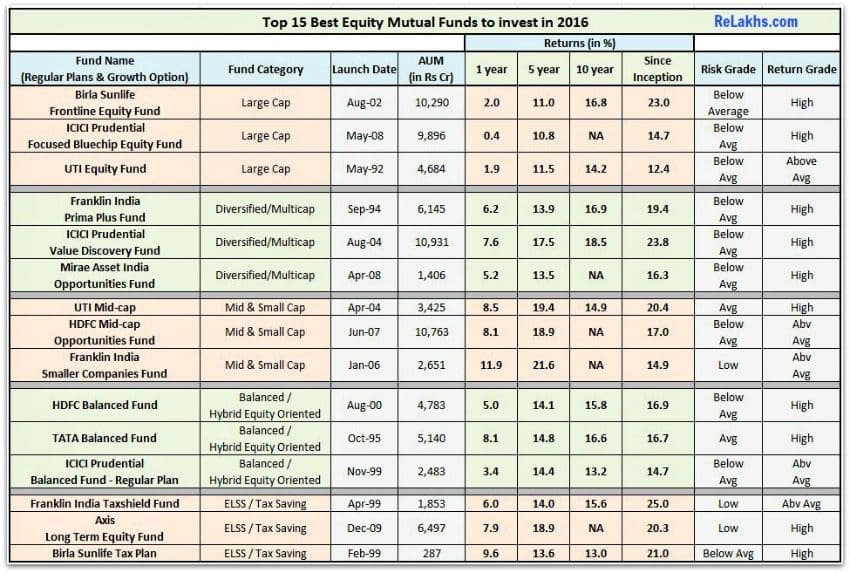 (Click on the above image to open it in a new browser window)
Let us now look at some more details of each of the fund categories.
Top performing Large Cap Equity Mutual Funds for SIPs in 2016:
When compared to last year's best large cap funds list, UTI Opportunities Fund has been replaced by Birla Sunlife Frontline Equity fund. Though this fund was not in the 2015 list, I have mentioned it as one of the best Equity large-cap funds to watch out for.
There are roughly around 135 Large cap oriented Equity mutual fund schemes that are currently available in the market. The average returns from large-cap fund category over a 5 year & 10 year period are around 6.89% & 11.56% respectively. Birla's fund has not only outperformed it's category returns and also its benchmark returns with a wide margin. All three funds have 'Below Average' risk grade. Birla & ICICI funds have 'HIGH' return grade. UTI Equity fund has out-performed the other two large cap funds during last 5 year period.
Some more large cap funds to watch out for are; Franklin India Bluechip fund, ICICI Top 100 fund & Religare Invesco Growth Fund. HDFC Top 200 has given decent returns for the last 10 years, but off-late the returns have been not up to the mark. The fund has 'HIGH' risk grade.
Best Diversified Equity Mutual Fund Schemes :
Franklin India Prima Plus fund is still one of the most consistent diversified or multi-cap funds. This fund is one of the oldest equity funds. The fund has lagged behind its benchmark only in three of the last 19 years.
When compared to last year's best Diversified Equity funds list, ICICI Prudential Dynamic Fund & HDFC Capital Builder Fund have now been replaced by ICICI Prudential Value Discovery Fund & Mirae Asset India Opportunities fund.
ICICI Prudential Value Discovery Fund has given excellent returns. You can view this fund as a 'contrarian fund'. The fund generally buys and holds stocks that are trading at a discount to their intrinsic value.
Mirae Asset India Opportunities fund invests around 75% of its portfolio in large-cap stocks and the remaining in mid or small cap stocks. This can be one of the main reasons for its good performance in the recent years.
All three funds have 'Below Average' risk grade and have 'High' return grade.
Franklin India High Growth Companies fund is another fund to watch for in Flexi-cap fund category.
Best Small & Mid-cap Mutual Funds for SIP in 2016 :

There is no change in the best small & mid-cap equity funds list.

There are around 123 Small & Mid cap mutual fund schemes. The average returns have been around 15.35% from this category over the last 5 year period.
Small & Mid cap funds are the ones which can give you high double digit returns if you remain invested for longer period.
Keep a close eye on BNP Paribas Mid-cap & Mirae Asset Emerging Blue-chip funds too.

Both these funds

have LOW risk & HIGH return grades.
Top 3 Best Balanced Mutual Funds for SIP :
Kindly note that there is no change in the best balanced funds list too.
There are around 53 Hybrid or balanced equity oriented funds. The average category returns for the last 10 years have been around 11.85%.
Child plans of Mutual Funds like HDFC Children's Gift fund have also been giving good returns. But there are certain terms & conditions associated with investments in these kind of funds. Kindly read my article : 'Children's Gift Funds – Review'.
(Read: 'Top & Best Equity Oriented Balanced Mutual Fund Schemes – 2016')
Top 3 Best ELSS Mutual Funds Schemes :
My Portfolio
I have investments in the below mutual funds. These are my MF picks. As of now, I have decided to continue with them in 2016 too.
Some Important Points to ponder about Mutual Fund Investments :
I have tried to list some of the best performing equity mutual funds here. To get good returns, it is not compulsory that that you have to invest in atleast one fund from each category. Kindly do not over clutter your portfolio. Select 2 to 3 good funds based on your financial goal(s).
Kindly do not invest in too many funds especially within the same fund category. Over-diversification is not beneficial and may lead to high portfolio overlap.
If you are new to mutual fund investments or do not have time to invest manually, the best way to invest in equity mutual funds is through SIPs (Systematic Investment Plans).

Goal based portfolio

– You can invest in same set of funds for different long-term financial goals but with different SIP amounts (based on your existing resources, goal amount, goal priority & time-frame).

Portfolio Return

– If one of the schemes in your MF portfolio is not performing well, do not immediately churn your portfolio. Also, d

o not churn your portfolio very often based on fund star ratings. The negative consequences of regularly churning the portfolio are undeniable.

Do track that scheme's performance for sometime (say 1 or 2 years) before deciding to drop it from your portfolio. Sometimes, it is prudent to analyze the overall portfolio performance than to get too worried about individual fund's performance.
You may allocate and invest more monies in Small & Mid-cap oriented funds for long-term goals.
Suggest you not to remain invested in equity oriented funds till the goal target year. You may consider redeeming MF units by starting SWP (Systematic Withdrawal Plan) may be 2 to 3 years before the goal year. You can re-invest this amount in safe investment avenues.
Invest in Equity funds based on your future goals & financial resources and not based on your current age.

For example

– If you are a retiree (say 65 years) and have regular income which is more than your monthly living expenses, you can surely invest a portion of your surplus income in hybrid or equity oriented mutual funds.
Understand the risks associated with equity mutual funds. Kindly do not invest for quick gains or based on tips.
Continuously track and monitor your mutual fund portfolio. If possible invest through online platforms. You can prefer investing in Direct Plans of MF Schemes to Regular plans. Direct plans can give you slightly better returns than regular ones.
Some of your goals especially short-term ones can be achieved by investing in best Debt Mutual Funds.
Last but not the least, remember "Mutual Fund investments are subject to market risks. Past performance may or may not be sustained in future."
In case if your fund(s) are not in the above list, it does not mean that you need to replace them immediately. As mentioned earlier, it is a tough task to not only identify best mutual funds but also to be with the best consistently. As long as your overall portfolio returns are in line with your expectations (should be realistic) , remain invested with your existing mutual fund schemes.
If you are a DIY investor (Do-It-Yourself), trust your MF picking skills & your conviction. In case, if you take mutual fund agent or advisor's help , kindly take informed decisions.
Kindly share your views and comments on the above best mutual funds list.
(Image courtesy of Stuart Miles at FreeDigitalPhotos.net) (References : moneycontrol, valueresearchonline, freefincal & morningstar)
"Submit FATCA Compliance form before 31-Dec-2015 . If you do not meet this compliance requirement then fresh investments (SIP or Lump sum) will not be accepted from 1st Jan, 2016."