Mutual Funds are the best tools for long term wealth creation. Investors in Mutual funds get the twin benefits of diversification and also management of their funds through professionals.
SEBI introduced reforms in the mutual fund sector in 2013. Thanks to these reforms, Direct Mutual Fund schemes are gaining popularity not only with just corporate or high net worth individuals but also with the retail investors.
What are Direct Mutual Fund Schemes?
Although the Asset Management Companies (AMC) allowed this much before the year 2011, direct investment in mutual funds has become famous only recently. Direct mutual funds plans are those where AMC / mutual fund Houses do not charge distributor expenses / trail fees / transaction charges. 'Direct' means no intermediaries.
Direct mutual fund schemes have lower Expense Ratio than that of Regular plans. This is the main reason why the NAV of a direct plan will be higher than the NAV of a regular plan of the same scheme.
Direct Mutual Fund Plan Vs Regular Mutual Fund Plan
Let us now understand the differences between Regular and Direct Plans in Mutual Funds with an example;

In the above example, we can observe that HDFC Balanced fund has four options, 2 regular schemes and 2 direct schemes. Kindly note that 'D' means 'Dividend Plan' and it does not mean 'Direct Plan'. (G stands for Growth option.)
Expense Ratio : The Direct plans have lower expense ratio than Regular plans. The expense ratio of HDFC Balanced fund – Regular plan is 2.07%

(as on Mar 2015)

. Whereas, the expense ratio of HDFC Balanced fund – Direct Plan is 1.20%.
NAV :

The Net Asset Values of Regular and Direct plans of the same scheme differ. The NAV of Direct Plan will be higher than the NAV of a Regular plan. The NAV of HDFC Balanced fund – Regular plan is Rs 109.85 whereas the NAV of HDFC Balanced fund – Direct Plan is Rs 111.97.

Returns : The difference in returns generated by a Regular plan and a Direct plan of a scheme is expected to range between 0.50 and 1 percent. This difference will compound year on year. The last two year CAGR (Compounded Annual Growth Rate) of HDFC Balanced fund – Direct fund (monthly SIP) is 22%. Whereas, HDFC Balanced fund – Regular plan has given return of around 20.97% during the same period.
In the case of both regular and direct mutual funds, the investment objective, asset allocation pattern, risk factors and the investment mix are same. A scheme's portfolio will be the same for both, Regular plan and Direct Plan.
How to invest in Direct Mutual Fund Plans?
You can buy Direct plans online by visiting respective mutual fund house websites.

For example

, below screenshot has been taken from Reliance Mutual Fund's website. When you are making an online investment, you can find two options ie 'direct' and 'through distributor'. Select 'Direct' if you would like to invest in Direct plan of a scheme.
You can also invest in direct mutual fund schemes through MF Utility.
If you are investing in MFs offline (physically) then you just need to mention or tick the option 'Direct plan' in Mutual Fund Investment form. After this, even if the agent or the distributor of the scheme puts his/her ARN code, they will not get any commissions from the investment.
If you do not find 'Direct plan' option in application form, you can mention 'DIRECT' in the ARN column. Even if the agent code is missing in the ARN column, it will become a direct plan by default.

(ARN means AMFI Registration Number. ARN is the unique code which is used to identify the MF agent / advisor.)
(KYC compliance is mandatory to invest in mutual funds. If your PAN is not KYC compliant, you may get eKYC done now. eKYC is a new online facility offered by some of the AMCs.)
How to switch from regular to direct mutual fund plans? (for existing MF investors)
If you are an existing investor of a regular mutual fund scheme, and would like to convert your mutual fund from regular to direct plans, then you have to opt for a 'Switch'.
In order to convert an existing regular fund to a direct fund, you need to submit 'switch request' to the concerned Asset Management Company (fund house). Based on your written switch request, the units under Regular plan will then be converted as Direct plan units.
For example : You can download and submit forms like ICICI MF's Regular to Direct Switch Form & HDFC MF's Regular to Direct Switch Form format.
Regular to Direct – Switch – Exit Loads & Tax Implications
If you are switching from Regular scheme to Direct scheme, this is considered as normal redemption (exit) only. Such transfer shall be considered as a Redemption (from regular plan) and a fresh investment (into direct plan). So 'Exit Loads' (if any) will be applicable. However if you have invested in Regular fund without mentioning any distributor code then 'exit load' is not applicable.
Since the 'switch' is considered as normal redemption request (exit), you have to be aware of the tax implications. Based on whether the capital gains are short term or long-term, respective taxation rules are applicable. Kindly read my article on MF capital gains taxation rules for more information.
Also, TDS is applicable on the 'switch requests' submitted by NRIs.
Important points & my Opinion on Direct Mutual Funds
Below are some of the important points on Direct Mutual Funds;
Kindly note that all types of mutual funds can be switched except Exchange Traded Funds.
For ELSS or any mutual fund schemes that have a lock-in period, you are eligible to move to Direct Plans once units complete their lock-in period. Your investments into direct plans will have a fresh lock-in of 3 years.
Kindly note that investing through 'ICICI Direct' or any online distribution platform does not mean you are investing in Direct plans of mutual funds.
Note that buying from a Bank, such as HDFC Bank, means you are using a distributor. Even if you buy an HDFC Mutual Fund, HDFC Bank acts as a distributor. The only way to buy "Direct" is to have "Direct" in the fund scheme name. If the scheme doesn't say "Direct" in your statement report, you are paying commissions.
Difference in Investment returns generated between Regular and Direct plans is the highest in Equity oriented Schemes. In debt funds, the expense ratio of the regular plans is not too high hence the difference in returns is lower.
Direct plans of equity funds are not rated / ranked by the Rating agencies as they have not completed three years.
Fund houses like HDFC, ICICI Prudential, Reliance, Birla Sun Life and Franklin Templeton have over 20% of equity assets in direct plans coming from retail investors.
The investment return generated by a Direct mutual fund scheme can be say 1% higher than the returns offered by a Regular plan. Even a difference of this 1 percentage point can balloon into a huge gap due to compounding in the long term.
For example : If you invest Rs 1 Lac in a Regular plan which generates say 14% return in 15 years, the accumulation amount can be Rs 7.13 Lakh. The same Rs 1 Lac if you choose to invest in a Direct plan which generates say 15% return in 15 years, the accumulation amount can be Rs 8.13 Lakh. This extra 1 percent difference in the return can create a big impact in the final accumulated value over a long period.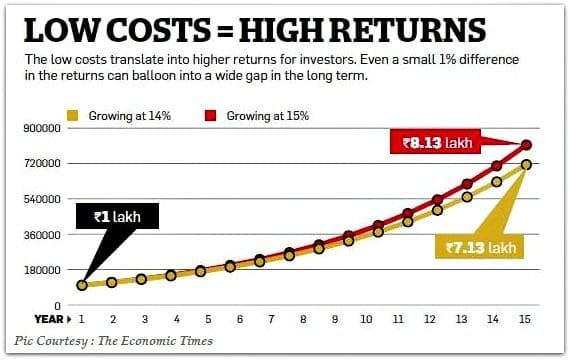 If you invest in Direct mutual fund plans through multiple fund house websites, tracking your MF portfolio can be a bit challenging task. In this scenario, you can create dummy portfolio on web portals like Economic times or moneycontrol.com and can track your portfolio online. One more option is to invest in Direct plans offered by various fund houses through common platform like Mutual Fund Utility.
Though Direct Mutual Fund plans give higher returns, they are meant for investors who know which funds to buy. If you are not comfortable or do not have the expertise to identify good funds as per your financial goals, it is better to take the services of a Mutual Fund agent. You may also consider taking the help of a fee-only Financial planner to buy direct plans.
In the race to get higher returns, it could be disastrous if you invest in a wrong Direct mutual fund product and make 10% lower returns than its fund category. Instead you can invest in a suitable Regular plan through an advisor who can guide you. A Direct Plan will work well if you have the required knowledge and infrastructure.
(You may read my article : 'Best & Top Equity Mutual Funds'.)
I believe if you are making fresh mutual fund investments or creating new SIPs, you can surely consider investing in Direct mutual funds provided you know which funds to buy. While the process may look little complicated in the initial stages, it should be easy while investing in subsequent schemes.
For the existing investments, be aware of the exit loads, tax implications and applicability of lock-in period (if any) before you switch from Regular plans to Direct mutual fund plans.
Do you invest in Direct plans of Mutual funds? Kindly share your views and comments.
Continue reading :
(Image courtesy of Stuart Miles at FreeDigitalPhotos.net) (References : Moneycontrol, Valueresearchonline & Economic Times.)