More than 50 years have gone by since UTI (Unit Trust of India) introduced their first mutual fund scheme in 1964. The Indian mutual fund industry has evolved over the years and has registered more than a six-fold increase in AUM (Assets Under Management) over the last 10 years.
We now have thousands of Mutual Fund Schemes with an option to buy either Mutual Fund Direct Plan or Regular plan. The Direct plans were introduced four years back only i.e., in January 2013.
You might have noticed that till last year the Mutual Fund Direct plans have not been rated / ranked by the Rating agencies as the minimum number of years to award a star rating is 3 years.
Most of the rating agencies like Valueresearchonline (or) Monrningstar have now started awarding ratings / rankings to direct plans also (as most of the direct plans are now 3 to 4 year old schemes).

I have published Top & Best Equity mutual funds to invest in 2017 a few weeks back. In this current post, let us analyze the returns generated by Direct plans and Regular plans of these best mutual fund schemes for the last 3 to 4 years. Let's also try to understand the difference of returns generated between the two types of plans of a top mutual fund scheme.
In case, you are wondering what are these mutual fund direct plans?, let me try explaining about them..
What are Direct Plans of Mutual Fund Schemes?
Direct mutual funds plans are those where AMC / mutual fund Houses do not charge distributor expenses / trail fees / transaction charges.
When you invest in a mutual fund's direct plan, you deal with the AMC directly, while in a regular plan you invest through a distributor or advisor. 'Direct' means no intermediaries and you are directly dealing with AMC / Fund-house.
Direct mutual fund schemes have lower Expense Ratio than that of Regular plans. This is the main reason why the NAV of a direct plan will be higher than the NAV of a regular plan of the same scheme. (What is Expense Ratio? – In simple terms, expense ratio is a measure of cost that you pay to the fund house for managing your money. Expense ratio covers everything from fund management fees, operational and marketing expenses to distribution expenses.)
Kindly note that in the case of regular and direct mutual funds, the investment objective, asset allocation pattern, risk factors and the investment mix are same. A scheme's portfolio will be the same for both, Regular plan and Direct Plan.
Keeping everything else same, a lower expense ratio means lower costs and hence you can get better investment returns. Since everything else (portfolio, stock holdings etc) is exactly same in direct plans and regular plans, direct plans offer better returns than regular plans.
(For more details on Direct plans, kindly read : 'Direct mutual fund plans – Details & Benefits')
Best Mutual Fund Direct Plans Vs Regular Plans – Returns Comparison
The below table gives you an idea about the returns generated by the top mutual fund schemes' regular as well as direct plans. I have segregated the best mutual fund schemes based on the fund category. (Read : 'What are Large-cap / Mid-cap / Small-cap Mutual Fund Schemes?')
I have collated returns of regular plans and direct plans of some of the top performing mutual fund schemes for lump sum investment (last 3 year returns) as well as SIP investment (last 4 year returns).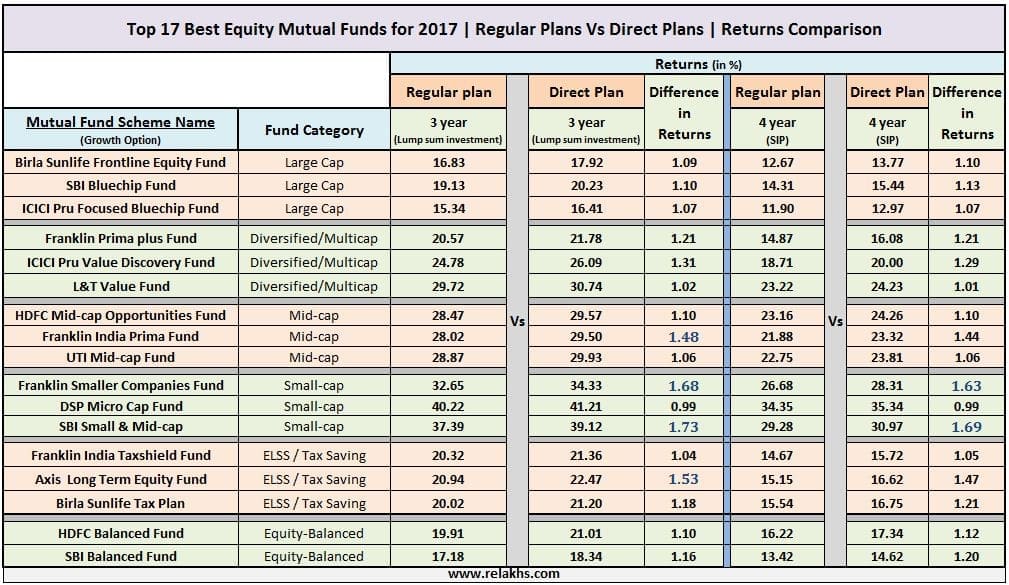 If you notice all the direct plans have out-performed their respective regular plans. The main reason for this out-performance is that the direct plans have lower expense ratios.
If you visit mutual fund research portals like valueresearchonline, you may find that they would have given different star ratings to a regular plan and a direct plan of the same mutual fund scheme. The reason can be due to the difference in the returns. Example : Birla Sunlife Tax Plan – Regular plan has been given Four Star rating, whereas its Direct plan has been awarded Five Star rating by valueresearchonline.
The difference in returns generated by a Regular plan & Direct plan is significant in case of the most of the schemes managed by Franklin India AMC. Example : In case of Franklin India Smaller companies fund, this difference is around 1.6%.
So, should you invest in a Direct plan to earn just 1% extra returns? The investment returns generated by a Direct mutual fund scheme can be say 0.75% to 1.5% higher than the returns offered by a Regular plan. But, a difference of this 1 percentage point can balloon into a huge gap due to compounding in the long term.
How to invest in Direct plans of Mutual Fund Schemes?
Below are the different options or ways by which you can invest in mutual fund direct plans.
You can invest in direct plans by visiting respective fund house websites and opt for a direct plan while selecting 'mode of investment'.
You can also invest in a direct plan through MF Utility online platform. (For more details, kindly read : 'How to invest in Direct Plans online through MF Utility?')
Off-late, quite a few new portals have been launched through which you can buy Direct Plans. Below are some of them;

Invezta.com
Orowealth.com
Bharosaclub.com
Mymoneysage.in
Jama.co.in
Unovest.co etc.,
Are Mutual Fund Direct Plans suitable for everyone?
Though Direct Mutual Fund plans give higher returns, they are meant for investors who know which funds to buy. If you are not comfortable or do not have the required expertise to identify right mutual funds as per your financial goals, it is better to take the services of a Mutual Fund agent. You may also consider taking the help of a fee-only Financial planner to buy direct plans.
In the race to get higher returns, it could be disastrous if you invest in a wrong Direct mutual fund scheme and make say 10% lower returns than its fund category. Instead you can invest in a suitable Regular plan through an advisor who can guide you. A Direct Plan will work well if you have the required knowledge and infrastructure.
For the existing investments, be aware of the exit loads, tax implications and applicability of lock-in period (if any) before you switch from Regular plans to Direct mutual fund plans.
Do you prefer investing in Mutual Fund Direct plans to Regular plans? How do you invest in Direct plans? Kindly share your views and comments.
(Post published on : 22-March-2016) (Image courtesy of Stuart Miles at FreeDigitalPhotos.net)
(References : Moneycontrol, Valueresearchonline, Morningstar, Freefincal & The Economic Times. Returns shown in the table are 'Annualized Returns' as on 02-Jan-2017)