I have been tracking Indian Stock markets since 2003, from my MBA days. I still remember about my first stock investment (in 2004) and how I lost my hard-earned money. My first investment was in Ashok Leyland scrip and sold it for a loss. I had invested in this stock without doing any research.
I lost money by doing day-trading (short-term trading) also. I have lost money trying to make a quick buck. I have burnt my figures and later realized that this is not the right way to invest in stocks. (I realized that Making your money work for you is not a Make Money Fast in Four Weeks crash course. It takes time.) (Read: '10 reasons to avoid Short-Term Trading in Stock Markets')
All this happened during 2004 to 2007. Fortunately, I was not fully invested in stocks during 2008 stock market crash. I did not predict the crash 🙂 . It was just coincidental.
During this period, I realized that the best way to create long-term wealth is by investing in Equity Mutual Funds. Initially invested in whole lot of schemes, panicked when NAVs fell, sold few schemes at knee-jerk reactions, made short-term capital losses….what not!
Since 2009, I have been following a more refined and balanced approach. Instead of analyzing 'where to invest', I started analyzing 'why should I invest?'. Started giving more importance to identifying and setting realistic financial goals and then mapping right financial products (like mutual funds) to achieve the set goals.
Below is the investment planning process that I follow judiciously.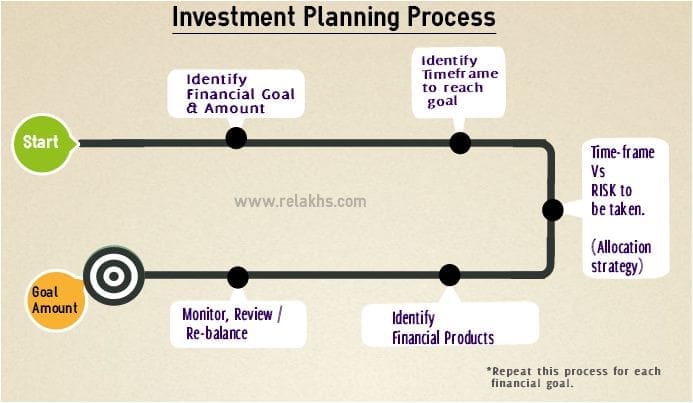 My Mutual Fund Portfolio
In this post, I would like to share the list of mutual funds that I have currently invested in.
I divide my goals into short, medium & long-term goals. My definition of investment horizon for my financial goals is, short term (less than 3 years), medium term (less than 3 -7 years) and long term (> 7 years).
Short-Term Financial Goals
I am holding Birla Sunlife MIP II Wealth 25 Plan (Growth) for the last one year. I have allocated this fund to one of my short-term goals. I had invested lump sum amount and have not created SIP. I prefer investing in this fund to fixed deposits. This fund has given returns of around 20% in the last one year, which is way beyond the returns that I would have got by investing in bank fixed deposits.
Medium-Term Financial Goals
For medium-term goals, I have invested in HDFC Balanced Fund and Birla Sunlife MIP II Wealth 25 fund. Holding these funds since 3 years. (Read my article on Top Balanced Funds)
Long-Term Financial Goals
For the goals which are after 7 years from now, I have allocated monies to TATA Balanced Fund (Plan A), Axis Long Term Equity Fund (ELSS fund for tax-saving) and UTI Mid-cap Fund. I have been holding TATA & UTI funds for the last 6 years or so. The percentage of allocation among these funds is 40:40:20 (UTI : Axis : TATA funds respectively).
SIPs are active for TATA Balanced fund & UTI Mid-cap fund. One of the thumb rules that I follow is, I buy additional units when broad indices (Sensex / Nifty) are below the 200 DMA (Day Moving Average). I am currently investing in ELSS fund manually (no SIP). (For Ex- Click here to view Simple Moving Averages of Nifty 50 Index.)
I have invested in the above list of mutual funds based on my financial goals. Also, you might have observed that I invest heavily in balanced funds. As of today, I am happy with my investment style and decisions.
Depending on your financial goals try to identify and invest in the best mutual funds. After all, we are talking about PERSONAL Finances, so customize and build your own mutual fund portfolio. You may read my article on 'Top Equity Funds' to know about some of the top performing funds.
---
I have recently added (May-2016) 'Franklin India Smaller Companies Fund – Monthly SIP' to my Long-Term MF Portfolio.
I have started making additional lump sum investments in Franklin Smaller Companies fund – (Updated on 14-Oct-2016)

---
What are your picks? How do you select mutual funds? Do you invest in mutual funds when market falls (or) do you prefer SIPs only? Share your views 🙂
Continue reading :
(Image courtesy of iosphere at FreeDigitalPhotos.net)