When you are investing in a mutual fund scheme, you primarily get to see four different options to choose form ; An MF Scheme has Regular & Direct plan versions and also growth & dividend options.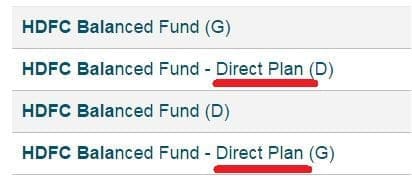 Under growth option, you will not receive any returns in the intermediate. You will not receive any payments in the form of interest, dividends, gains, bonus etc. You will get your returns only on selling the units.
Under dividend option, you will receive returns at periodic intervals. However, the intervals are not certain and dividend amount is also not fixed.
If your investment objective is wealth accumulation, you pick Growth option. In case, you would like to receive dividend income at periodic intervals, you pick Dividend option.
The behavior, investment objectives, portfolios & fund manager are all the same for all the above listed options (Regular, direct, Growth or Dividend plans).
(Related article: 'What are direct Mutual Fund plans?')
We know that the returns from Direct plans outperform their respective Regular plans of MF schemes. But, what about the Dividends? Are dividends declared by regular and direct plans same? Or, do regular plans pay you more dividend? If yes, what is the reason? Let's discuss….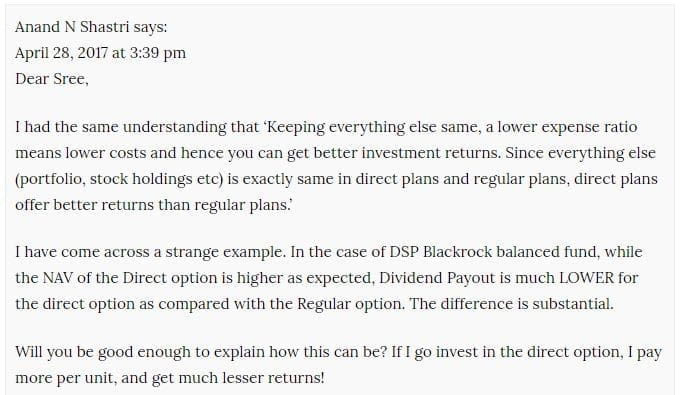 How are dividends paid by a Mutual Fund scheme?
Dividends reflect distribution of gains and profits. All mutual fund houses calculate the dividends for each of their plans based on the distributable surplus.
What is Distributable surplus? – A plan's distributable surplus is computed as its Net Asset Value (NAV) minus its face value, unrealised gains and accumulated Unit Premium Reserve (UPR).
Distributable surplus = NAV – (Face value + Unrealized gains + Accumulated UPR)
Let's take an example : You invest in a fund at an NAV of Rs 25, Rs 10 would go to an account called unit capital account, as the face value is Rs 10. The balance of Rs 15 (Rs 25 – Rs 10) would go in an account called unit premium reserve. If the invested amount of Rs 25 grows up to Rs 30, the fund can declare a dividend from Rs 5 which is the gain on Rs 25, the NAV. Out of this Rs 5, if the fund manager sells securities worth Rs 3 then it is called as realized gains and Rs 2 can be unrealized gains. In this case, the scheme can declare a dividend of Rs 3 only (maximum).
(Related article : 'What is NAV? How is it calculated?')
(In March 2010, Sebi asked mutual funds not to use unit premium reserve to pay dividends. It was noted that some fund houses were paying dividends from their unit premium reserve instead of the realized gains. Realized gains arise from sale of mutual fund assets or appreciation of assets.)
Why dividends in direct plans of MFs can be different?
If you analyze the percentage of dividends declared by various schemes for the last 3 to 4 years, you can notice that for some of the schemes, you will be paid a different, usually smaller, dividend than a regular plan investor.
Data from portals like Value Research/moneycontrol show that this is not a trend across mutual funds and schemes. It is specific to some schemes. The reason why some direct MF plans did not declare dividends (or) declared lower dividend, was because of the above quoted SEBI's rule that dividends can only be paid from realised gains.
We now understand that fund houses should not touch UPR for dividend declarations.
How is UPR determined? – UPR is determined at the plan level after apportioning realised and unrealised gains in the ratio of the respective assets under management.
Distributable surplus = NAV – (Face value + Unrealized gains + Accumulated UPR)
&
UPR = Units * Unrealized Gain component in NAV
So, the ability to declare dividends in a plan depends on the Gains & UPR balance. Even if the returns in the direct and regular plans under a scheme are similar, the dividend could vary depending on the UPR balance in the mutual fund plans.
Some Direct plans may not have a distributable surplus (or have a low surplus) due to a higher proportion of UPR and, therefore, they may not been able to declare dividends in those plans (or declare lesser dividend % when compared to respective regular plan).
Also, the differences between plans can arise because direct plans were introduced only recently in early 2013. The realised gains are higher in the case of regular plans than direct plans simply because the former have been around for longer.
SEBI's rule as cited above forces AMCs to distribute dividend only out of the accumulated gains that the fund has made. Typically, proportion of accumulated gains is much larger in the corpus of regular plan, and much smaller in direct plans. This obviously happens because the regular plans are older.
Therefore, since the rules have to be followed, the regular plan has a much higher amount available for dividend distribution.
To sum up, the dividend declared in a plan depends on its performance, position of gains and the UPR balance. But, let's understand the fact that RETURNS generated by a Dividend and Growth Options of a Scheme remain same. Also, the returns generated by a Direct plan (div/growth) will outperform the Regular plan of a Mutual fund scheme.
So, the difference in dividend payout is not a ploy by fund houses to make direct plans less attractive, but it's a regulatory requirement / an accounting challenge.
In the below table, I have tried capturing the dividend history of few popular Mutual Fund schemes and this clearly indicates that there is no clear trend as such (as of now).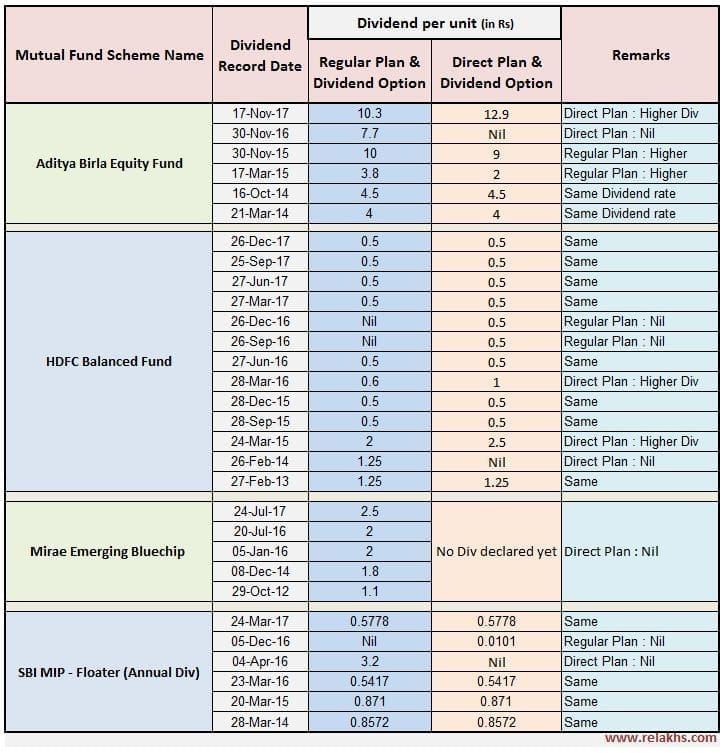 As reserves grow, the funds may declare more or less same % of dividends for regular and direct plans. We might also see direct plans declaring higher dividends in the long-run.
---
Budget 2018 has proposed 10% tax on Dividend distribution on Equity oriented (Dividend option) units (payable by the Fundhouses). Also, note that as per Budget 2016, income by way of dividend in excess of Rs 10 lakh is also chargeable at the rate of 10%.
---
Continue reading :
(References : Valuereasearchonline, moneycontrol, thehindubusinessline & freefincal.com)
(Image courtesy of Stuart Miles at FreeDigitalPhotos.net) (Post first published on : 11-January-2018)