The debate of Mutual Funds vs ULIPs has started again after the introduction of Long Term Capital Gains Tax on equity mutual funds and stocks in Budget 2018. Many investors want to know which one is a better investment option for long-term – Is it Equity mutual fund or ULIP? The 10% LTCG tax is not applicable on ULIPs (as of now).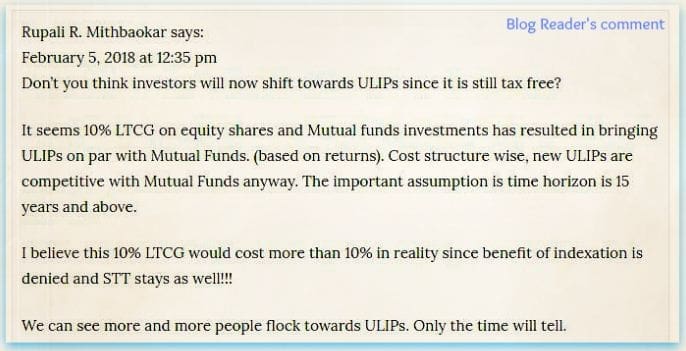 For tax saving under Section 80c, there has always been competition between Mutual fund tax saving product i.e, ELSS Vs Unit Linked Insurance Plans (ULIPs). From FY 2018-19 onwards, the Long term Capital Gains on ELSS funds also is taxable @ 10%. Hence, the investors whose main objective(s) are wealth accumulation and/or tax-saving have started comparing ELSS Vs ULIPs.
Some insurance companies have already started pitching ULIPs against mutual funds after the re-introduction of LTCG tax.
Before discussing which one is a better investment option, let's discuss the major differences between these two financial products, as often, though, mutual funds are confused with ULIPs.
Differences between ULIPs &
M
utual
Funds
ULIPs are life insurance policies with the dual purpose of providing an insurance cover as well as earn you a return by investing in equity and/or debt oriented securities. The insurance company floats different kinds of funds, just like the mutual fund house, to gather money from investors. It then invests this pooled money across assets like stocks, bonds etc.,
The Mutual Fund houses also pool money from investors and invest in various schemes with under-lying assets like stocks, bonds etc.,
So, ULIPs and mutual funds look like similar products, right? Let's now understand the major differences then….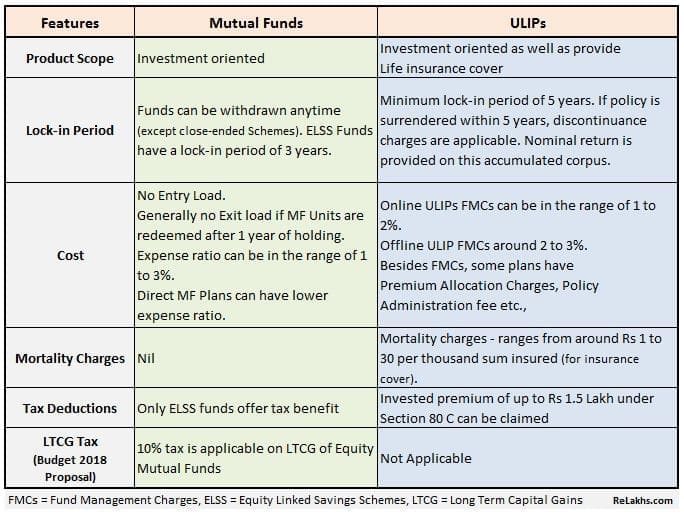 Based on the above features, it is obvious that the (new) major differentiating factor between ULIPs and Mutual Funds is TAX ARBITRAGE. The gains in mutual funds are subject to taxes. So, based on this one factor, can we judge that ULIPs are far better than Mutual Funds?? Let's discuss….
Mutual Funds Vs ULIPs
Let's compare ULIPs and mutual funds based on two major factors;
Product Cost structure
Performance, Choice & Flexibility
Product Cost Structure
Charges in ULIPs
As discussed above, ULIPs offer insurance and investment returns. So, obviously there are costs involved for offering both these features. A portion of the premium that you invest in an ULIP scheme goes towards providing life cover while the remaining gets invested in a Fund chosen by you.
Charges for Insurance Cover

Mortality Charges : These charges are levied for providing life insurance cover. The Insurer may either deduct a portion of your invested premium (or) redeem/cancel the fund units to adjust for these charges.
In case, you have adequate insurance cover and you choose to invest in an ULIP, you need to pay for mortality charges, for an insurance cover which you may not require.
In case, you do not have adequate life cover, you need to pay a heavy premium to get it through an ULIP. Instead, a

Term insurance plan

can be a better choice for pure life cover.
Some ULIP plans offer Top-up premium (over and above your regular premiums, additional investment). In case, you make top up investment, mortality charges are applicable on them as well. Also, when you buy a policy at 30 years of age and top up at 40, the mortality charge applicable will be that of a 40-year-old person and not that which would be charged from a 35-year-old. (Note that higher the age, higher wold be the mortality charges.)

Other ULIP Charges : Most of the new age ULIPs are very cost competitive. These ULIP schemes charge just Fund Management Charges (FMCs). In case you opt for offline ULIPs, there are other types of charges that are levied.

FMCs : These charges are levied for managing the Funds offered by the Insurer. These can be in the range of 1 to 2% for online ULIPs and more than 2% for offline Products.
If you observe that on some ULIPs plans like HDFC Click2Invest, the FMCs are same for all types of Funds, which is not desirable. (HDFC Click2Invest offers 8 different Funds.)
Example 2 : Below are the FMC charges of Edelweiss Tokio Life Wealth Plus ULIP plan. This plan charges different FMC for different funds.
Other types of charges in an ULIP can be Premium Allocation Charges, Policy Administrative Charges etc.,
Charges in Mutual Funds
It is often observed that the most debatable point between ULIPs and MFs is 'the cost structure'. With the introduction of online ULIPs, the costs of ULIPs have come down significantly. But, direct plans of Mutual funds can match their cost structure.
Charges for Insurance Cover : As MFs do not offer any insurance cover, there won't be any Mortality charges.
Other charges :

The main charges that are involved in MFs are Fund Management Charges.
These can be in the range of 1 to 3%.
The charges (referred to as Expense Ratio) may very across different types of Mutual funds (Debt, Hybrid, Index, Equity funds). The Direct Plans of Mutual fund schemes can have lower FMCs which can match the cost structure of online ULIPs. (Related Article : '

Direct Plans Vs Regular plans of Mutual Funds

')
Performance, Choice & Flexibility
Return Calculation

:

The way performance returns are calculated in mutual funds is more transparent than in ULIPs. The returns data given in ULIP product brochures can be net off FMCs but exclusive of Mortality charges, Premium allocation charges and other charges (if any). To arrive at exact returns on your ULIP, you need to deduct all types of charges and then arrive at accurate returns.
Whereas in Mutual funds, returns calculation is very straight forward, it is based on NAV, which is net-off all applicable charges. Mutual Funds are more transparent in terms of accessing information related to investment style, portfolio composition and past performance data.

Performance

The performance of your ULIP depends on the type of fund chosen by you.
For example : HDFC Click 2 Invest online ULIP plan offers 8 types of fund. It's 'Opportunities Fund' is a mid-cap oriented fund. The chosen benchmark for this fund is

Nifty Free Float Mid Cap 100

. Below is the returns chart (as on 31-Jan-2018) that has been sourced from HDFC Life website ;
Let's compare the returns of above ULIP mid-cap fund with a popular mid-cap oriented mutual fund like HDFC Mid -cap Opportunities Fund (returns as on 21-Feb-2018). (This fund also has same benchmark index.)
If we compare the 5 year returns – HDFC Click2Invest's opportunities fund has generated around 19%, Benchmark index returns have also been around 19% and HDFC Mid-cap opp fund has generated returns of around 25%.
So, if your fund gives 25%, after paying tax, you will still get around 22.5%. I have observed that many of the investors are calculating LTCG tax on the entire invested amount, note that 10% tax is applicable only on Long Term capital gains. (Read : '

10% LTCG Tax on sale of Stocks/Equity Mutual Funds | Budget 2018-19 Proposal

')
So, if returns from Equity funds are better than ULIP Funds then it is prudent to invest in investment products which give taxable returns but perform better than products which are tax free but give low returns. In such a scenario, the tax advantage enjoyed by ULIPs may not be a great deciding factor.

Non-Performance Case

In case, your ULIP fund does not meet your return expectation (under-performs), you do not have much choice than to switch to some other fund within the same ULIP.
For example : Let's say your invest in Edelweiss Tokio Life Wealth Plus ULIP plan – 'Equity Mid-cap Fund', which is a mid-cap oriented fund. If this fund under-performs, you can't switch to another mid-cap oriented fund. You may have to opt for say a Large cap fund or diversified fund within the same ULIP.
In case of non-performance of an equity mutual fund, you have plenty of options to choose from (it can be a different AMC, scheme, fund manager etc.,). Hence, mutual funds offer you greater flexibility and choice.
Though switches among the various funds within an ULIP are tax free (does not attract capital gain), you have limited choice and may not meet your original investment objective/strategy.
If you choose to surrender your ULIP policy before completing 5 policy years, watch out for tax implications. (Read :'

8 ways you could lose your Income Tax Benefits

')
In case, you decide to buy one more ULIP, the mortality charges can be higher as it is based on the age of the policy holder.

Additional Investment

If you plan to make additional investment in ULIPs (Top-ups), mortality charges are applicable on these Top-ups as well, besides other ULIP charges.
As per insurance rules, each top-up premium needs to be treated as a single premium contract. In other words, the extra money that you park in your Ulip also needs to buy you an insurance cover.
Kindly note that the minimum holding period of top-up premiums is 5 years. Top-up premiums are not allowed during the last 5 years of the policy term.
These kind of restrictions are not applicable in case of Mutual Fund investments.

Diversification

Let's say a small retail investor plans to invest Rs 60,000 p.a in an ULIP for long term wealth accumulation. He/she can at best opt for an online cost-effective ULIP plan. But the entire Rs 60,000 gets invested (net-off applicable charges) in only one type of fund. Hence, no diversification (concentration risk) is possible.
The same retail investor can pick two equity mutual funds schemes and can invest say Rs 2,500 per month via SIPs, which can lead to some diversification and can also get the benefit of rupee cost averaging.
Some more factors that you need to keep in mind before deciding to invest in an ULIP or Mutual Funds ;
Kindly note that investing based on 'tax' advantage only can be short-sighted decision. The tax laws may change in future. The next Budget (2019) may remove LTCG tax altogether (or) who knows they may include ULIP based Equity funds in the tax-bracket as well, to provide a level-playing field and remove the 'Tax Arbitrage'.
It is not prudent to invest in a bundled investment product. If your objective is to get adequate life cover, buy a pure Term insurance plan. In case, you would like to invest in equity oriented products for long-term goals, you may consider equity mutual funds or direct equity (stocks).
You may consider below possible investment combinations based on your requirements ;

Term Life Insurance plan (for insurance cover & tax-saving) + Equity Mutual Funds (long term wealth accumulation)
Term Life Insurance plan (for insurance cover & tax-saving) + PPF/EPF (Tax saving + long term savings)
ELSS Mutual Funds

(Tax saving + long term accumulation)

+ Term Life Insurance plan (for insurance cover & Tax-saving)
Term Life Insurance plan (for insurance cover & tax saving) + PPF/EPF + ELSS Mutual Funds
Term Life Insurance plan (for insurance cover) + PPF/EPF + Mutual Funds
For aggressive & long-term investors, ELSS still remains lucrative as the post-tax return can be greater than PPF and Ulips. (Read : '

Best ELSS Tax Saving Mutual Fund Schemes

')

Kindly note that 10% LTCG tax is not a retrospective one. It is not applicable on capital gains accrued till 31-March-2018. (Read : '

Budget 2018 LTCG Tax on Equity Mutual Funds & Important Implications

')
Last but not the least, you will surely witness aggressive marketing of ULIPs by Insurers, bankers, advisors & intermediaries and try to highlight the tax advantage that ULIPs have over Equity Mutual funds. One of the main motivating factor can be their 'commissions'. They get higher commissions on ULIPs than by selling mutual funds.
There is no doubt that the cost structure of ULIPs is very competitive now and they have been improving drastically, but I still prefer mutual funds for long-term wealth accumulation. Let's not forget the fact that a mutual fund house's core competency is investment and the primary function of an Insurance company is managing risk.So, as an Investor, may be you are better off with Mutual Funds for Investments.
Also, it is essential that you should consider the product cost, potential returns and your financial goals before selecting a financial product. Merely taking investment decisions based on tax advantage (or) disadvantage can be being short-sighted.
Do you agree with my views? Kindly share your opinion. Cheers!
This post is for information purposes only. We are not biased towards any insurance company or Fundhouse. Examples given in the blog are for the knowledge of users only. Mutual funds are subject to market risks.
(References : The Economic Times, Valueresearchonline, Morningstar& Insurance Plan Product brochures) (Image courtesy of pakorn at FreeDigitalPhotos.net) (Post published on : 22-February-2018)