This is that time of the financial year when most of the individuals (considering the salaried individuals have to submit their income tax investment proofs) look for Tax Saving investment options. Generally, most of the employers accept investment proofs from their employees during November to February.
The number of page-views  or visits on my articles, 'best tax saving ELSS mutual funds' & 'List of Income Tax Deductions' have been steadily increasing over the last two weeks 🙂 and they are the most visited posts on ReLakhs. This trend indicates that people are searching for the best tax saving options on the Web.
It is advisable to plan your taxes from the beginning of the financial year (April) itself. But better late than never! You still have 5 more months in this financial year. So, don't wait till March to plan your taxes. You may end up saving or investing in unwanted investment options.
I am sure most of you are aware of different types of tax saving instruments and also the list of income tax deductions which can be claimed under different Sections of the Income Tax Act.
In this post let us discuss – In whose name these tax saving investments can be done under Section 80C? If you make investments in your spouse' name or your child's name, are these investments eligible to be claimed as income tax benefit?
Tax Saving investment options under Section 80C for AY 2021-22 : In whose name can they be invested?
The maximum tax deduction limit under Section 80C is Rs 1.5 Lakh for FY 2020-2021 (under old tax regime). The various investment avenues that can be considered for tax benefits under section 80c are as below;
PPF

(Public Provident Fund)

:

You can invest in PPF in your name. You can open only one PPF account in your name.
You can also open PPF accounts in name of your spouse or children. However, kindly note that parents (father/mother) cannot open two separate PPF accounts in the name of same child.
You can invest a maximum of Rs.1,50,000 in your name and minor kid's name.
You can also invest maximum of Rs 1.5 Lakh in your spouse's name but do remember that you can claim Rs 1.5 Lakh only as tax deduction.
If you invest in name of your spouse, due to clubbing of income your need to add the interest earned on spouse's PPF account to your income.
You can also invest in your Major child's name. For example : You can invest up to Rs 3 Lakh in two PPF accounts (self Rs 1.5 Lakh + major child PPF A/c Rs 1.5 lakh). You can claim tax deduction of Rs 1.5 Lakh. If the major child has taxable income, he/she can treat the other Rs 1.5 lakh as gift and can claim tax deduction on his income. 
PPF account cannot be jointly held.

Life Insurance Policies :

The premium amount paid by a policyholder towards life insurance premium for self, spouse or his/her children can be claimed as tax deduction.
If you pay life insurance premium on policies which are in name of parents, brothers, sisters or In-laws then such amounts are not eligible to claim u/s 80C.
Kindly note that section 80c deduction is available on Life insurance premium paid for adult children or married daughter too.
If you are paying premium for more than one life insurance policy, you can club all the premiums and claim the total amount u/s 80c.

Contributions to Employees Provident Fund (EPF) or Voluntary Provident Fund (VPF) in your name alone can be claimed.
NSC (National Savings Certificate) investments which are in your name can be claimed.
ELSS Tax saving mutual fund Schemes : Investments in ELSS funds which are in your name alone can be claimed as tax deduction. ELSS funds can be held in joint-names, but only first-applicant (primary holder) who is a tax-assessee can claim the tax deduction. If the parents make an investment in the child's name in any of the specific investments under Section 80C such as Equity Linked Savings Scheme (ELSS) or PPF, the parents get the tax benefit and the taxable income gets reduced by the amount invested. The parents can, however, claim a deduction of up to Rs 1.5 lakh under Section 80C – of his own and his child's combined.
Tax Saving Fixed Deposits: Same as in case of ELSS investments.
Sukanya Samriddhi Account Deposit Scheme :

The contributions have to be made by parent / guardian of a girl child. Girl child is the beneficiary under

SSA Scheme

.
The contributor (parent) can claim the tax deduction on the contributions made to SSA account.
A depositor can open and operate only one account in the name of same girl child under this scheme.
The depositor (or) guardian can open only two SSA accounts.

Senior Citizen Savings Scheme

(Sr C S S)

:

This account can be opened by an individual who is 60 years and above. (But, if the retirement is due to super annuation or VRS, you can open SCSS account after the age of 55 years. There is no age limit for the retired defence personnel.)
The investments have to be in your name for claiming tax deduction.
Joint account can also be opened. But it has to be only with the spouse. There is no age limit for the second applicant.
In case of joint accounts, the primary account holder is deemed to be the investor. So, only the first applicant can claim the tax deductions.
You can open multiple SCSS accounts, either individually or with a joint investor (must be the spouse of the primary investor).

NPS

(National Pension System)

– only the NPS subscriber can claim tax benefits. If you invest in NPS which is in your spouse's name then you cannot claim tax deduction.
If you are aware of the tax implications at various investment stages, you will be in a better position to pick tax-efficient investment options.  Tax efficiency is a measure of how much of an investment's return is left over after taxes are paid. It is essential in order to maximize net returns on your investments. Below picture gives you an idea on the tax treatment of some of the popular financial instruments at various investment stages i.e., Contribution -> Accumulation -> Withdrawal;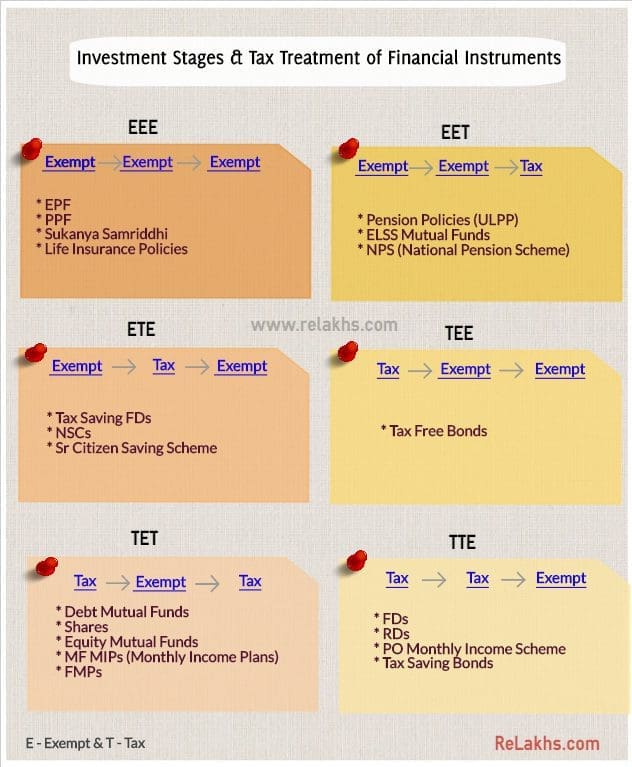 (NPS withdrawals will fall under EEE category w.e.f April, 2019)
Sometimes, it is OK to pay taxes when you cannot save or cannot invest in right financial products.  But, do not invest just to save TAXES. The cost of buying wrong financial products may outweigh the cost of taxes. Tax Planning is not a goal but a tool. Remember "Tax Planning alone is not Financial Planning."
Continue reading :
(Image courtesy of Stuart Miles at FreeDigitalPhotos.net) (Post published on " 08-November-2016)