What do you do if you are an Indian settled abroad in need of a health insurance? Would you consider getting a health insurance from the country you are residing in now? Or would you rather have it from your native country? I am going to present some arguments with the pros and cons of availing health insurances in India.
Especially with the rising medical inflation to almost 20%, according to HDFC ERGO, it is inevitable of NRIs to think of health insurance in India. Even then, the out-of-pocket expenses for health care in India are about 89.2%. While insurance penetration is less than 15%.
Thus, is it advisable for a NRI to get a health insurance in India?
NRIs & Health Insurance in India
Duration of time for returning to India needs to be considered.
So, if you are an NRI and intend to come to India in the near future, i.e. in the next couple of years; yes it makes sense to buy a health plan for yourself and your family in India.
However, you might restrain yourself from buying, if you have more than 3-5 years plan to come back. Then it doesn't make sense to purchase a health plan in India now. You might as well wait for a few more years and then purchase it when your return is almost certain. Otherwise, the premium payment would be considered as an additional expense.
Family Residing in India.
You might also purchase a plan in India if you have family or parents residing in India. Or you visit them every year once or twice. Or if you visit India every year for a minimum span of 3-4 months. In order to cover the health hazards during your tenure of stay, you might purchase a health insurance policy in India.
NRI by Profession only.
If a person is NRI only by profession, he or she should definitely opt for a health plan for Indian Land. This includes people in Merchant navy, Sailors, Pilots and other similar profession people of Indian Origin but NRI by passport status. They might also have family residing in Indian land.
Medical inflation is very high. Even if they feel that purchasing a health plan might not be of utmost importance, it makes sense to purchase one.
Business in India.
If you have a business or regular work visits in India, then you might consider one. Or if you need to stay in India for a significant amount of time. Under these circumstances, purchasing a health insurance plan for the stay in India makes a lot of sense.
Medical Tourism and Cost Effectiveness
India is one of the most popular destinations for medical tourism. This is because the basic cost of treatment is low here. The outflow for medical treatment out of India is lower than inflow. People from out of India, especially neighbouring countries, travel to India for treatment. This has risen significantly in the last couple of years. Medical tourism in India was estimated to be US $3 billion in October 2015. Traditionally people from UK and US have been travelling to India for treatment in India. This is because of the cost effectiveness, quality of care and ease of travel in India.
Since treatment in India is much cheaper than the US, UK, etc. the premium payable for an insurance policy in India is much lower than the counterparts. For a basic MRI Scan in India, it costs only Rs 4000-Rs 7000, i.e. $90 – $155, whereas the same in the US costs upto $700 to $2500, which can be done free with Insurance in the US.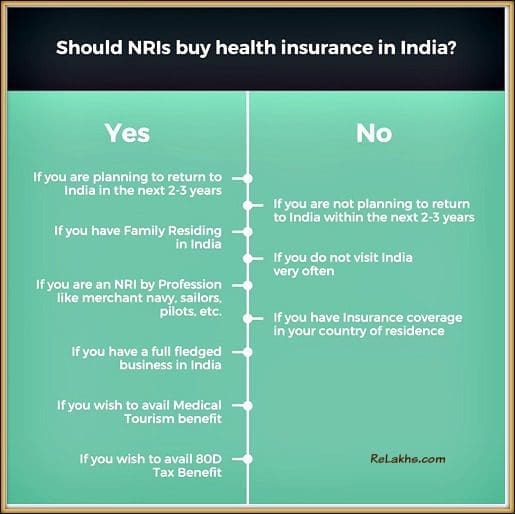 Things to know about Health Insurance Plans for NRIs
Although India has become a medical haven, there are some points that need to be considered.
Logistical Concern in Claim
Since NRIs stay out of India, the insurer is cautious in dealing with such cases. The distance makes it a logistical nightmare. It is difficult to verify the claims. Authentication of the facts is difficult when an individual is living in a foreign nation.
Thus, most insurers in India avoid such cases. Those who do provide such policies generally have a cap on the sum assured. They also adhere to stringent guidelines in respect to medical tests and examinations.
Geographic restrictions
In some insurance policies in India, there are geographic limitations. It states that they will not provide insurance coverage outside the territory of India.
However, in recent times a few insurance companies are providing insurance outside India. One such example is Religare Care offers "Care Anywhere". It offers coverage to a select few illnesses. Even Heartbeat Plan of Max Bupa covers medical emergencies across the world, if opted for.
Purchase Online
You can opt to buy the policy online if you are not present in India at the time of purchasing the policy. However, if you have plans to travel to India soon, it makes sense to buy it when in India. In that case, the cost of the medical tests that you may require to undergo will be integrated with the cost of your policy, if you are in India at that time.
Otherwise, the medical test expenses would be additional. However, it surely doesn't make sense to travel to India for this purpose alone as it can also be seamlessly done online.
Income Tax Regulations
In India, there are tax relaxations on health insurance premiums. Premiums paid up to Rs 25,000 for self and spouse and children are exempt from Income Tax under Section 80D. A NRI can avail the benefits of tax deduction under Section 80D as any resident of India. However, you will have to pay taxes in the country of his residence on his income. Thus, you must closely scrutinize the tax regulations of the said country.
(Read : 'Medical Insurance policy premium & Income Tax benefits u/s 80D')
TIP: NRI's should pay for their Health Insurance from their NRE Account so that the claim amount can be repatriated. Repatriation of money is conversion of currency to the country of residence and taken without any tax implications in India. The FEMA Regulations also need to be considered for the same.
Regulation #3 of the Foreign Exchange Management Act (FEMA) talks about Repatriation. It allows the amount to be repatriated only to the extent of the premium paid in foreign currency.
It is possible that the premium paid before becoming an NRI is from your savings account. Even then, you can pay your future premiums from your NRE Account for tax benefits.
Conclusion
NRIs can definitely travel to India for treatment and can claim the same as well. Be it for leisure trip, business or medical tourism. However, they need to show residence proof, Indian Income proof and other mandatory documents for the same. If you visit India yearly or have family settled in India, then buying Health Plan in India is recommended. If you consider moving back to India soon; then opting for a suitable comprehensive plan is definitely a good option. However, for all other cases you need to weigh the pros and cons and then take a call based on your needs.
This is a guest post by Anand of Turtlemint.com.
About the Author
Anand Prabhudesai is a seasoned professional with 15+ years of strategy and operations experience in technology, internet and mobile domains in the US and India. He has experience in developing market strategy, building and scaling consumer internet services, and leading cross-functional teams in engineering, product, sales and marketing. He holds MBA with Honors from Chicago Booth & an Electrical Engineering degree from IIT Bombay.
Anand co-founded Turtlemint in the year 2015 with an intent to "demystify" insurance by explaining the jargon in a simple way and providing smart online tools to help a user make the right choice w.r.t. Car, Two Wheeler & Health Insurance.
Kindly note that Relakhs.com is not associated with Turtlemint. This post is for information purposes only. This is a guest post and NOT a sponsored one. We have not received any monetary benefit for publishing this article.
(Image courtesy of everydayplus at FreeDigitalPhotos.net) (Post published on : 16-August-2016)