We all know that medical treatment has got more expensive, is getting more expensive and may continue to be more expensive. Health care has become a costly affair. We should have health insurance to protect us from extra financial burden during medical emergencies.
Whether you are self-employed or salaried, your family and you should have a stand-alone health insurance policy (even if you have an employer's group medical cover).
Health Insurance or Mediclaim policies are offered by General or Non-life insurance companies in India. There are around 24 General insurance companies in India. 4 out of 24 companies are stand-alone health insurance companies (Star health, Max Bupa, Religare Health and Apollo Munich).
When it comes to health insurance, there is no one-size fits-all plan that you can rely on. Medical Insurance is a contract based policy with legal jargon thrown in. Besides this, a Health Insurance policy has medical terminologies. Of the numerous medical insurance plans in the market, you may find that each one is unique in some way or the other, with its own benefits and limitations.
You have to do lot of research before you find the right and best health insurance plan for you. You have to make a comparison of health insurance plans offered by multiple companies. This is where I believe that health insurance comparison websites could be very beneficial.
Top Health Insurance Comparison Websites / Portals
Below are some of my personal favorite Medical or Health Insurance comparison portals :
1) Coverfox.com
This portal is owned by Coverfox Insurance Broking Pvt Ltd. As per my experience, it is the most user-friendly health insurance comparison portal. It provides geo-mapped hospital network comparison to check if 'cashless treatment facility' is available at the hospitals located in your area (these search results are provided based on the PIN Code).
There is no need to give personal details like email / mobile number to get the comparison search results, which I feel is a very useful feature of this portal.
You can filter the search results based on premium, room rent limit, co-pay clause, pre-existing diseases or based on the preferred company.
If you click on 'know more' option (as highlighted in the above image) you can find more details of 'what is covered?' and 'what is not covered?' in the selected health insurance plan. You can hover over 'cashless treatment available at' option to get details of networked hospitals list (as shown in the below image). Plan's product brochure / policy wordings are also provided under the link 'read complete terms..' option. You can buy shortlisted health insurance plan online.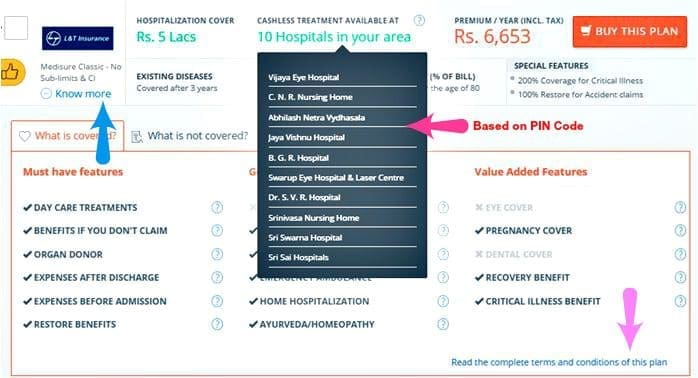 2) Medimanage.com
Medimanage is owned by Medimanage Insurance Broking Pvt. Ltd. It is India's first boutique health insurance broker and company claims itself to be the No. 1 Health Insurance Broker in India.
This portal will show you shortlisted health insurance plans based on your requirements. You can find details like room rent limit, co-pay, renewal age and premium under 'decision table'. Hover over 'read review' to know the positives and negatives of a specific medical insurance plan. You can also compare multiple plans based on certain features. You can buy shortlisted health insurance plan online through this portal also.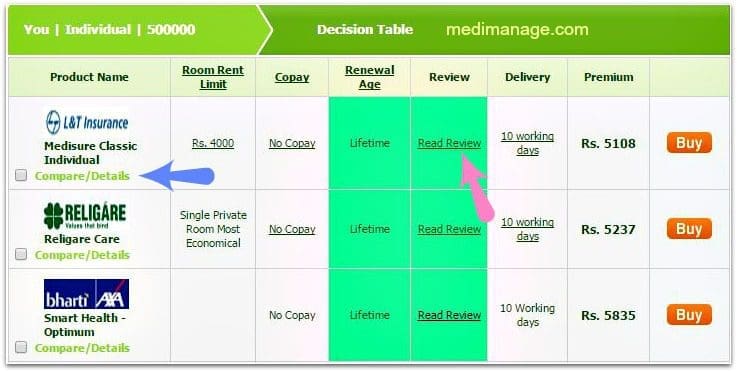 This is India's first IRDA approved insurance comparison site. You have to provide your personal details like email / phone no but no OTP (one-time password) is sent to your mobile. You may choose to give some dummy contact details to get the list of health insurance plans.
You can find details about plan specific key features by clicking on '+' option. You can also download Policy brochure and policy wordings documents through this option.
If you 'shortlist' a plan, the company's representative may contact you for completing the purchase.
You can find coverage details and critical factors of the medical insurance plans under 'details' section. Product brochures are also provided. You also have the option to compare shortlisted health insurance plans.

Some more Health Insurance Comparison Websites are as below;
Policybazaar
Policylitmus
Policybachat
Policyx
Easypolicy
On portals like Policybachat, Policyx or Policybazaar , it is mandatory to provide a valid mobile number to get the premium quotes of various medical insurance plans. An OTP (one time password) is sent to the mobile number for verification purpose. Personally, I do not like to share my contact details before I could shortlist a plan.
Few points to ponder upon
After shortlisting a medical plan, suggest you to visit the insurance company's website and go through the latest product brochure and policy wordings.
Online purchase through these portals is optional. You may utilize these portals to just compare and get the knowledge about the various medical plans at one place.
If you decide to buy through any of these medical insurance comparison portals or aggregators, stay cautious if they try to hard-sell any ONE company's product(s) only.
Do check out if they assist you during 'claim settlement' time.
Make sure the comparison portal is offering you a wider choice.
Check with them if they charge extra service fee, over and above the insurance premium.
Whether you buy through the Health Insurance Comparison Websites or through a trusted Insurance agent, make sure you go through and understand the key features of short listed plans. These critical features can be like hospital room eligibility, co-payment clause, maternity clause, Pre-existing diseases clause, sub-limits, non-allopathic treatment cover, policy renewal clause, free health-check up details, day-care procedures, if pre / post hospitalization expenses are covered etc.,
My suggestion is that all insurance must be purchased only after suitable research is done, irrespective of the purchase being done through an agent or online.
I hope you find this post informative. Kindly share your comments.
Continue reading :
(Image courtesy of Stuart Miles at FreeDigitalPhotos.net) (This post is for information purposes only.)