Health insurance for senior citizens or parents is a must, considering the rate at which the medical expenses are rising every year. On an average, the medical costs are rising around 15% to 20% every year. Interesting fact is, Indians pay around 75% of their medical expenses from their own pocket.
In last few years, I have seen many companies (employers) stopped offering health insurance coverage for employee's parents. So, irrespective of whether your employer offers or not, it is advisable to buy health insurance for your Senior Citizen parents.
Why health insurance for Parents?
The medical costs are increasing more than the average inflation rate.
Parents may have limited income or unstable income after their retirement
Parents may be financially dependent on their heirs
They are easily prone to illnesses or accidents. There might be sudden requirement of financial help.
Their employer's health insurance policy might be ceased to exist after retirement.
If you are living with dependent parents who are aged above 60 years then buy individual health insurance plans instead of family floater plan. In family floater plans, the age of the oldest family member is considered in determining the premium rates.
Terms to watch out for in a Senior Citizen's Health Insurance Plans:
Co-payment clause: Co-payment means the policyholder will bear a specified percentage of the claim amount. For example, in an 80%-20% clause, the policyholder will bear 20% of the cost and the remaining amount (80%) can be claimed.
Sub-limit: Health insurance companies may specify limits for certain illnesses or treatments. For ex: the policyholder can claim only Rs 20,000 for a cataract operation but the policy sum assured might be Rs 3 Lakhs. The policies without sub-limits are better but charge high premiums.
Pre-existing diseases: You need to check if the existing diseases are covered by the policy. In some policies all the existing diseases may be covered and in some the policy holder has to wait for few years before making a claim.
Waiting Period: The policy holder has to wait for certain period of time (in most of the cases it is 30 days) before claiming any expenses.
Alternative Treatments: Some policies also cover alternative treatments such as homeopathic, ayurvedic etc.,
Critical Illnesses : You need to check if the plan covers any critical illnesses and if there are any respective sub-limits.
---
Read Latest Article : Corona Kavach & Corona Rakshak Health Insurance Plans | Details & Review
---
Top 5 Best Senior Citizen Health Insurance plans in India
Below are some of the popular and best Senior Citizen Health Insurance Plans in India;
HDFC Ergo myHealth Suraksha Plan
Star Health Senior Citizen Read Carpet Plan
Max Bupa Health Companion
ICICI Lombard iHealth Plan
Religare Care-9 Plan

Below are the salient features of best Mediclaim policies for Sr Citizens;
HDFC Ergo my : Health Suraksha
This plan provides multiple high sum assured options Rs 75 lakh to Rs 5 crore.
All pre-existing diseases are covered except for diseases for which treatment was recommended by or received during the immediately preceding 36 months.

No room rent capping.

With sum insured rebound cover, the policy holder can get additional sum insured upto the base sum insured even if your existing sum insured exhausts.

Free health check-up every year.
Cash-less facility for home-care treatments is also available.
Star health's Red Carpet plan:
All pre-existing diseases are covered except for diseases for which treatment was recommended by or received during the immediately preceding 12 months.
Constant premium with lifetime renewals guaranteed.
Co-payment clause – 30% for other than claims for pre-existing diseases and 50% for pre-existing diseases.
No pre-acceptance medical screening is required. But, a discount of 10% on the premium is available if lab tests documents are submitted.
Enhancement of SA is permitted during renewal time.
Max Bupa's Companion Plan:
This plan provides coverage on individual basis and also for u pto 19 relationships.
For Sum Assured of above Rs 5 lakh, all pre-existing diseases are covered after 36 months of continuous coverage.
This plan comes with multiple Variants with coverage of up to Rs 1 crore.
ICICI Lombard's iHealth plan:
No mandatory sub-limits. However the customer can get the hospitalization cover with a reduced premium by limiting the medical expenses pertaining to specified medical and surgical procedures.
Co-payment clause is voluntary.
Free health check up every year.
Certain list of diseases or ailments are not covered for first 2 years.
Cumulative bonus of 10% on Sum assured can be accumulated for every claim free policy year.
Religare Care Plan for Senior Citizens :
No pre-policy medical check-up.
Annual health check-up for all insured person
20% co-payment clause on every claim under senior citizen plan, rest will be paid by the insurer.
Care for Senior citizen health insurance offers 10% increase in Sum Insured for every claim-free year.
Tax exemption for Health Insurance U/S 80D :
The below limits are applicable under Section 80D for Financial Years 2019-20 & 2020-21 (or) Assessment Years 2020-21 & 2021-22.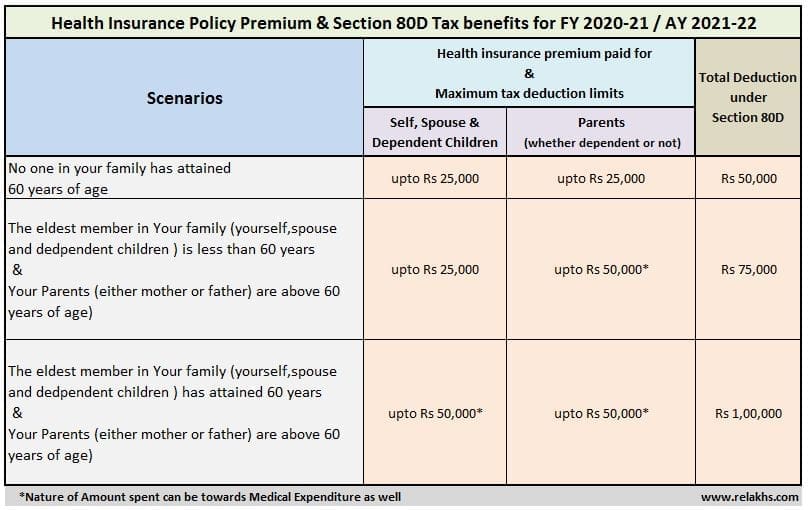 When it comes to health insurance, there is no one-size fits-all plan that you can rely on. Medical Insurance is a contract based policy with legal jargon thrown in. Besides this, a Health Insurance policy has medical terminologies. Of the numerous medical insurance plans in the market, you may find that each one is unique in some way or the other, with its own benefits and limitations.
Kindly note that having a health insurance plan is not the end of your 'medical insurance' planning. In fact, it is your first-line of defense only. Considering the ever-increasing medical treatment expenses in India, you have to plan for having an Emergency fund for unforeseen consequences. Don't depend entirely on health insurance plan alone!
Hope the above information will help you in deciding the best health insurance plan as per your requirement. If you require any suggestions or more information then kindly leave a comment.
You may like reading my other posts on –