During the last month, I had received an email from one of my blog readers, who is a retired Govt Teacher (residing in AP). Her story is a heart-touching one… Though she receives a monthly pension, it is not sufficient to meet her living expenses, as she is suffering from a Critical Illness, which requires medical treatment every month. She is now even unable to meet her day-to-day expenses.
She has also informed that she gifted a rental income generating property to her daughter (when her daughter was in a deep financial trouble) around 6 years back. And unfortunately, no one is taking care of her now.
Her main query to me is – Is it possible to take back my property from my daughter? Is this legally possible?
I have recollected a topic which I had first come across when I was pursuing my CFP (Certified Financial Planner) course..this topic is regarding, 'Maintenance and Welfare of Parents and Senior Citizens Act'.
I have informed her all the details which I know about this Act and she is now taking help of a civil lawyer and fighting for her rights.
So, what is this Act all about? What are the legal provisions mentioned in this Act regarding maintenance support to elderly parents and senior citizens?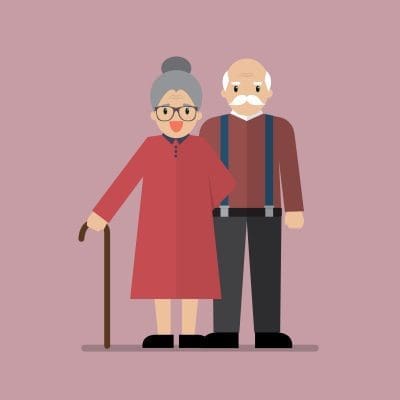 Maintenance and Welfare of Parents and Senior Citizens Act : Details & Rules
MWPS Act has been passed by the Parliament of India and got the assent of the President of India during 2007. The main objective of this Act is to provide more effective legal provisions for the maintenance and welfare of parents & Senior Citizens.
Parents (or) Senior citizens who is unable to maintain himself or herself is entitled to make an application under this Act to get monthly maintenance amount from his/her children.
What is Maintenance & Welfare? – Maintenance is defined in the Act as including "provision for food, clothing, residence and medical attendance and treatment".
Who can claim Maintenance ?
Parents

: As per the Act a "parent" means father or mother whether biological, adoptive or step father or step mother, as the case may be. Parents may or may not be Senior Citizens.
Grand Parents : Paternal or maternal grand parents can claim maintenance from their children or grand-children (male or female, who are not minors).
Senior Citizens : A senior citizen who is an Indian citizen who is 60 years of age or older. In case if a senior citizen does not have children then he/she can claim maintenance from a relative who is either possessing his property or who will inherit the property after senior citizen's death. However, such relative must not be a minor and must have sufficient means to provide maintenance.
How much can be claimed under this Act?
The main criteria for claiming maintenance under this Act is that the parents / Senior citizens must be unable to maintain themselves from their own earnings and property (movable or immovable).
As per the Act the maximum maintenance that can be claimed is Rs 10,000 per month. (I believe that this amount has to be revised once in few years after accounting for inflation and raise in cost of living. Also, it is prudent to have a minimum limit rather than maximum limit under the Act.)
How to claim maintenance?
A parent or senior citizen can submit an application for maintenance and welfare to 'Maintenance Tribunal' (Senior Citizen Forum) located in the concerned district.
Parents or Senior citizens can also authorize a representative (should not be a lawyer) to file the petition on their behalf.
Parents or Senior citizens can submit an application under Section (5) of this Act to get monthly maintenance from their children or grand-children.
On receiving the application, the Tribunal will give Acknowledgement

(Form B)

to the applicant.
After scrutinizing the application, Tribunal will send a 'Show Cause Notice' (Form C) to the opposite party (with a copy of original Application).
If the opposite party appears and accepts his / her liability to maintain the applicant, and the two parties arrive at a mutually agreed settlement, the Tribunal shall pass an Order accordingly.
In case, the opposite party does not agree with the Tribunal's order then the matter will be referred to 'Conciliation Officer' (through Form E).
The Conciliation officer will hold meetings with the two parties and try to work a settlement acceptable to both the parties, within a period of 30 days from the date of receipt of reference.
If both parties agree to the settlement order then the Tribunal shall pass a final order as agreed in such settlement.
In case, if either of the parties disagree then the Tribunal will give its Final order based on certain details (as below) ;

Amount needed by the applicant to meet his basic needs, especially food, clothing, accommodation, and healthcare,
Income of the opposite party (Children / Grand children)
Value of, and actual and potential income from the property, if any, of the applicant which the opposite party would inherit and/or is in possession of.
Senior Citizens Act & Transfer of Property
The above rules and details are related to maintenance that can be claimed by the parents or senior citizens irrespective of whether they have transferred any property or not to their children.
Let's consider a scenario – A parent / Senior citizen transfers a property (by Gift or any other mode, after 2007) to his/her children or anyone with a condition that they have to take care and look after their needs and amenities. And, if such promise is not fulfilled, does not even provide basic amenities to lead a normal life then such Parents / senior citizens can file an application to the Tribunal to consider such Transfer of Property as VOID (as per Section 23 of the Act).
The parents or senior citizens can get such property transfers voided (cancelled) at their option by having such transfer treated as a fraudulent or coercive acquisition and seek return of their property so transferred. (Read : '5 ways of transferring your Real Estate Property!')

The senior citizens can either get back their property (or) can also file an application to claim maintenance amount from the income generated by such Property (which has been transferred).
Other Important Points
Kindly note that the legal provisions listed under this Act may vary from State to State, as this Act is notified and can be amended (if required, from time to time) by the respective State Governments. For example : The State of Delhi notified & implemented MWPS Act (2007) in 2009. During 2010 & in 2016, some of the rules in the Act were amended. In 2016, an amendment has been notified, as per this, an elderly parents can evict negligent son or daughter from their self-acquired home in 21 days by giving a written complaint to Deputy Commissioner. There is no need to file a law-suit. However, the children will also get a chance to explain their stand which, if found unsatisfactory, can lead to an eviction notice.

MWPS Act (2007) extends to the whole of India except the State of Jammu & Kashmir.

This Act applies to Citizens of India who reside outside of India too.

If there is more than one child or relative, parents can claim maintenance from one or all of them depending on their means of income.
Senior citizens should be treated as a human being entitled to all the basic human rights, human dignity and human sympathy. It is, therefore, important that Government and the community play a proactive role in taking care of them.
You can get a HOME LOAN to buy a property. You can get a PERSONAL LOAN to meet your short-term financial goals. You can get an EDUCATION LOAN to fund your higher education (or) to fund your Kid's higher Education. But, you don't get a loan to fund your RETIREMENT.
So, if you are an youngster, do save / invest for your retirement as early as possible. Your top most priority should be to save and invest for your retirement. Do not think that it's too early to start planning for retirement. It is very important that you start early for your retirement, so that you can accumulate adequate Retirement corpus and do not depend on your Children/family financially during the fag end of your life.
Continue reading : 'Retirement Goal Planning in 3 simple steps!'
(Image courtesy of Sira Anamwong at FreeDigitalPhotos.net) (Post first published on : 15-May-2017)