My article on Best Equity Funds is one of the most popular articles on Relakhs.com. I have been receiving lot of queries on how to compare and select the best Equity oriented mutual funds. I have noticed that many investors prefer to invest in lot of funds to achieve diversification. Too many funds, especially from the same Fund category may lead to unnecessary 'Portfolio Overlap'.
Two seemingly different mutual fund schemes can own the same set of stocks. In such a scenario there is no real purpose of holding two funds. Portfolio overlap leads to redundancy.
In this post let us understand – What is mutual fund portfolio? How to check the portfolio of stocks owned by your mutual fund? What is Mutual Fund Portfolio Overlap? How to compare and check mutual funds portfolio overlap? How to know common stocks owned by two or more funds? Which are the best and free online mutual fund portfolio overlap comparison tools?
What is Mutual Fund Portfolio?
A mutual fund is an entity that pools the money of many investors (unit-holders) to invest in different Financial Securities. These investments may be in shares, debt securities, money market securities or a combination of these, as per the fund's investment objective.
Equity or Balanced (Hybrid) funds primarily invest in shares of companies. Whereas, Debt mutual funds invest in Fixed income securities.
How to check the Portfolio of Stocks owned by a Mutual Fund Scheme?
You can find the portfolio details of a mutual fund scheme on respective Fund House website (or) on online portals like moneycontrol.com or valueresearchonline.com.
For example – If you want to find out the portfolio of stocks owned by HDFC Top 200, follow the below steps;
Visit moneycontrol.com website.
Key in 'HDFC Top 200' (or your fund scheme name) in the SEARCH bar which is available at the top of the page.
Click on 'Holdings' under 'Portfolio' option (available at the left side of the page) to know about the list of stocks owned by this fund.
What is Mutual Fund Portfolio Overlap?
Mutual Fund Overlap occurs when you own two or more mutual funds that may have similar investment objectives and therefore hold many of the same securities.
Let's say you would like to invest in Fund ABC and also in Fund XYZ. After checking their portfolio holdings, you find that Fund ABC owns three companies' stocks i.e., Infosys, TCS & SBI and Fund XYZ has invested in Infosys, TCS & Reliance.
Here, you could clearly see that there is too much of a portfolio overlap. Both the funds have invested in Infosys and TCS shares. These are the common stocks owned by both the funds.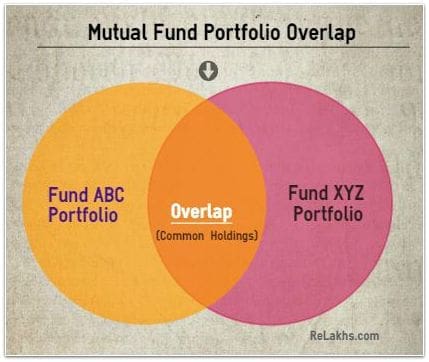 As an investor, you don't want too much of an intersection between the circles- you want the least amount of overlap possible.
Free Mutual Fund Portfolio Overlap Comparison Tools
You may use the below Mutual Fund Portfolio comparison tools to analyze the extent of portfolio overlap among the holdings of your mutual funds.
Equity Mutual Fund Portfolio – Overlap Checker

– This tool (MS Excel based) has been developed by Prof. Pattabiraman of freefincal.com. As of now, the Beta version of this tool is available. This Equity MF Portfolio comparison tool fetches the data from moneycontrol.com. At a time, you can compare the portfolios of three mutual fund schemes. Click here to download the Overlap Checker tool.
Online Portfolio Overlap Tool

– This online tool is available on thefundoo.com website. You can compare the portfolio holdings of two mutual fund schemes online. Click here to use this online tool.
Why & How to avoid Mutual Fund Overlap?
You may not achieve true 'Diversification' just by investing in too many mutual fund plans. You may be surprised to learn that many of your mutual funds overlap. There can be a real danger in mutual fund overlap, and you may not be as diversified as you think.
Having your mutual funds overlap with one another is not the end of the world. When you are comparing the portfolios of two mutual fund schemes, there will definitely be some overlap.. The real issue is the extreme case where you own several mutual funds in the same fund category, investing in the exact same stocks. You run the risk of not being properly diversified in your investing portfolio.
Better diversification can lead to 'downside protection' and 'controlled volatility'. Diversification ensures that if one sector had poor performance, or one stock within a sector struggled, your entire investment kitty doesn't go down the drain.
It is advisable to understand the type of investing objective of each mutual fund that you own (or planning to invest) and consider spreading out amongst large cap, mid cap, and small cap mutual funds. Also, it is better to avoid the owning too many funds managed by the same fund manager.
You may use the above tools when choosing a mutual fund to avoid portfolio overlap.
Continue reading :
(Image courtesy of Stuart Miles at FreeDigitalPhotos.net) (Visit freefincal.com for more excel-based free Personal Finance Calculators)