You may have seen or noticed commercials of Mutual Fund Schemes that end with a standard disclaimer – 'Mutual Fund investments are subject to Market Risk. Past performance may or may not be sustained in future. Past performance is not indicative of future returns.'
The two terms which are important here are 'Returns' & 'Risk' (or Volatility).
A mutual fund scheme invests in Equity and/or debt securities. These are the underlying assets of a mutual fund scheme. The returns generated by these securities can be VOLATILE.
So, when picking the right and best mutual fund scheme, it is advisable to
To analyze the past performance of the funds (measure returns) & also
To evaluate how VOLATILE these returns are? How consistent are the returns?
The volatility of returns generated by a mutual fund scheme can be measured by some important risk ratios like;
Standard Deviation

Beta

Alpha

Sharpe Ratio

R-Squared Ratio

Upside & Downside Ratios
Actually, these ratios are referred to as 'measures of Risk'. But, they measure the volatility associated with a financial instrument. This volatility leads to RISK i.e., you may or may not get the desired returns to achieve your financial goal(s).
When short-listing the best mutual fund scheme, you can analyze the funds on four parameters;
Compare the returns generated between Fund A and Fund B.
Analyze and evaluate the volatility of returns between Fund A & Fund B based on measures of Risk.
You can also compare returns of Fund A with the returns of its Benchmark index / Fund Category.
You can evaluate the measures of Risk between Fund A with that of its Category or Benchmark index.
How to select the best Mutual Fund Scheme based on Measures of Risk/Volatility?
Let's now discuss more details about these ratios and try to understand their importance when selecting the right and best mutual fund scheme. You need to give importance to both returns and measures of volatility while short listing mutual fund schemes.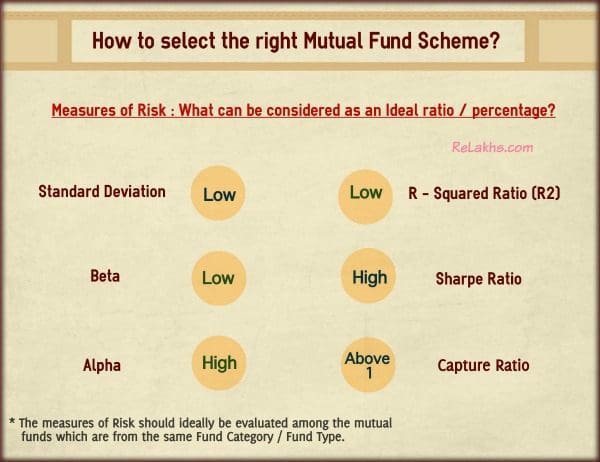 Standard Deviation
Standard deviation for a mutual fund tells you how much variance there is in the fund's returns.
Based on SD you can analyze the consistency of returns generated by a mutual fund scheme.
It's useful in a long-term sense (longer time period).
A Standard deviation of say 20 means that fund will generate plus or minus 20% from its long term average returns.
If a fund has say a 12% average rate of return and a standard deviation of 4%, its return will range from 8-16%.
Higher the Standard Deviation, higher the fluctuations in returns. So, you need to look out for a fund with a low Standard Deviation.
Beta
Beta gives you an idea on the correlation between a fund's performance and its Index.
It tells you how much a fund's performance would swing compared to a benchmark. (SEBI made it mandatory for fund houses to declare a benchmark index. For example: The benchmark index for HDFC Top 200 is S&P BSE 200.)
High Beta or low Beta, which one is good? If you are a risk-averse investor, low Beta is good. High Beta does not mean the fund's performance is better than its index. It just indicates that returns can be volatile (up or down) when compared to the fund's benchmark index.
If a mutual fund has Beta of 1 that means the performance of the fund will perfectly match the performance of its benchmark index.
If a fund has a beta of 1.5, it means that for every 10% upside or downside, the fund's NAV would be 15% in the respective direction.
The Beta can be a negative figure too, which indicates that there is no correlation between the performance of fund and its benchmark index.
Alpha
Alpha gives you an idea whether the fund has out-performed its benchmark index or not.
It measures the fund's performance (returns) and risk relative to its benchmark index.
Alpha is measured as a percentage so an alpha of 10 means the fund outperformed its benchmark by 10%.
So, ideally you would like a fund to have HIGH Alpha. Higher the Alpha the better.
R-Squared Ratio (R2)
R-Squared measures the relationship between a portfolio and the Fund's benchmark.
Kindly note that it is not a measure of the performance of a portfolio. However, it measures the correlation of the Fund's Portfolio's returns to the Benchmark's returns.
Most of the Large cap & Index funds will have high R-Squared ratio.
Sharpe Ratio
It measures the returns with respect to risk taken by the Fund. It is a risk-adjusted measure.
A good Fund should be able to generate decent returns without taking too much risk.
Ideally, a fund with high Sharpe Ratio is better. (Treynor ratio is similar to Sharpe Ratio.)
Upside & Downside Capture Ratios
These ratios show us whether a given fund has outperformed i.e., gained more or lost less than the broad market benchmark during periods of market strength (bull phase o upside) and weakness (bear phase or downside), and if so, by how much.
An upside capture ratio of over 100 indicates a fund has generally outperformed the benchmark during periods of positive returns for the benchmark. Meanwhile, a downside capture ratio of less than 100 indicates that a fund has lost less than its benchmark in periods when the benchmark has been in the red. (courtesy : mornigstar.com)
Ideally, you would like a fund to have higher Upside capture ratio (>100) and lower downside capture ratio (<100). Lower the downside capture ratio, better the 'DOWN-SIDE PROTECTION'.
Some funds may give you the best returns when markets are UP but they do not necessarily go on to out-perform when the markets FALL. So, we need to identify the funds which outperform in both the scenarios. Identifying the funds that 'lost the least when markets tanked' should also be given importance.
Capture ratio is calculated as Upside Ratio divided by Downside ratio. For example, a fund with an upside-capture ratio of 100% and a downside ratio of 80% would have an upside/downside ratio of 1.25. Any ratio above 1 means that a fund does a good job of capturing gains during bull phases while lessening the impact of bear markets.
There are certain other Risk ratios like;
Sortino Ratio : It is a variation of Sharpe Ratio. It factors in only the downside or negative volatility.
Omega Ratio : The Omega ratio is a relative measure of the likelihood (probability) of achieving a given return, such as a minimum acceptable return or a target return.
Where to get information on important Measures of Risk Ratios?
Where to find the values of these Risk Ratios? Are there any online portals which provide details on these measures of risk?
Yes, the details are readily available on portals like Valueresearchonline & Morningstar.
How to Compare Mutual Funds Performances based on Risk Ratios? (Fund A Vs Fund B)
You may click on 'Returns' tab to analyze the Funds' performances.
You may click on 'Risk Stats' tab to evaluate the performances of these funds on various Risk ratios.
Fund A Vs Benchmark Index Vs Fund Category
Click on any individual Mutual Fund Scheme link and you can find details about risk ratios related to that specific Fund, its Benchmark Index and also of Fund Category in the same table. Below details are for SBI Blue Chip Fund Vs S&P BSE 100 (its benchmark index) Vs Category (Large-cap).
You may also find risk ratios' details in Morningstar portal.
Visit Morningstar.in portal and click on '

Tools

' menu option.
You may click on 'Fund Risk Measures' to know the details of Risk ratios of a Fund. You can click on 'Category Risk Measures' to evaluate the category wise measures of volatility.
Below details are for SBI Bluechip Fund (Click on 'Fund Risk Measures') (Morningstar provides information on Capture ratios, but the benchmark index for all the comparisons is S&P BSE 100)
Conclusion:
Performance (Returns) is not everything. If a fund generates high and abnormal returns but takes too much risk (unwarranted) then the returns may plummet (or) the performance may not be consistent. So, as a mutual fund investor you would like to invest in a product which balances risk and returns.
It is prudent to analyze both returns and risk ratios before shortlisting the best Mutual Fund Schemes.
Do you evaluate your MF Schemes based on these measures of Volatility? Kindly share your views and comments. Cheers!
Continue reading :
(Image courtesy of Stuart Miles at FreeDigitalPhotos.net. References : Valueresearchonline, morningstar & Freefincal.com) (Post Published on : 23-June-2016)