What is a Risk? – Risk implies uncertainty. It is the potential of gaining or losing something of value. In financial language, it is the chance an investment's actual return can differ from the expected rate of return.
When we talk about an investment option, we have to analyze both Risk and Return. This applies to mutual fund investments too.
" Mutual Fund investments are subject to Market Risks, read all scheme related documents carefully before investing! "
I am sure most of us might have come across above disclosure when we are watching TV, reading a news paper, or while investing in mutual funds.
What is this disclosure all about? – This is a regulatory requirement. Any mutual fund company has to include this disclosure as part of their marketing communication.
So, when a mutual fund company runs Ad campaigns for their mutual fund schemes, they have to mandatorily display this disclosure in their marketing material. This is as per SEBI's (Securities Exchange Board of India) guidelines.
For example, in the below advertisement campaign by HDFC AMC, you can find the disclosure about the market risks.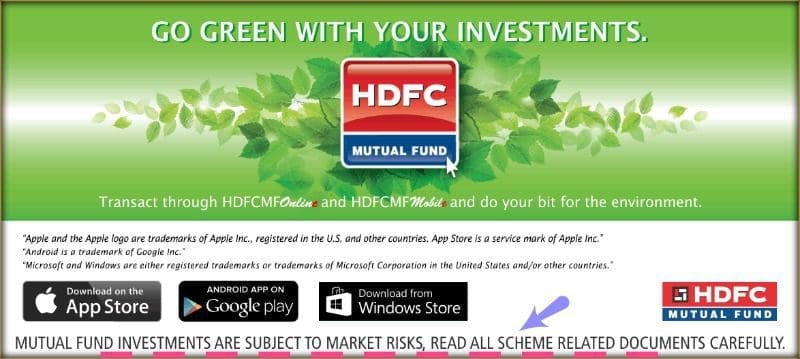 AMFI has been aggressively promoting mutual funds as an investment/savings option (Saving ka naya Tareeka) in the last couple of years. At the end of these Videos (Commercials) you can notice the disclosure being displayed.
In this post let us understand – What are these Market Risks? What are Mutual fund Scheme related documents? Are mutual funds investments only subject to risks?
What are Market Risks?
Theoretically, risks can be classified as 'Systematic Risk' and 'Unsystematic Risk'. Systematic Risk is also referred to as Market Risk or Un-Diversifiable Risk or Volatility. Whereas, Unsystematic risk is diversifiable risk or Specific risk.
For example : If there is a prolonged strike by Employees union of a particular company, then the shares of that company can be exposed to risk, which is UNSYSTEMATIC. This risk can be reduced through diversification. Systematic risk affects the entire market. It underlies all other investment risks. If there is a war or recession or a bad monsoon, it can affect the entire market and can not be avoided through diversification. At best, you can invest in such stocks which can withstand the impact in a better way.
What are Mutual Fund scheme related documents?
The the latter part of the disclosure – 'Please read the scheme related document carefully before investing' – is easier said than done. The reason being, these scheme related offer documents can run into tens of pages and have legal/financial terms, which may not be understood by a layman or retail investor.
The documents we are talking about are;
Scheme Information Document

(SID)

: This document provides complete information about the scheme. It also has list of all other mutual fund schemes offered by the concerned fund house.
Statement of Additional Information

(SAI)

: SAI contains all statutory information of the Mutual Fund house. It provides more detailed information about fund policies & operations.
Key Information Memorandum

(KIM)

– Abridged document of SID & SAI
Fund Factsheet : Analysis of returns with graphs and charts. If you have already invested in a fund, you can check the scheme's progress and performance in the Fund's Factsheet. Until Oct 2015, there was no standardized format. But from Oct 2015, the new factsheet format has been made effective and all AMCs have to provide the factsheets in the same format so that it is easy for the investors to go through them.
(These documents are available on respective fund house websites for each and every Mutual fund scheme they offer.)
Which document has detailed information on MARKET RISKs and various types of Risks? – SID has the information on various types of risks.
For example : Click here to download SID of Franklin Templeton Prima Plus Fund and kindly visit page numbers 4 to 7 to understand about Market Risks & unsystematic risks.
Standard Risk Factors
Scheme Specific Risk Factors
Risks Associated with Equity investments
Risks associated with Debt investments or securities and so on..
Mutual Funds are subject to Market Risks – My Opinion
I currently live in a small town in Andhra Pradesh. Last week, all the families in my apartment had a get-together party. During dinner time, I casually asked two of my neighbors – 'what is your opinion on mutual funds?'. Both of them replied that they have not invested in mutual fund schemes till date.
One of them who is a doctor says that he has seen an MF ad and at the end of the commercial they say it is risky to invest in mutual funds. When they themselves are saying it is risky then why should we invest in mutual funds? He also said that it is like a Pharma company giving an Advertisement for a Tablet and highlighting the impact of SIDE-AFFECT prominently. This is the reply I got for my question.
Are mutual funds only subject to MARKET RISKS? What about other investments, are they free of risks? – in my opinion all investments carry certain amount of risk. Unfortunately, most of us equate RISK with 'losses' directly. We forget the fact that it is only a probability of losing and not actually losing.
Investing in a Land has its own set of risks. Even investing in Bank Deposits can be a risky affair, if bank goes bankrupt.
Saying 'mutual fund investments are subject to market risks' is way too generic. This sentence can scare a new or small-time investor to invest in a mutual fund scheme. This can create a negative perception about mutual fund products as a whole.
All mutual fund schemes are not one and the same. All mutual fund schemes do not necessarily carry same amount of risk. Many of us do believe that all mutual fund schemes invest in Shares only. It is a misconception. There are different types of mutual fund schemes – Equity, debt, balanced/hybrid, arbitrage etc.,
So, it is not the mutual funds that carry risk it is the underlying assets/investments that carry the risk. The mutual funds try their best to mitigate the risk (especially the un-systematic risks can be taken of by the fund manager).
In my opinion! The biggest risk is not taking risk at all.
So, instead of quoting 'mutual funds are subject to market risks', may be it's wiser just to say 'investments are subject to risks', understand and manage them.
As Mark Zuckerberg (Co-founder of Facebook) says – 'The biggest risk is not taking any risk… In a world that changing really quickly, the only strategy that is guaranteed to fail is not taking risks.'
(Read : 'How to compare & select the right Mutual Fund scheme based on Risk Ratios?')
Kindly note that this post is for information purposes only. ReLakhs.com is not associated with any of the companies mentioned in the above article. (Image courtesy of bplanet at FreeDigitalPhotos.net) (Post published on : 16-September-2016) (References: moneycontrol.com & Video Courtesy :AMFI)