MFUtility, an online mutual fund investment platform jointly run by mutual fund houses was launched exactly a year back in January, 2015. As of now, investors can invest in mutual fund schemes either through the distributors who are registered with MFUtility platform (or) can invest in Mutual Fund Schemes through offline mode only. Online transaction facility to invest in Direct Plans of Mutual Fund Schemes is not available.
If an investor wants to invest in or redeem mutual fund direct plans online, the only option which is available as of now is to visit respective mutual fund house website and invest online.
Good news is that investors can now invest in Direct plans of Mutual Fund Schemes offered by 25 AMCs (Asset Management Companies) online starting from today (01-Jan-2016) via MF Utilities.
What are Direct plans of Mutual Funds?
Direct mutual funds plans are those where AMC / mutual fund Houses do not charge distributor expenses / trail fees / transaction charges. 'Direct' means no intermediaries.
Direct mutual fund schemes have lower Expense Ratio than that of Regular plans. This is the main reason why the NAV of a direct plan will be higher than the NAV of a regular plan of the same scheme.
In the case of both regular and direct mutual funds, the investment objective, asset allocation pattern, risk factors and the investment mix are same. A scheme's portfolio will be the same for both, Regular plan and Direct Plan.
(You may like reading : 'Direct Mutual Fund Plans : Details & Benefits')
What is MFUtility Platform?
MF Utility is a shared infrastructure of all AMCs in India to provide online investment facility to mutual fund investors. MFU is sponsored and funded by the mutual fund houses. This platform covers almost 95% of the MF industry's schemes and products.
The Association of Mutual Funds of India's (AMFI) MF Utility is a single-window online platform for investment in MF schemes across fund houses. It works as a web-based transaction aggregator.
MF Utility (MFU system) is a browser-based application that connects investors to registrars and transfer agent (RTA), bank, fund house, payment gateway KYC registration agencies (KRAs).
(You may like reading : 'How to register with MF Utility online platform? FAQs')
How to invest in Mutual Fund Schemes online via MFUtility platform?
To access MF Utility, you need to get CAN (Common Account Number) activated. The subscription to MF Utility is free of cost. Download the CAN registration form and submit the completed form at MF Utility POS (List of MFU Points of Service). This is a one-time procedure.
If you are not KYC compliant then MF Utilities India will facilitate the KYC registration for investors along with the creation of CAN. (Download KYC registration forms)
Kindly note that you can invest in both Regular & Direct plans of Mutual Fund schemes through MF Utility online platform. You can invest in MF schemes by creating SIPs (Systematic Investment Plans) or by making lump sum investments.
Other options like STP (Systematic Transfer Plan) and SWP (Systematic Withdrawal Plan) are also available online. Below are few screenshots of MFU platform.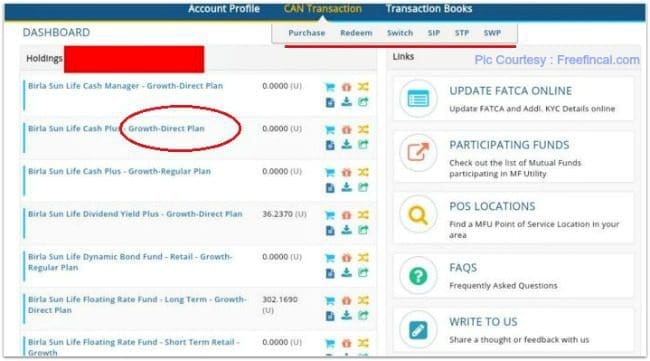 You can also redeem mutual fund scheme units online.
The participating AMCs list on MF Utility platform is as below. You can now invest / transact in Regular & Direct Plans of all Mutual Fund Schemes offered by below fund houses;
Axis Mutual Fund
Birla Sunlife Mutual Fund
DSP Blackrock Mutual Fund
Edelweiss Mutual Fund
Franklin Templeton
HDFC Mutual Fund
ICICI Prudential AMC
IDBI Mutual Fund
IDFC
IIFL AMC
Indiabulls Mutual Fund
Kotak AMC
L&T Mutual Fund
Motilal Oswal
Peerless Mutual Fund
PPFAS Mutual Fund (Parag Parikh Financial Advisory Services Pvt.)
Principal Mutual Fund
Quantum AMC
Reliance Mutual Fund
Religar Invesco Mutual Fund
SBI Mutual Fund
Sundaram Mutual Fund
TATA Mutual Fund
Taurus AMC
UTI Mutual Fund.
For more details & FAQs on MFUtility, kindly click here .
(Image courtesy of Stuart Miles at FreeDigitalPhotos.net) (Screenshots Source & Courtesy : Freefincal.com)