Direct mutual funds have been around for over three years now, delivering additional returns across funds to those who made the switch early. If you think that difference is already large, think of the difference compounding will bring over the decades.
Yet, only around 12% of investors have gone direct. One reason for this is that investors don't know how to switch their existing portfolio to direct mutual fund plans.
In this article, we'll discuss all you need to know about making the switch, including how to do it, whether to make a partial or complete switch and even the tax implications of the move.
Switching to Direct Mutual Funds? – Keep these handy Tips in mind!

1) Paper or online
You can make the switch to direct in person or online. Online is obviously the easier route. You have one of three options to make the switch:
Online Options :
RTA Website: You could log on to the websites of a Registrar & Transfer Agent (such as Karvy or CAMS), fill up a form and make the switch. In one go, you could switch all your existing investments in mutual funds.
AMC Website: You could also log on to the websites of the mutual fund house to make the switch. This is, however, the worst of the three options if you have investments in the funds of more than one AMC.
Direct Mutual Fund Platform: There are also several direct mutual fund platforms (like MF Utility, Jama, etc) that have made this process simple. These websites will route your request to switch to direct through the RTA. Of course, you cannot switch to direct via an online broker or distributor (such as ICICI Direct or Funds India) who deals in regular plan mutual funds only.
Offline Switch Options :
RTA office: If you choose to do so physically, you could go to the nearest Registrar & Transfer Agent (such as Karvy or CAMS), fill up a form and switch all your investments to direct.
AMC branch: You could also go to the nearest branch of the AMC. The problem with this is that you'll need to personally visit every AMC whose funds you've invested in.
For example : If you decide to switch to direct plans offered on MF Utility platform, from Regular plans of an AMC, you can submit below Switch Form at AMC.
Between online and offline, it is definitely easier to make the switch online. It's a smooth process (with an RTA or a direct mutual fund platform) and takes only a few minutes.
2) Partial or Full
You can switch all or some of your existing portfolio to direct plans. In most cases, however, a complete switch is not possible, because a switch is treated as a reinvestment of funds (even though it's in the same scheme) and, therefore, may be subject to an exit load and capital gains tax (if any).
There is no need to switch your entire portfolio to direct immediately. You should only do so once there is no chance of an exit load or capital gains on your investment.
3) Does the switch entail any expense?
Holding period: It's very important to note that exit load and tax implications apply to every unit of a fund you own. Therefore, let's say you started a SIP with a particular equity mutual fund on December 10, 2015. In November 10 2017, you decide to switch it to a direct plan. All units purchased after November 10, 2016 would still attract an exit load and STCG.
Exit load: If you are switching from Regular scheme to Direct scheme, this is considered as normal redemption (exit) only. Such transfer shall be considered as a Redemption (from regular plan) and a fresh investment (into direct plan). So 'Exit Loads' (if any) will be applicable.
While some AMCs have waived exit loads on switches to direct, many have an exit load of around 1% for redemptions under 12 months; in a handful of cases, though, the exit load applies even up to 24 months. So always check the exit load on your investments before making an exit.
Capital gains: Since the 'switch' is considered as normal redemption request (exit), you have to be aware of the tax implications. Based on whether the capital gains are short term or long-term, respective taxation rules are applicable.
As for capital gains tax, equity mutual funds held for under one year attract short-term capital gains (STCG) of 15% (there is no long-term capital gains [LTCG]). Non-equity investments attract STCG according to your tax bracket and LTCG of 20% with indexation (see more on 'Mutual Funds Taxation Rules' here).
(Related article : 'Budget 2018 LTCG Tax on Equity Mutual Funds & Important Implications')
So, for the regular plan units that have already completed their exit load period and do not have adverse capital gains tax implications, you can switch those units to direct mutual fund plan.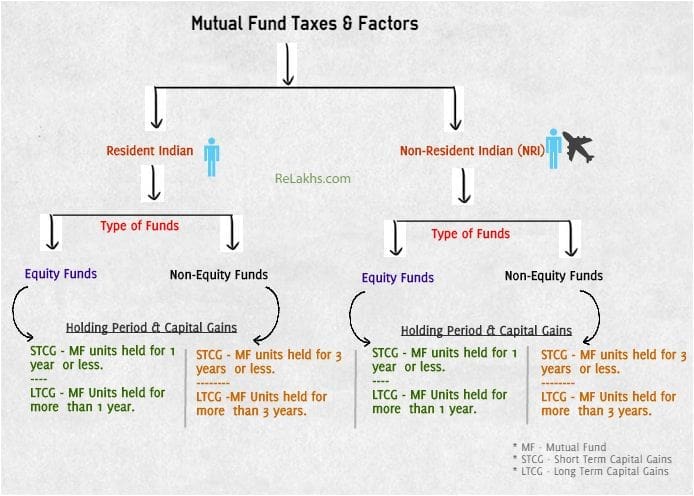 ELSS: Equity-linked saving schemes (or tax-savers, as they're often known) have a three-year lock-in period. If you wish to switch such an investment to direct, best to schedule it on your calendar and do it when the window closes. However, remember that, given that a switch is treated like a new transaction, a switch from a regular ELSS to a direct ELSS would restart the clock on the three-year lock-in period. (Related Article – 'Best ELSS Tax Saving Mutual Funds')
4) Consolidate Folios
Switching to Direct is an opportunity to reconsider your portfolio and re-evaluate. It is almost like relocating from a high cost city to a nicer place with a low cost of living, while still enjoying the benefits and quality of life. You get a chance to prune your portfolio and decide if you should keep a certain fund or not.
Not only funds, sometimes investors often accumulate several folios in the process of being sold by many distributors, websites that claim to offer FREE investing. Some of these folios may have the same mutual funds. This not only results in too much mail clutter both electronic and physical, but also adds to 'investor fatigue'. This is a chance to reduce some of the clutter.
5) Review Portfolio Performance
One should also re evaluate the portfolio to weed out any lemons (poor performing funds). One should also see if the portfolio over time has become skewed in any one particular direction (eg: too much exposure to equity).
Taking an advisor view in this can be helpful. If you are using an online direct mutual fund platform check if they have an advisory capability and background to help you with such decisions. An ability to understand your personal risk profile is also helpful.
Investing is much more than a mere transaction. The same goes for a switch too, however operational and routine that may sound.
This is a guest post by Ram Kalyan of Jama.co.in.
About the Author
Ram Kalyan Medury is a Fintech Enthusiast and Entrepreneur. He founded Jama, an online & mobile app based direct mutual fund platform and investment advisory. He has nearly two decades of Fintech experience at leading companies like Infosys, ICICI, Magma.As an entrepreneur, he is passionate about spreading investor awareness and helping people invest in high return, low cost instruments that compound their wealth. Ram is a SEBI Registered Investment Advisor and an MBA from IIM Bangalore.
Kindly note that ReLakhs.com is not associated with Jama. This is a guest post and NOT a sponsored one. We have not received any monetary benefit for publishing this article. The content of this post is intended for general information / educational purposes only.
Mutual fund investments are subject to market risks and returns are not guaranteed
((Image courtesy of Stuart Miles at FreeDigitalPhotos.net) (Post published on : 15-November-2017)