As a caring parent you would always want your child to get the very best. Investing for a child's bright future is one of the most critical financial goals.
In the name of 'child's bright future', parents are always lured with all kinds of financial products by financial advisers or financial institutions. Child Plans offered by Life Insurance companies are sold like hot cakes. They are always a big hit in India. Mutual Fund companies also have exclusive schemes for planning your Child's future goals (Kid's Education goal, Kid's marriage goal etc.,).
Most of the top Mutual Fund houses like HDFC, TATA, Franklin, ICICI, UTI etc., have children oriented schemes. Axis has recently launched its NFO called ' Axis Children's Gift Fund' with an aim to collect Rs 700 crore.
In this post, let us understand – What are Children's Gift Funds offered by Mutual Fund companies? What are the factors that need to be considered before investing in children's funds? Which are the best and top performing Children's Gift Mutual Funds? Should you invest in Child plan Mutual Fund Schemes? Should you invest in Axis Children's Gift New Fund offer?
What are Children's Gift Funds ?
Children's Gift funds are dedicated mutual fund schemes which are positioned as Child plans to meet children's future financial needs like education, marriage expenses etc.,.
These can be categorized as normal 'Balanced Mutual Funds' or 'Hybrid Funds'. These funds invest in both Equity (shares) and Debt Instruments (Fixed Income Securities).
These funds can further be classified as 'Hybrid – Equity Oriented' or 'Hybrid-Debt Oriented' based on their exposure to Equities.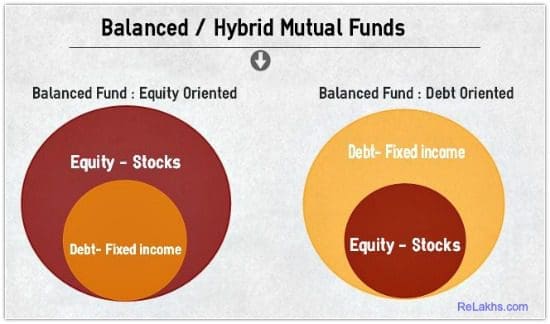 If the average equity exposure of a balanced fund is more than say 65% and the remaining 35% is in debt products then it is treated as a Balanced Fund – Equity oriented. This means major portion of the fund's assets are invested in equity.
If the average debt exposure is around 60% and equity is 40% then these funds are treated as balanced funds – Debt oriented. (These proportions can vary among different balanced funds)
Important points to consider before buying Children's Gift Funds
Below are some of the important points to ponder upon before investing in child oriented mutual fund schemes;
Fund's Investment Objective – As discussed above, check out the asset allocation and investment strategy of the fund. Is it debt-oriented or equity oriented or offering both the options?
Lock-in Period – Most of the child funds offer optional lock-in facility. Investments will be locked-in till child attains 18 years of age.
Who can invest? – Investments have to be made in the name of your minor kid only. Generally Parent / Guardian / Grandparents / relatives can invest in child gift funds in the name of minor child.
Expense Ratio & Exit Load – Do check out the expense ratio and exit loads of these funds.
Documentation: KYC documents pertaining to child & investor (parent / guardian) have to be submitted while making new investments. At the time of redemption or when the child becomes 'Major', fresh and additional KYC documents need to be submitted.
Returns – Compare the returns generated by the Children's Gift funds with other equity funds. (You may like reading article on – 'Best Equity Mutual Funds')
Top & Best Children's Gift Funds
Below is the list of Children's Gift funds offered by various AMCs;
HDFC Children's Gift Fund
ICICI Prudential Childcare
TATA Young Citizens Fund
UTI Children Career Plan (CCP)
Franklin's Children's Asset Plan (CAP)
AXIS Children's Gift Fund
Below are some of the top performing Children's gift funds based on the past returns.

Should you invest in Children's Gift Fund MF Plans?
Most of these child plans were very popular during late 1990's and in early 2000's. Axis Mutual Fund is now trying to capitalize on the an old fad by launching new Children's Gift Fund.
Though these Child MF Schemes have been available in the market for almost two decades, we can say that they have failed to grab the attention of retail investors. The total AUM (Assets Under Management) of all the child schemes is estimated to be around Rs 3,700 crore.
If you are planning to purchase units of any of the above Children's Gift Funds (or) planning to subscribe to Axis's Children's Gift Fund (NFO), kindly consider below points;
If you have to secure your child's future, your first priority should be to buy adequate Life and Health Insurance for self. Some child MF plans may offer Insurance benefit too, you may ignore such plans. Consider buying a good Term Plan and get your family & yourself covered with adequate health cover. Also, it is advisable to avoid Child Insurance Plans.
Do not allow emotions to drive your investment decisions. Just because these are called as child plans, do not buy them. Kindly understand the features and analyze the past performances of these funds before buying them. They should also meet your requirements. For example – If you have a two year old kid and are planning for his/her college education, it is prudent to invest in a good diversified equity fund or a mid-cap oriented fund than in a children MF plans.
Avoid investing in 'Dividend' option, as your aim is to accumulate sizable corpus for your kid's education or/and marriage goals. Also, do not invest in 'Hybrid-debt oriented' plans for long-term goals.
Kindly note that it is difficult to achieve a long-term goal by investing in just one MF Scheme. Your core portfolio should have atleast one diversified equity fund and/or one Mid-cap oriented fund. Though child schemes like HDFC Children's Gift fund (Investment plan) have outperformed many other balanced or hybrid equity oriented funds, investing in them is optional.
You can ignore investing in New Fund Offers like Axis's recently launched Children's Gift Fund. New Funds do not have a track record.
Investing in Children's Gift Funds can be cumbersome. The investments have to be made in the name of minor kid only. So KYC documents of both minor kid's and parent's have to be submitted while purchasing the units. Again at the time of redemption (or) when the child becomes major, fresh KYC documents have to be submitted.
Most of the online distribution platforms may not offer these funds. Thanks to cumbersome KYC documentation. You may have to invest in these funds through an Advisor / MF Agent (or) invest in Direct plans of these schemes by visiting the respective AMC websites only.
If you are gifting units to a minor, kindly be aware of the rules and implications related to 'Gifts'. (You may like reading – 'Gifts & Income Tax Implications')
Planning for your child's future is very important and it can not be postponed. Create a well diversified and solid investment plan.
(Image courtesy of Sicha Pongjivanich at FreeDigitalPhotos.net) (References : moneycontrol.com & valueresearchonline.com)