Life Insurance Corporation of India (LIC) is launching a New Child plan called as 'LIC Jeevan Tarun'. This new plan from LIC is a traditional, Non-linked, with-profits and Limited Premium Payment Option plan. It also has an optional Money back feature.
In the month of March (2015), LIC had launched New Children's Money back plan. Jeevan Tarun plan is very similar to it, but it offers more Survival Benefit options to the policyholder.
I am against these kind of so called 'CHILD PLANS'. Before analyzing the details and returns of this new LIC child policy, if you understand how this child plan works, I am sure you as a parent / guardian of your child, may definitely ignore these kind of meaningless schemes.
Under this plan, you (parent / guardian) are the proposer. Whereas, your kid's life is covered. Your baby's life is insured. Sounds stupid? Yes, generally you would like to have a risk cover on your name/life, so that in case of any unfortunate event, your kid / legal heir/ nominee will receive the claim amount.
In this plan, in any unfortunate event (on kid's death, can't even imagine this happening!), you (parent) will receive the death benefits. If kid survives till maturity, he/she will receive the money-back payments (survival benefits) at periodic intervals (after 20 years of child's age)
Unfortunately, if parent dies, kid will receive all survival benefits, only if 'Premium Waiver Benefit Rider' is selected.
Its very disappointing and disheartening to see LIC come up with bad schemes like these. If you are convinced about my views, you may ignore buying this plan. Need more details?…ok..here you go!
Features of LIC Jeevan Tarun Plan
Minimum & Maximum Entry Age

: 90 days to 12 years (Kid's age)

Life Assured / Insured

: Your kid's life is insured under this plan

Proposer's Minimum / Maximum Age

: 18 years / 55 years (Proposer can be Kid's parent / guardian)

Policy Term

: Maximum upto 25 years of kid's age. ( 25 years – Age at entry. For example, ff kid's age is 10 years, policy tenure is 15 years)

Premium Paying Term

(PPT) : Maximum upto 20 years. (20 years – Age at entry. For example, if kid's age is 10 years, PPT is 10 years)

Minimum Sum Assured

: Rs 75,000

Maximum Sum Assured

: Not Applicable (No limit)

Premium Waiver Benefit Rider

(optional) : Available. (LIC's Premium Waiver Benefit Rider is available as an optional rider on the life of proposer aged between ages 18 to 55 years by payment of additional premium. In case of death of the proposer, the premiums under the basic plan falling due after the date of death shall be waived.)
The policy's

maturity amount

is payable on completion of 25 years only (insured's age).
Depending on the requirement, the proposer (parent / guardian) can choose any of the 4 options for SB (Survival Benefit) payments from 20 to 24 years of age.
LIC's New Plan – Jeevan Tarun : Death Benefits, Maturity & Survival Benefits details:



Death Benefit :

If death occurs before the commencement of risk, an amount which is equivalent to the premium payments is paid.
If death of the proposer occurs after the commencement of risk, death benefit amount which includes 'Sum Assured on death + Accrued Bonuses + Final Additional Bonus' will be paid. (Commencement of risk is linked to kid's age. If kid's age is above 8 years, date of commencement of risk is immediate. Sum Assured on death is higher of 10 times of annualized premium or Absolute amount assured to be paid on Death i.e. 125% of Basic Sum Assured.)

Maturity Benefit: On Survival of the life assured till the end of the policy term, maturity benefit will be paid as below.

Maturity Benefit = Sum Assured on maturity + vested Simple Reversionary Bonuses + Final Additional Bonus (if any)
Survival Benefits & Maturity Benefit – Options under Jeevan Tarun Policy (Money Back payments) : In this plan, the policy holder can opt for any of the below 4 options.
LIC's New Plan Jeevan Tarun – Returns Calculation
This plan defeats the whole purpose of insurance. I believe that there is no need to do in-depth analysis on this plan. JUST IGNORE BUYING THIS PLAN!

Life insurance premium quote – LIC Jeevan Tarun (Vs) LIC's Online Term Insurance plan e-Term :
For a Sum Assured of Rs 1 Lakh, the premium amount on Jeevan Tarun policy is Rs 6,375 (as per the illustration on LIC's website ).
Whereas, a 30 year old individual can opt for LIC e-Term plan of Sum Assured Rs 50 Lakh at a premium rate of Rs 6,950 (policy term 20 years).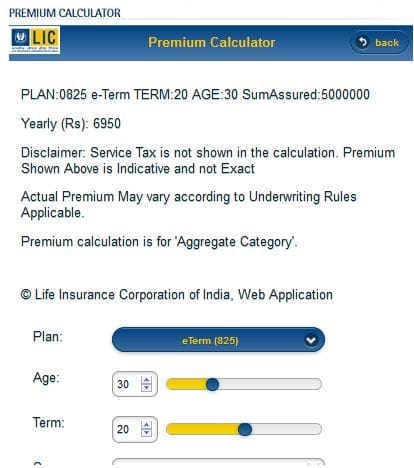 My opinion on LIC Jeevan Tarun Child Plan
As per LIC, Jeevan Tarun plan is specially designed to meet the specific expenses such as children's education, marriage and other future needs.
But, what is the main purpose of investing in child insurance plans? Most of us may say, ' I want to secure my child's future' (or) I want to accumulate / create a fund to meet my kid's education or marriage expenses.
Cost of Education

: We all are aware of the rising costs of higher education. Each year, tuition, books and other expenses increase. Education inflation is definitely in the range of 10% to 15%. Do you agree with me?

In this scenario, if you choose to invest in this kind of savings cum protection oriented plan, which can generate returns of around 5% to 6% (or max 7%), your main objective (i.e., to secure your kid's future) will not be met.

Also, the survival benefits are payable from the 20th year onwards. Normally the college education (

graduation

) may start from 18th year onwards. The maturity benefit is payable upon the completion of 25th year only. So, this plan does not serve the purpose.
You will be better off taking a good Term Insurance Plan (Read my article on "Top 7 best Online Term Insurance Plans") and invest a portion of your savings in different asset categories. These asset categories can be mutual funds, bank deposits, equity (shares), Public Provident Fund, Sukanya Samriddhi Account Scheme… you have plethora of investment options to choose from. (The premium contribution towards a Term plan can be claimed as Tax deduction under Section 80c)
Defined Investment plans with names like 'Child plans' (or) 'Retirement plans' may not meet your actual requirements. These kind of defined packages may attract your attention. But, you can create you own portfolio of investments and aim at beating the inflation. Be aware and beware of these kind of Child Plans.
Also, do note that the returns from these kind of plans are largely dependent on Bonus rates (which are not guaranteed). The bonuses

(if any)

are accrued and are payable only on maturity of the policy. So, you are losing the benefit of COMPOUNDING factor.
Before buying a life insurance policy, follow these steps;
Analyze your life insurance requirements. Calculate the required amount of insurance.
Understand the plan(s) features / benefits.
Understand the rate of return calculations & assumptions (if any).
Check if the sum assured is sufficient to cover your life?
Ask yourself these questions..Is the premium affordable? Can the family members lead the same standard of living in case of any unfortunate event?
And then take a decision to buy or not..
What is your opinion on LIC Jeevan Tarun Plan? Do you think is it worth to invest in this new policy? Do share your views and comments.
Continue reading :