Financial planning is about developing strategies to help you manage your financial affairs and meet your life goals.Most of us spend too much time concentrating on only one aspect of Financial Planning i.e., Investment Planning (we can call it as Wealth Accumulation). We tend to invest our time and energy in identifying Investments that can generate High returns. In the process, we neglect or ignore other important aspects of Financial Planning. Let us understand about the other important aspects of a solid Financial Plan.
Blocks of Financial Planning Pyramid
I have created a Financial Planning Pyramid with three pyramid blocks as below. All these blocks are equally important. Let us understand these..
1. Wealth Protection :
Ideally you have to start creating your financial plan with Protection Planning. You need to first protect 'What you have'. It can be your Life, Health, Property, Vehicles etc., Plan for sufficient insurance coverage and buy right products to cover the risks associated with all these. Another important point is to 'create and maintain an Emergency Fund.' This can be to the extent of 3 to 6 months of your monthly living expenses. But, do not invest this fund in risky investment products. The main objective of maintaining this fund is to have ready cash to meet any unforeseen emergencies. Besides these two points, you can concentrate on maintaining a monthly Budget. Track monthly cash inflows and cash outflows.You can plug any leaks by doing this exercise.
2. Wealth Accumulation :
Most of us concentrate more on 'how to create wealth.' Undoubtedly this is an important aspect of your financial plan. But, accumulation without having a proper protection plan may prove costly when you have to face bad times.
Once you have developed good Protection Plan then go ahead and create list of realistic Financial Goals. Examples of accumulation goals can be 'creating corpus for your Retirement', Kid's education goal, 'purchasing a Property' etc.,
Select suitable investment products based on the time-frame of your goals. Do not hesitate to invest in risk-oriented products like equity mutual funds or shares for your long term goals. Once your have allocated your savings towards each goal then continuously monitor your portfolio. If required change your asset allocation (Debt vs Equity) .
(You may visit my post on "How to create a Solid Investment Plan?")
3. Wealth Distribution :
This is also known as Estate Planning. It is the most neglected aspects of Financial Planning. Let us assume you have created a good protection plan and good wealth accumulation strategies. But, what is the use of building assets and buying insurance policies if you have not mentioned proper nominations on your investments.
If the head of the family dies without leaving a Will (Intestate) or without mentioning the nominee names then it is an upheaval task for the legal heirs to access the investments/assets. We have lot of high profile examples for this, like Dhirubhai Ambani, Abraham Lincoln, Picasso, Agatha Christie, who died without writing a Will.
Estate Planning is the process of making a plan in advance and naming whom you want to receive the things you own after you die.It is very easy to write a Will. You can now create Wills through online Will drafting websites like LegalDesk.com, Ezeewill.com etc.,
(You may visit my post on "Now, write your WILL online.")

In the below image I have included the action items /tasks in the blocks of Financial Planning Pyramid. You may find Tax planning in the below image. Tax planning is a tool but not a Goal in itself. You can create a good tax plan so that it helps you in identifying tax efficient investment options. But, remember it should not be the sole criteria to invest in a financial product.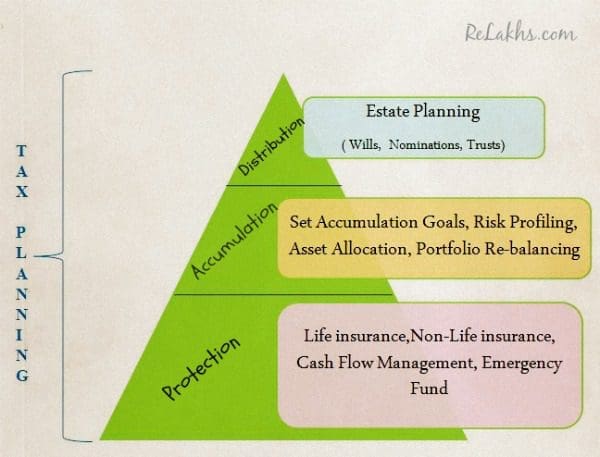 Financial Planning is a dynamic process. It is not a one time activity. Have you created a sound Financial Plan incorporating all the above blocks of Financial Planning Pyramid? Share your thoughts.
Continue reading :
(Image courtesy of Stuart Miles / FreeDigitalPhotos.net)