We all would like to maintain a balance between professional and personal life . Both are equally important to lead a successful, happy and healthier life. All doctors suggest us to eat a healthy balanced diet.
Investing in Balanced Mutual Funds is not much different. Balanced funds are also known as Hybrid Mutual Funds. In this post let us understand more about types of balanced funds and investment returns from these funds (especially equity oriented balanced funds).
What are Balanced (or) Hybrid Mutual Funds?
Mutual funds are broadly classified as either Equity or Debt,based on where the funds are invested.
Equity funds primarily invest in stocks/shares.
Debt funds primarily invest in Bonds, Government securities and Fixed interest bearing instruments.
BALANCED FUNDS invest in both equity and debt instruments.
What are different types of Balanced Funds?
Balanced mutual funds can be Equity oriented or Debt oriented hybrid plans.
If the average equity exposure of a balanced fund is more than 60% and the remaining 40% is in debt products then it is treated as a Balanced Fund – Equity oriented. This means major portion of the fund's assets are invested in equity.
If the average debt exposure is around 60% and equity is 40% then these funds are treated as Balanced funds – Debt oriented. (These proportions can vary among different balanced funds).
Benefits of investing in Balanced Mutual Funds:
Diversification : The funds are invested in both equity and debt financial securities leading to diversification of investments.
Asset Allocation & Re-balance : Balanced funds regularly re-balance the portfolio based on market conditions & asset allocation limits. An investor is, thus, saved the hassle of manually re-balancing the portfolio
Low volatility : Balanced funds are less risky compared to pure Equity funds. Equity portion will provide the capital appreciation through stock prices appreciation and dividend income. Whereas, Debt portion can provide stability through interest income and appreciation in Bond prices.
Balanced funds have debt component in their asset allocation. Due to this they may suffer lesser losses during market downturns when compared to Equity funds.
These funds can be a better bet for first-time equity investors. These are also suitable for the investors who want to protect the downside during market downturns and want to benefit during market upswings. Remember that balanced funds may not out-perform the Equity funds during market upswings (Bull run).
Balanced funds can be a useful investment option to meet critical Financial Goals like Retirement Planning, Kid's Higher Education etc.,
Top performing Equity Oriented Balanced Funds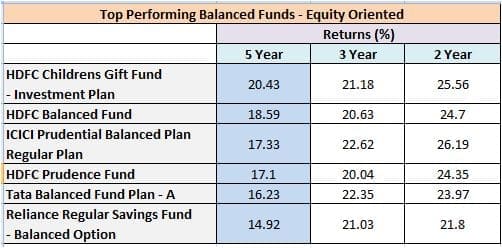 Above table provides the past performance of balanced funds (equity oriented). HDFC's Children Gift Fund (Inv plan) tops the chart with annualized returns of around 20% in 5 year category. Followed by HDFC Balanced fund with 18.5% returns. All these funds have generated returns of above 15% in the last 5 years.
Systematic Investment Plans (SIPs) Returns of Balanced Equity Oriented Funds
The above table gives us idea about the SIP returns. I have assumed the monthly SIP amount as Rs 1,000.
Again, HDFC's Children Gift Fund (Inv plan) tops the table with annualized returns of around 22% in the last 5 years. One more observation we can make on some of the very old funds. Example – HDFC' s Prudence fund which was launched way back in 1993. This fund has generated SIP returns of around 23.18% in the last 15 years. The same fund tops the list in 10 year category, with returns of 18.95%.
The above past returns prove that investors will benefit if they stay invested for long periods of time.
What are the average returns of Balanced funds category?
The Below table gives us overall idea about the average returns generated by all balanced funds as a category.
Capital Gains Taxation of Balanced Mutual Funds
In terms of taxation, the balanced mutual funds that invest at least 65% in equity ((Equity oriented) attract no tax liability on Long Term Capital Gains. (The units of these funds should be held for more than 12 months).
The interpretation of data can sometimes be very tricky. For a different set of time periods, balanced funds might have given lesser returns. If our expectations are reasonable then I am sure balanced funds will deliver. I believe returns of 10% and above from a balanced fund (equity oriented) is a bonus.
Everything in life..has to have balance. It applies to investments too. I am sure you agree with me. Do you hold any balanced mutual funds? Share your views..Cheers!
(All the above plans are indirect plans, returns > 1 year are annualized and are Growth plans. Kindly keep in mind, past performance is no guarantee of future results- Image courtesy of Jeroen van Oostrom at FreeDigitalPhotos.net)