We always want the best in our lives and we always like to give the best to our beloved ones. It is applicable to personal life as well as personal finances.
We would like to invest in the best mutual fund schemes, best real estate property, best bank fixed deposit, safest investment option, best Demat Account, best life insurance scheme, best health insurance scheme and the list goes on….
So, do we really have the best investment options available? The answer is NO.
Then, why do some of my articles have 'THE BEST' written in post titles or in posts' content. Why do I write about ;
Best Term insurance plans

List of best investment options

Best Family Floater health insurance options (or)

Best Home insurance plans …
Before providing an answer to the above question, let's discuss some of the real life case studies;
Most of us use search engines like Google / Bing to get the details or information about investment or savings options. And it is not a secret that majority of us do search based on the keywords like 'best….'. When we want the best, we search for the best 🙂 .
So, how do I get information about the keywords or what are the popular search words used by my blog visitors??
I do interact with my blog readers a lot. I try to get information from them. Another source is, a product called 'Google Analytics' (owned by google) which gives us lots of insights about the blog visitors 'search behavior'.
I have done keyword analysis for my Blog on Google Analytics. Below is a sample report. You can clearly notice that hundreds of users are visiting relakhs based on the keywords like 'best mutual funds', 'best term plan' etc.,
Let me explain this to you with couple of real life examples;
Case Study 1 :
One of my blog visitors who is from a small town in Rajasthan has visited ReLakhs.com through google search. He discovered ReLakhs.com on the web for the first time in 2015. He has sent me Facebook friend request and I have accepted his friendship on FB.
He has asked me 'which is the best LIC plan for my child?' on FB Chat messenger. He also said that he has posted the same question on Google search and reached my blog. He had read my article on 'LIC's new children's money back plan – review.'
I have posted the same question in Google search box and got the below search results. (Search results may slightly vary depending on your search history / location etc)
I did not want to keep the post title as 'the best child plan' for this article'. I was also very well aware of the fact that people will use the keywords like 'best child plan' to know about these kind of life insurance plans.
Actually, this is a meaningless product and my intention is to tell my blog visitors how bad is this product and encourage them to buy a Term insurance plan. So, I have consciously used worlds like 'LIC child plan' in the post title and 'the best term insurance plan' inside the post content.
My blog reader from Rajasthan had gone through this article and ended up buying a Term plan for himself. He realized the importance of having life cover in his name.
I am glad to say that he has also started SIPs for meeting his child's higher education expenses.
My mission is accomplished….!
Case Study 2
This is another real life example about one of my blog readers from Pondicherry. She is working as a Govt teacher and a single parent for a girl child.
She first visited relakhs.com through a search word 'best mutual fund for small amount' and reached for the second time when she was searching for details on 'Sukanya Samriddhi Scheme'.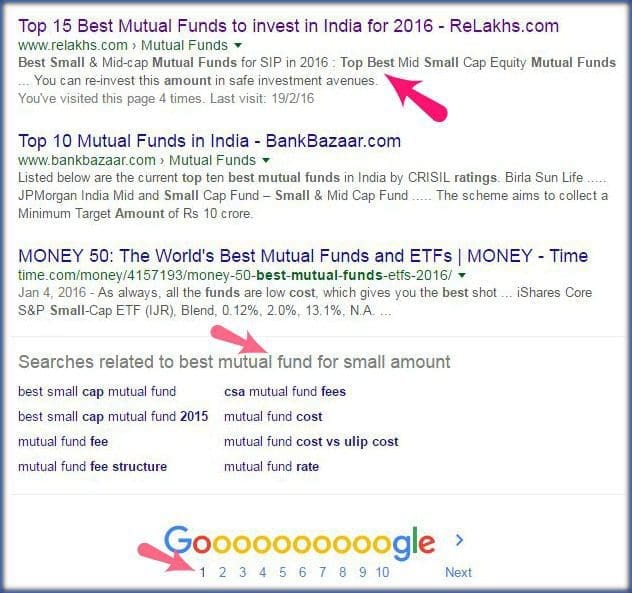 Though her main purpose of visiting my blog is to get some information about MF schemes, she ended up reading other suggested articles in the 'best mutual fund scheme article' and started planning her finances well.
I am proud to say that she has now created a simple financial plan with monthly SIPs in two mutual fund schemes, took a term plan for Rs 30 Lakhs, has a Personal Accident cover and has written a WILL on her Kid's name.
So, let me be frank and disclose that there are no Best investment options or best insurance schemes as such. No two families have same financial profiles. The best mutual fund for you may not be the best for your friend. Also, the best list may not be a comprehensive one and/or may change over a period of time due to many factors. Personally, even I do not like to write such articles. Sometimes I do feel guilty about this.
I strongly believe in writing articles based on the audience interests and tell the story in the language they understand. The main aim is to reach out as many investors as possible through the blog and encourage them to have a holistic view on their finances.
Most of us give high importance to 'Product oriented approach' instead of process oriented approach. That's the reason why we see more search keywords starting with…THE BEST… on Google.
May be, if I had not written articles on THE BEST.. then ReLakhs would not have been discovered by many of the internet users.
Though I write articles on the best…I make sure that I provide links to 'process based' articles. I also encourage the readers to read multiple articles on Personal Finances.
I am very happy to say that most of my loyal blog readers are now posting queries (on Forum / Blog Comments Section) related to creating a goal based financial plan instead of posting queries on specific financial products..!

I believe that the day is not very far when majority of the investors start searching for 'How to create a plan' (or) why should I invest in this plan?…kind of keywords on search engines.…until then 'THE BEST' series will be continued….
But kindly do remember that it is PERSONAL Finance, so personalize (or) customize it as per your requirements! There is no best investment scheme as such!
If you can not plan your finances on your own then take help of a trusted advisor or fee-only financial planner.
(Image courtesy of Stuart Miles at FreeDigitalPhotos.net) (Post published on : 09-September-2016)