Does your BIGGEST investment have insurance cover? Is it protected well?
Home Insurance is probably one of the most ignored insurance covers in our society.
Home insurance penetration in India is just about 1%. Barely 3% of houses in India are insured. Countries like US, UK, France, Australia and China have home insurance penetration in the range of 90-97%.
"Home insurance accounts for only about 2% of the total premium collected by general insurance companies in India."
Home Insurance cover is one of the broadest types of risk coverage one can buy.
There is no place like 'Home,' it's our most valued possession and our heaven on earth. A House is one of the most expensive assets owned by an individual. We invest major portion of our savings to own a property but do not pay much attention to protect it from the risks arising out of natural or man-made disasters.
Natural Calamities like the recent Floods in Himachal Pradesh and a few other States in India bring the importance of Householders' insurance policy back into focus. It is true that we may not stop natural disasters, but we can-definitely mitigate the losses and make provisions to cover the risks associated with them.
In this post let us understand – What is Home Insurance policy? What are the risks covered under a Householders' policy? What are the factors to be considered when buying a home insurance cover? Which are the best home insurance plans in India?
What is Home Insurance Policy?
Home insurance policies are offered by general insurance companies (non-life) to cover your home against risks from natural calamities such as fire, floods, earthquakes, or landslides and also risks arising out of burglary/ theft, riots, strikes etc.,
The policy can have various sections that may broadly cover;
The structure of the house alone

(or)

Your belongings such as jewellery, furniture, electronic appliances etc.,

(or)

Even both

.
Some home insurance policies are more comprehensive in extending coverage not only to your home, but also to the residents of the home against fire and other natural perils. These are known as package product that covers home along with providing an accident & third-party liability cover.
Some policies also cover your rent expenses if you have to move out to another house because your actual house has been damaged due to any of the covered perils listed by your insurer.
Who can buy Home Insurance Policy?
Any Owner Occupant of a Flat / Apartment / Independent Building can purchase house insurance policy for his "Building and / or Contents, Jewellery & Valuables".
Any Tenant and other Non-Owners of Residential Structure can insure the "Contents, Jewellery & Valuables" in the Flat / Apartment /Independent Building occupied by them for residential purpose.
How is Home Insurance Premium calculated?
Your home insurance policy premium is calculated based on some of the below factors;
Whether the property is owned and occupied by you or is it a let-out property?
Whether the property is a Flat or an independent building?
Age of the property
Are you planning to take a cover for the contents or only the structure of the house or both?
Place or location, size and type of construction of the house
Do you want to include 'Jewellary' in the insurance cover?
Additional covers like below are also offered along with the basic cover. You may have to pay extra premium to include these covers in the standard policy;

Third-party liability (or) Public Liability cover
Loss of rent or Alternate Accommodation
Cost of shifting & Temporary Resettlement cover
Pet Insurance
Accident Cover
Burglary cover
You can also have a cover for portable equipment such as mobile phones, laptops, tablets etc.,

Excess : An excess is the amount you must contribute towards a claim for each event that occurs. If you opt for 'voluntary excess' then insurance company will offer you discounted premiums.
Worldwide cover for contents.
Home Insurance Policy & Sum Assured options
Most of the plans offer below Sum Assured options for Building Structure;
Sum Assured On 'Agreed Basis' : This is mainly applicable for Flats/Apartments. The Sum Insured for Flat on Agreed Value Basis is arrived at by multiplying the 'Total Sq Feet area of the Flat' by the 'value per square feet'. (Area of the flat is taken from the Sale Deed & Per Square feet value is based on Ready Reckoner issued by the Revenue department. In case If you wish to opt for an higher value than the one mentioned in the ready reckoner due to cost incurred on your part for any additional features added to the flat, you can submit 'valuation report' given by a Govt approved Valuer)
Sum Assured on Reinstatement Value Basis : This is also known as 'cost of re-construction basis'. Sum Assured is arrived at by multiplying 'area of the flat/house' by 'cost of construction' on present day basis. The cost of construction may not remain same every year, so some home insurance plans offer 'escalation' clause.
Sum Assured on 'Indemnity Value Basis' : In this method, depreciation (natural wear & tear) value is deducted from the Reinstatement value (as calculated above). Indemnity value basis is commonly known as Market Value basis i
Most of the plans offer below Sum Assured options for Household Contents;
New for Old Basis : The Sum insured for "Contents" shall represent the Replacement Value of the insured items by a new item of the same kind and same capacity. The natural wear and tear or depreciation is not taken into consideration.
Indemnity Basis : The replacement value of the insured contents is calculated as 'new item cost minus allowance for wear & tear or depreciation'.
As far as Gold, jewellary, diamond & other valuables are concerned, the maximum sum assured limit and other terms & conditions vary from one plan to other plan.
Best Home Insurance Plans in India 2023-24
Effective from 1st April 2021, the Genral Insurance companies have to offer Bharat Griha Raksha Policy, a standard (basic) home insurance policy offering coverage against several allied perils. If you are looking for a comprehensive home protection plans, you may consider the below plans;
Below are some of the best and top home insurance plans in India for 2023 & beyond;
HDFC Ergo Home Shield Plan
ICICI Lombard Complete Home Protect Policy
The New India Insurance Griha Suvidha Plan
Digit Home Insurance Plan
United India Home Holders Policy
(Click on the image to open it in a new browser window)
I believe that New India Assurance's Griha Suvidha and HDFC Ergo's Home Shield

plans

are very comprehensive home insurance plans. By default these house insurance policies provide burglary, terrorism & jewelry insurance covers at a very competitive premium rate.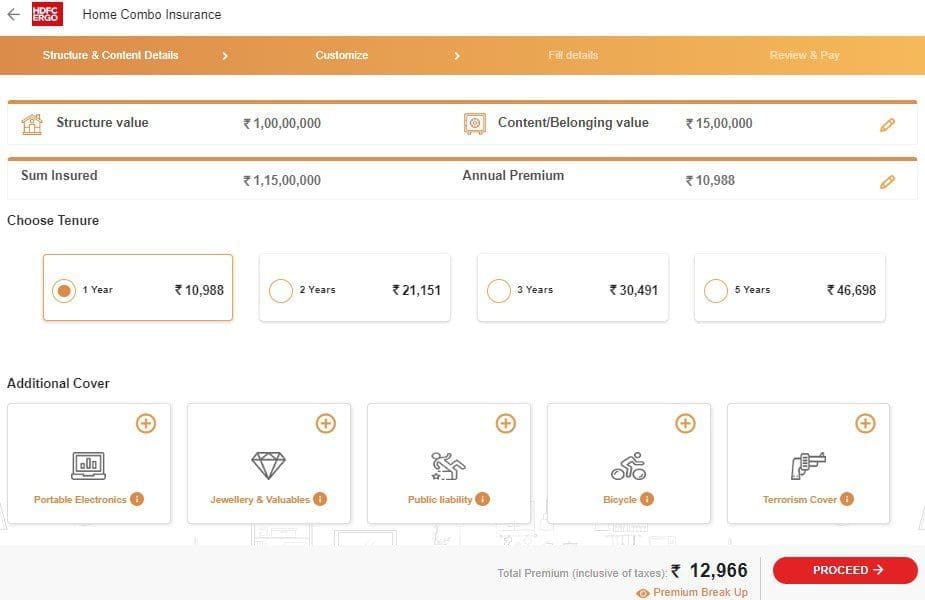 HDFC Ergo do not offer the insurance cover if your home has been exposed to flooding in the last 5 years.
Under HDFC Ergo's plan, any household contents that's over 10 years old are not covered under the insurance policy.
ICICI Lombard's home insurance plan is also a good one. But, we can't generate premium quote online. They offer coverage for buildings which are as old as upto 50 years old.
I have noticed that the coverage amount (threshold limit) for precious metals like Gold, diamonds etc., have been reduced across all plans.
The portable electronic items like Mobiles, laptops, Cameras etc., are generally not covered under standard policy. You may have to pay extra premium (as an Add on cover) to get them insured.
HDFC Ergo & Royal Sundaram plans provide Third party liability cover also.
The Long-term Home insurance plan provided by SBI General covers only the building structure. The plan can be taken with a term of up to 30 years.
How to make a claim on your Home Insurance?
After the calamity or unfortunate event, inform your insurance agent or insurance company about the destruction.
You have to submit a written claim document to the insurance company within the period stipulated.
The claim document should contain a detailed account of the articles lost/damaged and the actual value of each article.
The insurer appoints a surveyor who will submit the final survey report (FSR) along with the documents submitted by you.
On receipt of the documents, the claims department processes the claim.
On approval of the claim, a letter is sent to you (insured) stating the approved amount of settlement along with the discharge voucher.
In case of losses due to natural disasters, the insurance companies usually relax the claim settlement procedures that involve minimum documentation only.
What is the difference between Home Insurance & Home Loan Insurance (Mortgage Insurance) ?
You buy Home Insurance to cover the replacement cost of your home should it be damaged by fire or other accidents. Home insurance also covers the replacement cost of your belongings should they be damaged or stolen.
Home Loan Protection Plan, on the other hand, is simply to guard against the risk of default on home loan in the event of death of the borrower. The purpose of home insurance is to protect the homeowner. The purpose of mortgage insurance is to protect lenders (home loan providers).
Householders' Insurance Policy : Important Points & FAQs
Before buying a home insurance policy, it is advisable to download the 'product brochure' & 'policy wordings' document. Kindly know and understand the inclusions and exclusions on your House Insurance policy.
As it is difficult to list out everything you own after it is lost, especially at the time of a crisis, it is important to prepare an inventory of your house-hold contents beforehand and keep it in a safe place. You may also scan the copies of costly / luxury items' bills and save them online.
It is beneficial to opt for a multi-year policy, which offers peace of mind along with with attractive discounts on Premium rates.
Kindly note that the cost of construction keeps rising, so it may be wise to review your home insurance cover every few years. (Bajaj Allianz's plan offers 'escalation clause' w.r.t. cost of construction)

Royal Sundaram's Gruh Suraksha plan has an option to opt for Escalation Benefit (10% of increase in Sum Insured each year) OR Tenure Discount (10% to 50%) for long term policies.

Does home insurance cover cost of land? – No. Home insurance policy does not cover the cost of land. It only pays you for cost of re-construction of the house. If you are living in an Apartment, your residents' welfare society can take a common cover for all the buildings of the society. Along with this common cover each flat can take householder policy for covering the contents of the house.
If you are a tenant and planning to move out to another place then you can get your home insurance policy endorsed for change of address for household contents.
In case if you are planning to sell your property, you (insured/owner) need to inform the insurance company and get the policy cancelled as you will not have an insurable interest in the property.

What happens to the Home insurance policy if the insured house is sold?

– From the time the transfer of ownership becomes effective, the policy stands cancelled and the insured ceases to be an insured under the policy. The Insurer may then refund the premium for the balance of the insured period.

Can I claim Tax deductions or Tax rebate on home insurance premium?

–

No you cannot claim deduction under any Section on the premiums paid on home insurance.

Does an home insurance policy cover Pets in the house?

– A standard home insurance plan generally do not cover Pets. It can be available as an Add-on cover.
Home Insurance plans are generally not provided for Under Construction Properties.
It is estimated that less than 1% of the people who can afford it have home insurance in India. Homeowners insurance can give you back a normal life in case your house or possessions are damaged or lost. I strongly believe that Property insurance is important and essential.
I hope you find this post informative. Do you have a home insurance policy? Kindly share your views and comments.
Continue reading :
(Post first published on 20-Jan-2016) (Post updated on : 07-Sep-2023)