If death is certain, can insurance be optional? If life is unpredictable, insurance can't be optional. As an earning member of a family, having adequate life insurance cover is a must. That's the basic building block of Financial Planning Pyramid.
Most of us may have a perception that buying a Term insurance plan is a waste of money. They argue that the investor (insured person) will not receive any monies on maturity of the insurance plan. They say that they do not get any investment returns on purchasing a Term insurance plan.
Remember this simple point : "Any life insurance plan which pays money before you die can be avoided." Else you may end up buying costly and unwanted life insurance plans.
So, what type of life insurance plan should be bought? – If you are an earning member of your family and have financial obligations towards your family members then you need to have sufficient life cover (sum assured).
Having adequate life insurance cover at affordable premium rate can be possible through Term Life Insurance plans only.
You may have one or two money-back or endowment life insurance policies. But, check the quantum of Sum Assured offered on these policies? Do you believe that it is sufficient? – Think loudly!
In this post, let's discuss – What is a Term Life Insurance plan? How to choose best Term Insurance plan? Which is the cheapest Term Insurance Plan for Rs 1 Crore sum assured? What are the factors that need to be considered when selecting the best Term plan? Which are the top 5 best Online Term Life Insurance plans in India 2020? Which are the most FAQs on Term Insurance policies?
What is a Term Life Insurance Plan?
Term insurance is the simplest and most fundamental insurance product. These plans are designed to ensure that in the event of the policyholder's death, the family gets the sum assured (the cover amount). Term plan provides risk coverage for a certain period of time (policy term/duration). If the insured dies during the time period specified in the policy and the policy is active – or in force – then a death benefit will be paid. It is the cheapest form of Life insurance in terms of premium.
How to choose best Term Insurance Policy?
Well, to be frank, there is no best term insurance plan as such. You can buy a basic term life insurance policy from any Life Insurer of your choice. This article is just to list out and compare few popular term insurance plans. And, I am compelled to write this article based on popular demand!
I have considered below factors / criteria when shortlisting top Term Insurance plans in India;
IRDA Claim Settlement Ratio Data

Claim settlement is one of the most important services that an insurance company can provide to its customers. Insurance companies have an obligation to settle claims promptly. For instance, if a life insurance company receives 100 death claims and settles 94 of them, the claim settlement ratio of that company would be 94%. We can also calculate Claim Settlement Ratio based on benefit/claim amount paid.
But, do not buy a best term insurance policy based on Claim Settlement Ratio data alone, as it does not give specific information on Term Plans separately.
Also, as per the recent amendment to Section 45 of the Insurance Act, if your policy is 3 years old, no matter what happens, the life insurance company will not be able to deny the claims. So, your life insurance company has only 3 years in hand to reject the policy based on any mis-representation or mis-statement. Once 3 policy years are completed then the life insurance company has to settle the claims and can not reject them.
Below are the latest IRDA Claim Settlement Ratio (2019) details.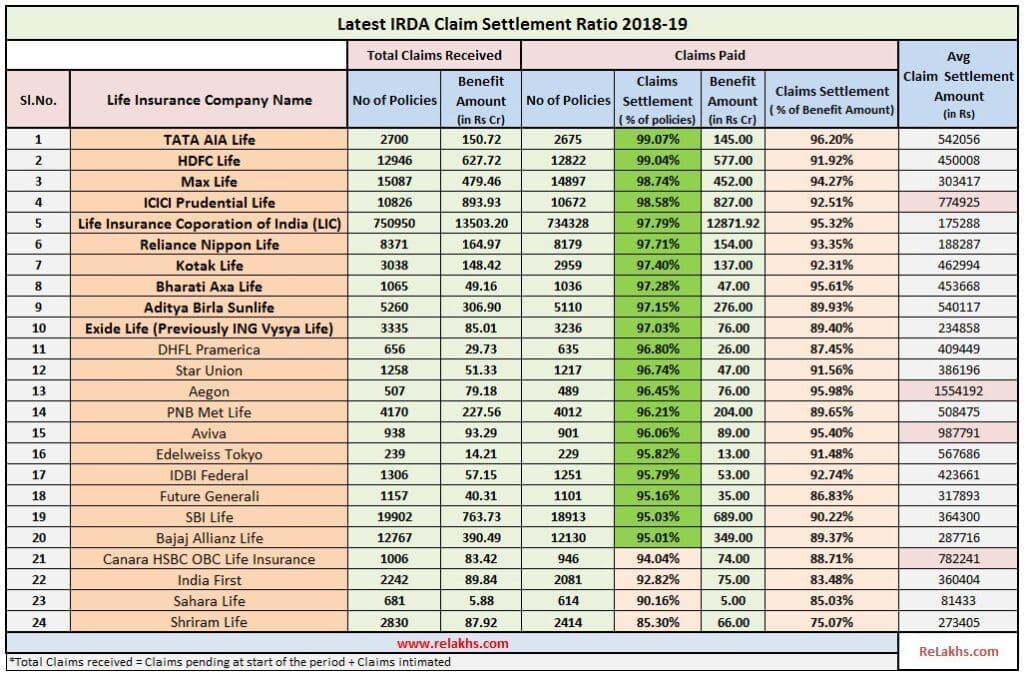 Affordability (Premium amount).
Brand name.
Quality of service provided to its customers during the online buying process and after issuing the policy (policy life).
Ease of buying the Term Life Insurance plan online.
Solvency Ratio. (The solvency ratio of the insurance company is the size of its capital against the all risk it has taken. It is an indicator of the insurance company's long-term survival.)
Grievances solved and Claims complaints Ratio.
Feedback received from my friends/blog readers who bought online Term Life Insurance plans directly.
Top 5 Best Online Term Life Insurance Plans 2020in India
I have listed down some of the best online term insurance plans. In case, you are not comfortable buying a term insurance plan through online mode, you may consider offline Term plans offered from the same Insurer. Kindly note that online term plans are cheaper than offline term insurance plans.
Top 5 Best Online Term Life Insurance Plans 2020 are ;
LIC Tech Term Plan
ICICI Prudential iProtect Smart Plan
HDFC Life Click2Protect 3D Plus Plan
SBI Life e-Shield online Term Insurance plan
Max Life Smart Term Plan
All the above premium amounts are for 30 year old male, non-smoker, for Rs 1 Crore Sum Assured with 30 year policy term. Optional Riders like Accident Death Benefit/Critical Illness are not considered. Premium Amount is for yearly mode.
ICICI Prudential and Max Life offer very low premium rates.
LIC's Tech Term plan has the highest premium quotation.
HDFC Life Click 2 Protect 3D Plus has sub-options that offer life-long risk cover (whole-life).
ICICI Pru iProtect Smart has a separate plan option for NRIs.
You may go through my detailed reviews of some of these term plans;
FAQs on Term Insurance Plans:
FAQ 1

– Do I need to check the claim Settlement record of Life Insurance companies before opting for the best online term insurance plan?
Every year IRDA publishes the claim settlement (death claims) details of all the Life Insurance companies. Unfortunately this data is not segregated based on type of insurance plans (like term insurance, money-back or endowment). If you analyze the data (2016), the average claim amount settled by LIC is very small, which is around Rs 1.14 Lakh per policy. (LIC settled death claims to the tune of Rs 8,475 crore and the total no of policies received for claim settlement are around 7.5 Lakh).
Claim settlement data is important but it should not be the sole criteria for choosing the best online term insurance plan. In future, if IRDA provides claim settlement details separately for Term insurance plans then this can be used as the main yardstick while opting best online term insurance plan.
FAQ 2

–How much insurance coverage (sum assured) should I purchase?
The quantum of insurance coverage can be based on your future income potential (income replacement method) or need based method (your financial obligations + liabilities – existing insurance plans/assets etc). You may use the below comprehensive calculator to know how much insurance coverage is required. (It is based on Need based method)
Evaluating your insurance cover requirement is a continuous process. You need to review it based on your major life events.
Related Article : How much Term Life Insurance Cover do I need? | Online Insurance coverage Calculator
FAQ 3 – Till what age should I take the term plan cover?
The ideal answer is, up to your retirement age.
If you are confident that you may not have any financial obligations, loans and dependents (who are financially dependent on you) when you attain say 50 years, you can consider term plan duration accordingly.
FAQ 4

– Should I purchase two Term plans from two different Life Insurance Companies?
I believe, diversification across different companies may not be required. As long as you are honest and provide complete/accurate details (in proposal form) while purchasing the insurance plan, your life insurance company has to settle the claim (if any). In any unfortunate event, your nominee has to submit multiple death claims which may be a challenging task.
But, you may consider splitting the life insurance amount into two policies. For example – If you decide to buy Rs 1 crore worth insurance coverage, you may consider taking two Rs 50 Lakh worth term insurance plans (preferably from same life insurance company). The main advantage of splitting is, you can stop paying the premiums on one policy, in-case if you think that you do not require so much insurance coverage.
FAQ 5

– Can an NRI buy online term insurance?
Non Resident Indians can buy online term insurance plans. The NRI can purchase the policy from overseas through written communication with the insurance company in India. There may be certain additional costs in such case. For instance, if you purchase the policy from abroad, you would have to do the medical examination and send the report to the insurance company in India. You would have to bear the costs of this medical examination yourself. However if you purchase the policy in India, you would not have to bear this cost as it would be inbuilt in the cost of your policy.
For example : LIC Tech Term Plan, a recently launched online Term plan by LIC can be purchased by NRIs during their stay in India only.
The insurance policy purchased in India covers death that occurs anywhere in the world.
FAQ 6

– Is it better to take riders separately or can I take along with the Term insurance?
As mentioned in the above list of best online term insurance plans, some life insurance companies provide optional riders (like Accident death benefit & Critical Illness) and optional features (like waiver of premium or monthly income options etc.,)
Do not complicate the things. Buy a simple term insurance plan with sufficient basic cover. You may add Accidental death benefit rider.
I believe most of these online term plans do not provide "Total Permanent Disability rider" which I think is a very essential one. (TPD cover entitles you to receive a lump sum insurance benefit if you become Totally and Permanently Disable). You can consider taking stand alone Personal Accident plan. Also, you can ignore plans with 'return of premium' option. (Read : 'Best Personal Accident Insurance plans')
FAQ 7

– Can I take single policy which offers joint life cover (for my wife and myself jointly)?
It is advisable to take separate or independent term insurance plans.
FAQ 8

– What are the required documents to purchase an online term insurance plan?
Generally you will be asked to submit; Identity proof, Address proof, Age proof and Income proof (Income Tax returns of 3 years / Form16s / Profit & Loss statements).
FAQ 9 – Is it advisable to buy a Term plan without Medical examination?
Some of the Life insurers may issue Term Policies based on Telemedical examination only. For example : HDFC Life and ICICI Prudential Life may conduct Telemedicals only.
Suggest you NOT to buy a Term plan without a property physical medical examination. Some life insurers like SBI Life insists on mandatory medical tests.
FAQ 10– Does the premium of a basic term plan change during the plan tenure?
No it doesn't change. Term Insurance Plans quote a premium taking into consideration all the relevant factors. Once set, the premiums do not change over the entire tenure of the plan.
FAQ 11

– Should I buy online term insurance plan through Aggregators?
Aggregators are companies like policybazaar.com, coverfox.com, quickbima etc., I suggest you to use these websites to just compare and calculate premiums of various term plans.
You can then buy the selected best term plan directly by visiting that Life insurance Company's website itself. Why do you want to add one more layer between you and the insurance company? Keep it simple. Buy direct.
FAQ 12

– Online Vs offline Term insurance plans? Why are online term plans so cheap?
Online policies are cheaper than offline term plans, because there is no agent's fee involved and other administrative costs of the insurance company are also lower.
FAQ 13

– Would I get any income tax benefits on Term Insurance plans?
Life insurance plans appeal to most of us because of the inherent tax benefits and a term plan is no different. The premium that you pay for the plan would get tax relief up to a limit of Rs.1.5 lakhs under Section 80C.
If your term insurance plan has an inbuilt or add-on cover in the form of Critical Illness Rider then premium paid towards this can be claimed u/s 80D.
FAQ 14 – What are the general exclusions for Term Insurance plans? ( Types of Deaths not covered by Term Insurance plans)
Death by suicide during the initial 12 months of the policy term is not covered.
Accidental death while driving under the influence of alcohol or drugs.
Death in the event of war. (Some life insurers provide risk cover for terrorist activities)
Death caused due to pregnancy, childbirth or any problems arising from the same.
Taking part in any activity which is criminal by nature or a riot, etc.
Death due to Self-Inflicted injury.
Death due to Tsunami or Natural Calamity
If death is due to a sexually transmitted illness like HIV, AIDS, etc. then, the same is not covered under Term Plans and the claim may not be admissible.
FAQ 15

– What is the Credibility of Private Insurance Companies in India? Can they be trusted Lifelong?
You may kindly go through this related article.
Most companies cite incomplete documentation or concealment of facts as the primary reason for rejecting death claims. Hence, while buying a life insurance it is of utmost importance that you furnish accurate information. You may just pick any one of the above best online term insurance plans as per your requirements and comfort level. You may also consider any other Term Insurance plan from any Life insurance of your choice.
If you have been planning to buy a Term Plan, don't post pone!
"You don't buy life insurance because you're going to die, but because those you love are going to live."
Do inform your nominee and/or family members about your life insurance policy details. Share the contact details of your life insurer with your nominee and also make them aware of the claim settlement procedure. Make sure you do not miss paying your insurance premiums on time.
Continue reading :
ICICI Prudential Precious Life (new) Term Insurance Plan | Life Cover to Individuals With Health Conditions
Kindly note that the above provided information is generic in nature. We recommend you to go through the specific policy wordings, exclusions, terms & conditions and features in detail, before buying a term plan and also immediately after receiving your policy bond certificate.
(Post first published on : 17-October-2019)