Tax free bonds have emerged as a highly popular investment option among investors due to the taxation benefit they offer. We have very few instruments in India where the interest income is exempt from tax in India. One of them is the PPF (Public Provident Fund) and the second is the Tax Free bonds. Most of the other interest yielding instruments like bank deposits, company fixed deposits, NSC, Post Office Monthly Income Scheme etc., attract tax on interest income.
The Tax-free Bonds are set to make a comeback to the market after a gap of one year. The Central Board of Direct Taxes (CBDT) has recently issued a notification related to 'new Tax Free Bonds FY 2015-16'. As per this notification, Tax Free Bonds (TFBs) to the tune of Rs 40,000 crore, will hit the market in this Financial Year (2015-16), starting this October. These bonds will have tenures of 10, 15 and 20 years.
Several state-run companies raised Rs 30,000 crore through tax-free bonds in FY12, Rs 25,000 crore in FY13 and Rs 50,000 crore in FY14. These funds are utilized to fund infrastructure projects. There was no such bond issuance in FY 2015.
New Tax Free Bonds FY 2015-16
Below are the details of the firms and the maximum allocated amount of funds they can raise by offering new Tax Free Bonds in the current Financial Year (2016);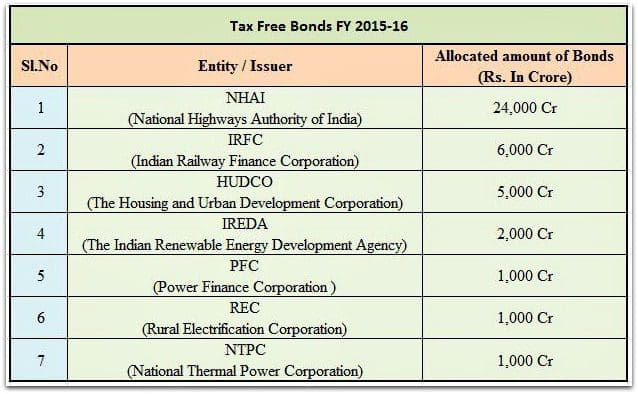 The National Highways Authority of India will make the largest offering to the tune of Rs 24,000 crore
The Indian Railway Finance Corporation can raise funds to the tune of Rs 6,000 crore
The Housing and Urban Development Corporation – Rs 5,000 crore
The Indian Renewable Energy Development Agency – Rs 2,000 crore
NTPC – Rs 1,000 crore
Rural Electrification Corporation – Rs 1,000 crore and (Read my detailed review on REC 2015 Tax Free Bonds)
Power Finance Corporation – Rs 1,000 crore
In this post let us understand – What are tax free bonds? Difference between Tax Free & Tax saving / deduction. How to choose best Tax Free Bond? What are the tax implications of buying and selling of Tax Free Bonds (TFBs)? Bank FD Vs Tax Free bond. Debt Mutual Fund Vs Tax Free Bond.
What are Tax-Free Bonds?
Let us first understand, what is a Bond?
A bond is a Fixed Income security (debt investment) in which an investor loans money to an entity (typically corporate or governmental / PSUs) which borrows the funds for a defined period (tenure) of time at a variable or fixed interest rate (coupon rate).
Those bonds which are exempt from taxation on the 'interest income' under the Income Tax Act, 1961 are called Tax-free bonds. These are usually issued by government-backed entities.
(Although, the interest received on TFBs is exempted, the investor would still be required to disclose it in his/her Income Tax Return as an 'exempted income'.)
Tax Saving Vs Tax-Free
So, how is tax-saving different from tax-free?
Though the two terms are used in relation to taxation matters, there exists a considerable difference between the two. Tax-saving implies that there are certain provisions in the Indian Income Tax Act that allows an individual to save tax by investment in some particular investment instruments (like ELSS mutual funds or Life insurance premium etc., under Section 80c) or when the taxpayer has incurred some expenses on which tax liability can be minimized to some extent (Example – HRA, LTA etc.,).
Tax-free on the other hand implies income that is not taxable in the hands of investors i.e. the income from such tax-free source is not included in the total income for the purpose of computation of total tax liability. With no income tax being charged on the returns on the tax-free investment no other rebate in the form of tax deduction for the amount invested is provided. So, Tax free bonds are not eligible for deduction under section 80c.
Can Individuals buy Tax Free Bonds?
Retail Individual Investors (RIIs)
High Net-worth Individuals (HNIs)
NRIs (Non-Resident Indians)can subscribe to Tax-free Bonds.
Individual investors, Hindu Undivided Family (HUF's) Karta and NRI fall under the category of RIIs. These investors can apply for up to Rs 10 Lakh in each issue. NRIs can subscribe to Tax free bonds on either repatriation or non-repatriation basis. Individual Investors investing more than Rs 10 Lakh in Tax free bonds are classified as HNIs.
How to buy New Tax Free Bonds in India?
You can subscribe to new tax free bonds when the Bond Issue is open for subscription. The issues will be open for few days only. The bonds can be bought in physical form or through your Demat account. The subscriber has to furnish Permanent Account Number (PAN) to the issuer of the Bonds.
In case, if you miss buying TFBs during the Public issue, you can still buy them from Secondary market through stock exchanges. But, they can be traded on the exchanges in Demat mode only.
TFBs are long-term investments with minimum lock-in period of 10 years. So, if you wish to redeem them before the maturity period then you can sell them in secondary market. But, liquidity (finding a buyer) can be a challenge. Hence, it is advisable to subscribe to bonds of a large Public Issues instead of the small ones.
Checklist to buy best Tax Free Bond in FY 2015-16
How to select best Tax free bonds? Below are the important factors that need to be considered before investing in a Tax free bond public issue.
Credit Rating

– Credit rating of a bond is a third party assessment of the quality of bond in terms of its credit performance. Some of the leading credit rating agencies in India are CRISIL, ICRA, and Fitch. It is advisable to buy Tax-Free Bonds which have good Credit Rating. These ratings can be AAA (good rating), AA+, AA & AA-. Lower the rating, higher would be the interest rate.

Coupon Rate

– The rate of interest offered by the issuer of the bond is called Coupon. Interest rate is the most important parameter to evaluate a bond. The coupon rate of TFBs is benchmarked against the government securities (G-Sec) of equal maturity. So, for 10 year lock-in tax free bond the benchmark would be 10 year G-Sec rates. The current 10 year G-Sec rate is around 7.75%. Coupon Rate is calculated based on the type of investor, G-Sec yield and the credit rating. (Most of the Tax-free bonds that were issued in FY 2013-14 carried interest rate of 8% to 9%. With the interest rate on a declining trajectory, the coupon rate on TFBs may not be as high as in FY14)
Tenure

– Another important factor that you need to look at is 'Bond Tenure'. The tenure of bonds shall be for ten or fifteen or twenty years. The significance of tenure lies in the fact that investment in bonds must be aligned to the time horizon set for your financial goals.
Payment Frequency

– Payment frequency shows how many times in a given year the coupon is being paid by the company. Higher the payment frequency for a given coupon better it is for the investor. But, most of the Tax free bond issues offer annual payment option only.
Tax free bonds & Tax Implications
Is TDS applicable on Tax free bonds?

– These bonds are tax free and hence not subject to TDS.
Interest income earned on TFBs is exempted from income tax. The interest earned from these bonds does not part form of your total taxable income.
The invested amount is not eligible for any tax deduction.

Are Capital Gains taxes applicable on Tax free bonds?

– Though the interest earned on these bonds is tax-free, any capital gain from sale in the secondary market is taxable. If you sell your Bond for a price that is more than the cost then you would have to consider this as a capital gain. Short-term capital gains from sale of tax-free bonds on exchanges are taxed at your income tax slab rate, while long-term capital gains are taxed at 10% without indexation. The indexation benefit is not available for Bonds/NCDs. (For STCG holding period is less than 12 months. For LTCG holding period should be more than 12 months)
Tax free bonds Vs Bank Fixed Deposits
The interest earned on bank FDs and other types of bonds are not exempted from income tax. It is added to your income and is taxed as per the income-tax slabs. As interest earned from tax-free bonds is not taxed, investors in higher tax brackets mostly earn a better post-tax return than from FDs. But remember, the bank FDs score over tax-free bonds in terms of liquidity as these bonds have longer maturity tenure.
Tax free bonds Vs Tax saving bank FD
The tax saving bank Fixed Deposit has a lock-in period of 5 years. The maturity period of tax free bonds can be in the range of 10 to 20 years. The interest earned on tax saving FD is taxable but the invested amount can be claimed as deduction under Section 80c. You can invest in Bank FD anytime but you can invest in TFBs only when the issue opens.
Tax free bonds Vs Debt mutual funds
I believe that 'lack of liquidity' is the biggest disadvantage of Tax-Free Bonds. The debt mutual funds can generate higher returns when compared to Tax free bonds and you may redeem them anytime. So, the trade off is between higher returns by MFs and the post-tax benefits of tax-free bonds.
Should you invest in new Tax Free Bonds FY 2015-16
It is advisable to follow the principle –Think beyond taxes when investing. Do not invest in Tax-Free bonds just because the interest income is tax free. Your investment should match your financial goals requirements.
These bonds generally become attractive when the interest rates in the financial system are high. The interest rates are in a downward trend now. So, the coupon rates offered for the new Tax fee bond issues may not be that attractive.
But, if your income tax slab rate is 30% then you can consider investing some portion of your savings towards these bonds. Also, if you are looking for a steady source of income annually (periodically) and can afford to lock-in your capital then you may consider investing in Tax Free bonds.
(Image courtesy of Stuart Miles at FreeDigitalPhotos.net)
You may like reading detailed reviews on;