Aadhaar card has become a hot topic of discussion in India. Government of India is linking each and every aspect of life to Aadhaar, be it your PAN, Bank account, EPF UAN, Mutual Fund Folios, Demat Account, Insurance Policies, Mobile Number, Govt Subsidies (like LPG), Death Certificate etc.,
Aadhaar is a 12 digit unique identification number that every Resident of India (regardless of citizenship) is entitled to get after furnishing his/her demographic and bio-metric information.
There are certain important dates and deadlines that you need to meet related to your Aadhaar, in order to avoid pain in the coming calendar year, 2018.
---
Latest News (26-Sep-2018) : After the Supreme Court's latest verdict, where all Aadhaar is needed or not needed now? – my latest article.
---
Important Dates & New-Deadlines for Aadhaar Linking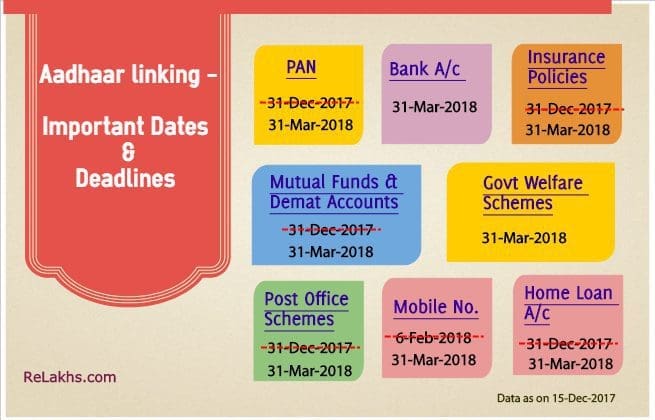 Aadhaar linking with PAN :

The deadline set by the government for linking Aaadhaar number with PAN is December 31, 2017. Individuals must link their PAN with Aadhaar by this date in order for their Income Tax Returns to be processed. The deadline for linking Aadhaar with PAN has now been extended till 31st March, 2018. (Updated on 12-Dec-2017)
The above deadline is only for those filing income tax returns this Financial Year (2017-18). If you are not required to file your ITR as per tax laws, i.e., your gross total income in a financial year is less than the exemption limit of Rs 2.5 lakh (for the FY 2017-18), then the last date to link your PAN with your Aadhaar is yet to be notified by the government.
Related Article : '

How to link Aadhaar number with PAN in 3 simple steps!

'

Aadhaar & Banks / Financial Institutions:

As per the new rules, one has to mandatorily submit his/her Aadhaar and PAN details to be KYC-compliant.
The Govt has recently clarified that this deadline has been extended till 31st March, 2018 for existing bank account holders. 31st March, 2018 or six months from the date of commencement of account based relationship by the client customer.
But as far as opening new bank accounts are concerned, Aadhaar or Enrollment ID must be provided as proof of identity while opening the account(s).
You need to get your Aadhaar & PAN details updated for the all investments you have made like – Mutual Funds, Insurance policies, NPS, Post office schemes (like PPF, NSC, Sukanya Samriddhi, KVP etc.,),

Atal Pension Yojana

, Varishtha Pension Bima Yojana, Demat Account etc., by 31st December, 2017 31st March, 2018 or six months from the date of commencement of account based relationship by the client customer. .
You also need to submit your Aadhaar & PAN to your home loan provider

(Bank / NBFC)

.
If you fail to be kyc compliant then your accounts will be blocked and become in-operational.

Related Articles

:

EPF UAN : The EPFO has made it mandatory for all its pensioners and subscribers to submit Aadhaar numbers. The deadline was September 30, 2017. Aadhaar is a must for Online EPF Claim submission and Claim settlement.
Govt Welfare & Social Security Schemes : Recently, government in the Supreme Court has said that it has extended the deadline for mandatorily providing Aadhaar details in order to avail subsidies and benefits of social schemes. The new extended deadline is now March 31, 2018.
Mobile SIMs : As of now, the deadline to link your mobile number to Aadhaar is 6th February, 2018 31st March, 2018.
Death Certificate : The Government has made Aadhaar card mandatory for the registration of death from October 1, 2017.
The government also plans to make linking of Aadhaar mandatory for driving licence.
---
"NRI/OCI (Overseas Citizen of India) are not eligible to obtain Aadhaar as per the Aadhaar Act and hence are fully exempted to produce Aadhaar for any verification. NRI/OCI need not verify their bank account or SIM or PAN with Aadhaar. If required, they may inform the service provider(s) that they being NRI/OCI are exempted from Aadhaar verification" – UIDAI
---
---
Latest News (13-Mar-2018) : The Supreme Court has extended the March 31 deadline for Aadhaar linkages (except for Govt Subsidies & Welfare schemes) till the constitution bench delivers judgement on the matter.
---
Continue reading :
The above dates and deadlines are as on 01-Dec-2017. In case, these deadlines get extended, will update this post accordingly.
(Post published on : 01-December-2017)