IRDAI (Insurance Regulatory and Development Authority of India) has recently made it mandatory for individuals to link existing Insurance policies with Aadhaar (by 31-March-2018), as well as quoting it for buying a new insurance policy (life/non-life insurance). Until now, the linking has been done on a voluntary basis.
So, you need to contact your respective Insurer and get your Aadhaar number linked to your insurance policies at the earliest.
In this post, let us discuss the online procedure to link Aadhaar number with your LIC policies.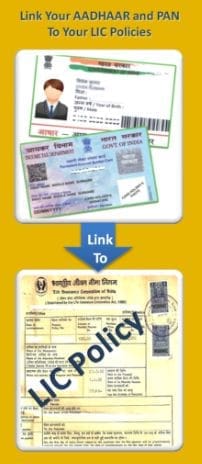 How to link Aadhaar to LIC policies online?
LIC has recently launched a dedicated online facility to link Aadhaar number to LIC policies. Kindly note that there is no need to login to LIC's e-services portal to update your Aadhaar number. Below is the online procedure to link Aadhaar and PAN to your existing LIC policy;
Kindly visit LIC Portal and click on the banner '

Link Aadhaar & PAN to LIC Policy'

on the home page.
Once you click on the link, the following message is displayed on the screen. "Keep your Aadhaar Card and PAN card handy along with the list of policies." Click on 'Proceed'.
You need to provide your full name (as per aadhaar), Date of birth, Aadhaar number, email-ID, PAN, Mobile number

(which is linked to your Aadhaar)

&

provide your LIC policy number in the respective field and click on 'Add Policy'.(In case, you have multiple LIC policies, you can add all of them in one go.)
Enter captcha code and click on 'Get OTP' button. An OTP will be sent to your mobile number.
You can cross-check the details provided by you and enter the OTP that you have received.
After submitting the online linking request, you will get the below message.
You will receive a confirmation SMS/E-mail about the 'linking' status after few days.
Currently, LIC is providing the linking facility through online mode only. Linking of aadhaar through other modes like SMS/IVR has not yet been launched.
If you are unable to link your LIC policies online for any reason, you can now get the linking done through offline mode. Download Aadhaar/PAN linking mandate from the LIC portal, provide your policy numbers in the form, sign it and submit it at your nearest LIC branch.
Click on 'Download Aadhaar/PAN mandate – if not able to link online' banner, which is available on LIC website home-page.
Click on the below image to download the mandate form.
In case, you are buying a new LIC Policy, your Aadhaar and PAN details are collected in the proposal form itself. LIC will complete the Aadhaar linking process before issuing the new policy to you.
As per IRDA, for the existing policies Aadhaar can be seeded at the time of renewal premium payment.
If there is any data mismatch between Aadhaar and your LIC policy (like name/DoB), whether LIC is going to disapprove the linking process, we may have to wait for few more days to know more on this!
---
Latest News (13-Mar-2018) : The Supreme Court has extended the March 31 deadline for Aadhaar linkages (except for Govt Subsidies & Welfare schemes) till the constitution bench delivers judgement on the matter.
---
Related Articles :
(Post published on : 25-November-2017)