Interim-Budget 2019-20 & the Finance Bill 2019 have been tabled in Parliament. The Income Tax Slab rates have been kept unchanged by the Finance Minister for the Financial Year 2019-20 (Assessment Year 2020-2021).
One of the Budget Tax proposals that has drawn everybody's attention is – 'Zero tax liability or No income tax for Rs 5 Lakhs taxable income.'
As per the Finance Bill 2019, the threshold limit of tax rebate u/s 87A has been revised to Rs 12,500 for FY 2019-20. This tax rebate is applicable if an individual's (Resident Individuals including Senior Citizens) taxable income is less than or equal to Rs 5 Lakhs (only).

So, what is the meaning of Tax Rebate?
What is Tax Rebate?
Tax rebate is a refund on taxes when the liability on tax is less than the tax paid or liable to pay, by the individual is referred to as Income Tax Rebate.
Income Tax Rebate Vs Tax Exemption Vs Tax Deduction
Income Tax Exemptions are allowed to be claimed from a specific source of income (ex : Salary) and not from the Gross Total Income. Ex : HRA
Income Tax Deductions are allowed to be claimed under each Head and also from Gross Total Income. The taxpayer can claim deductions in case he/she incurs specified expenditure or make specified investments under various sections of the IT Act. Examples: Investments u/s 80c (or) Health Insurance premium u/s 80D.
Whereas, Income Tax Rebate is allowed to be claimed from the total tax payable. So, the exemptions and deductions are allowed to be claimed from the Income and Rebate is allowed from the tax payable.
Revised Tax Rebate Limit u/s 87A
The Tax rebate of Rs 2,500 for individuals with income of up to Rs 3.5 Lakh had been proposed in Budget 2017-18 and the same has been continued for FY 2018-19 / AY 2019-20 as well.
The rebate us/ 87A has now been revised to Rs 12,500 for FY 2019-20 / AY 2020-21. This means that if the total tax payable is lower than Rs 12,500, then that amount will be the rebate under section 87A. This rebate is applied to the total tax before adding the Education Cess (4%).
Only Individual Assesses earning net taxable income up to Rs 5 lakhs are eligible to enjoy tax rebate u/s 87A.
For Example : Suppose your yearly pay comes to Rs 6,50,000 and you claim Rs 1,50,000 u/s 80C. The total net income in your case comes to Rs 5,00,000 which makes you eligible to claim tax rebate of Rs 12,500.
The amount of tax rebate u/s 87A is restricted to maximum of Rs 12,500. In case the computed tax payable is less than Rs 12,500, say Rs 10,000 the tax rebate shall be limited to that lower amount i.e. Rs 10,000 only.
The Tax Assesse is first required to add all incomes i.e. salary, house income, capital gains, business or profession income and income from other sources and then deduct the eligible tax deduction amounts u/s 80C to 80U and under section 24(b) (Home Loan Interest) to come up with the net taxable income.
If the above net taxable income happens to be less than Rs 5 lakhs then the tax rebate of Rs 12,500 comes in to the picture and should be deducted from the calculated total income tax payable.
How to check if you are eligible to claim Section 87A Tax Rebate FY 2019-20 / AY 2020-21?
Below image gives you an idea on how to arrive at the eligibility to claim the revised tax rebate under section 87A for FY 2019-20;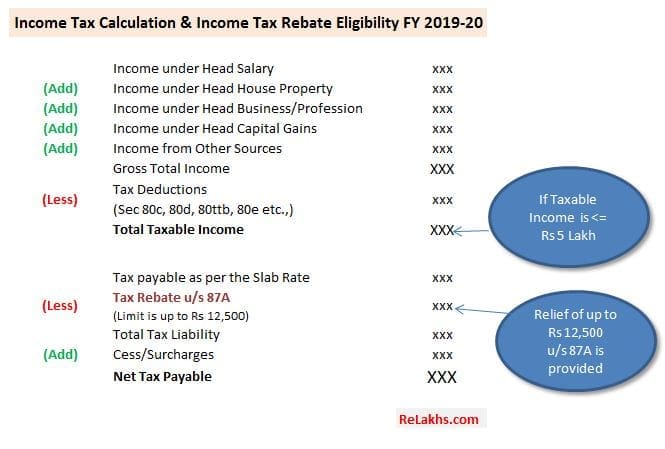 Eligibility to Claim Rebate Under Section 87A FY 2019-20 (AY 2020-21) – Illustrations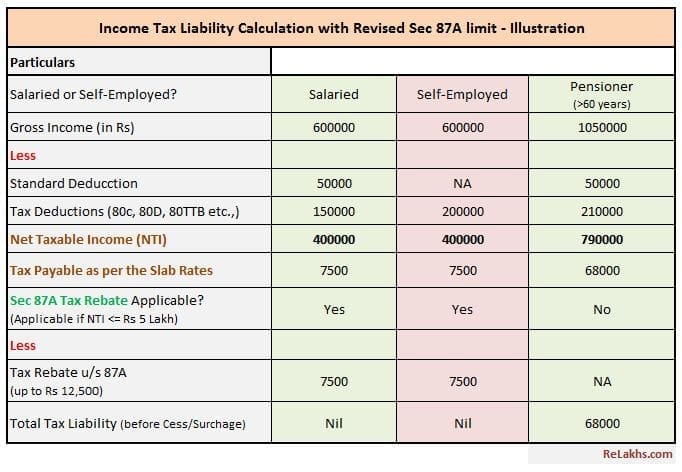 FAQs on Section 87A Income Tax Rebate
Can NRIs claim rebate under section 87A? – No, this tax rebate is only allowed for Resident Indians. Therefore, taxpayers qualifying as Non-Resident Indians are not eligible for a rebate under 87A.
Can this rebate be claimed by a Firm or Company? – This rebate is only allowed to individuals. HUFs or firms or companies cannot claim this tax rebate.
Are Cess & other charges (if any) need to be added before or after claiming this Tax Rebate? – Education Cess and SHEC are levied on the Tax payable after allowing for tax rebate of up to Rs 12,500.
My Taxable income is less than Rs 5 Lakh, so my tax liability would be NIL. Do I still need to file my Income Tax Return for FY 2019-20 / AY 2020-21? – You can avail of the zero tax benefit announced in Budget 2019 but you still need to file your income tax return (ITR). The income tax exemption limit for all citizens below 60 years still remains at Rs 2.5 lakh and for senior citizens Rs 3 lakh. Therefore, if you are earning anything above these basic exemption limits annually then you are mandatorily required to file your ITR.
Continue reading:
(Image courtesy of Stuart Miles at FreeDigitalPhotos.net) (Post first published on : 07-February-2019)
Kindly note that the above information is based on the proposals presented in the Interim Budget 2019-20. The above details will be updated (if required) after the presentation of the Full Budget (if any) by the next Govt.