In the past couple of years, mutual funds have gained huge popularity in India and the major credit for that goes to the exceptional performance provided by these schemes & the huge variety of options available for investments. The popularity of the mutual fund industry can be observed from the 2.52 crore active SIP accounts through which regular investments are being made.
One particular category of mutual funds that have played a great role in the increasing popularity of mutual funds is ELSS (Equity Linked Savings Scheme). But, even now, a lot of people are unaware of these schemes and the benefits they can enjoy by investing in them. So, today we will discuss, what ELSS funds are, why pick ELSS funds, and which are the top schemes that you can pick in this category. Let's start the process!
What Are ELSS Funds?
ELSS are equity-oriented mutual fund schemes which invest a minimum of 80 percent in the equity securities and the rest in debt & money market instruments to provide investors with long-term capital appreciation.
In addition to this, the schemes from this category are also included u/s 80C which allows them to provide tax deductions on investments up to Rs. 1.5 lakhs. Also, these schemes have the flexibility to invest across the market-cap, which help them in taking the full advantage of the equity market.
Why Pick ELSS Mutual Funds?
There are several reasons that make Equity Linked Savings Schemes a great pick for your portfolio. Some of the major reasons have been stated below.
Higher Growth: As discussed above, ELSS funds invest predominantly in equities because of which the growth they provide is better than the conventional tax saving instruments (PPFs, FDs, etc.,). where the conventional saving methods provide returns ranging between 7%-9%, ELSS mutual funds have a track record of providing returns ranging between 10%-15%.
Fully Transparent: If you have invested in any of the conventional tax saving instruments, then you must have noticed that they don't show the securities in which they have invested in. But, this is not the case with ELSS mutual funds. You can easily check the stocks and sectors in which they have invested in and can guide your investments according to that.
Lower Lock-in Period: Lock-in period of a scheme is the time for which you will not be able to redeem your investments. ELSS funds have a lock-in period of just 3 years, which is the lowest among all the tax saving instruments under section 80C. This is one of the major reasons behind the increasing popularity of these schemes.
Now that you know the reasons that make ELSS a great pick, let's move to the checks that you must follow while picking an Equity Linked Savings Scheme.
How to Pick a Good Tax Saving Mutual Fund?
Do not pick an ELSS fund based on the recent or short term performance alone (STAR Ratings). Instead, advisable to pick a consistent performer based on the Fund's long track record.
Consider both, the past performance and risk ratios of mutual funds to shortlist top rated Equity Linked Saving Schemes. (Related Article : 'How to select the right and best Mutual Fund Scheme based on the Measures of Volatility?')
Do a research on how the Fund's portfolio looks like – in which Sectors has the fund invested in, its allocation to large, mid & small stocks, investment style etc.,
Select Growth option and preferably Direct plan of an ELSS Fund.
Best ELSS Mutual Funds to invest in 2019
We have considered the Returns and Risk ratios of the below funds for 'Best ELSS Funds' review;
Below are the best Tax Saving Mutual Funds to invest in 2019 & beyond..
Aditya Birla Tax Relief '96 Fund
Axis Long Term Equity Fund
DSP Blackrock Tax Saver Fund
Franklin India Taxshield Fund
Invesco India Tax Plan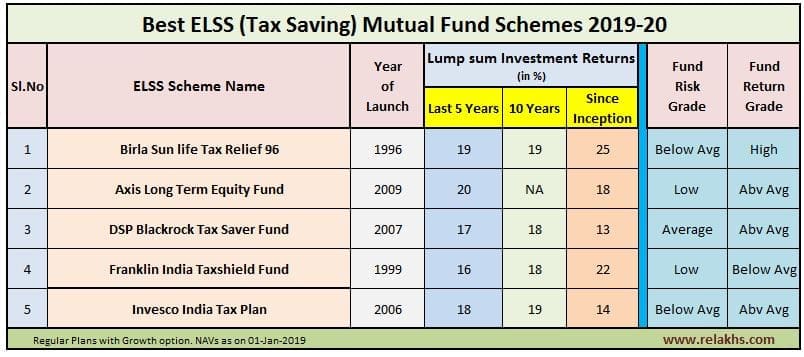 Aditya Birla Sun Life Tax Relief 96' Fund (G)
One of the oldest and most consistent schemes of the mutual fund market. Since inception, it has provided an annual average return of more than 24%.
Follows a mid cap and large cap-oriented style of investing with a mildly diversified portfolio of 50 stocks.
Have a very high turnover ratio which means the stock selling and picking is very frequent, making this scheme a bit aggressive.
Axis Long Term Equity Fund (G)
Most popular scheme of the ELSS category with Rs. 17,626 crore worth of assets under management.
Follows a focused investment style with current investment in a total of 35 stocks. As for asset allocation, it follows a large cap (72.69%) oriented style, but a considerable allocation is also in the mid caps (25.76%).
A great performer in the market downturn and was one of the few equity schemes to give positive returns in the current market downfall.
DSP Tax Saver Fund (G)
A consistent long-term performer, with a track record of beating the benchmark and category returns at every cycle.
Follows a diversified portfolio and as of now has an investment in 66 stocks picked across from 14 sectors.
Change the sector allocation as per the market trends to ensure that investors get the best value for their money in the long-term.
Franklin Tax Shield Fund (G)
Franklin Taxshield has been maintaining a very high allocation to large-cap stocks across market phases.
The fund's returns in the last one year show a slowdown relative to the category and benchmark. The fund's year-to-year returns don't always beat its more aggressive peers, but its performance adds up to very handsome returns over the long term.
You may consider this fund, if you like a less bumpy ride in choppy markets.
Invesco India Tax Plan (G)
One of the best schemes provided by Invesco Mutual Funds and has shown a great performance since its inception on Dec 29, 2006.
Follows a focused investment style and at present has an investment in 39 stocks, picked from 12 sectors.
Currently has more than 60% investment in finance, energy, and technology sector, all of which are showing great growth possibilities in the near future.
Hope now you are clear with the concept of ELSS funds. So don't wait up and start your investments today in the above listed schemes to save up to Rs. 46,350* in your next tax filing. Also, remember that each of the above schemes has different risk associated with them, so before making the final choice, don't forget to conduct a proper research or consult a financial advisor to experience a hassle-free growth.
This post has been co-authored by Virendra of mySIPonline.com & Sreekanth of ReLakhs.com.
Author's Bio: Mr. Virendra Singh Ranawat is the CEO and co-founder of MySIPonline.com. He started the company 3 years ago to simplify mutual fund investments in India and create awareness among people about the benefits they can enjoy by investing in these instruments.
Continue reading:
Kindly note that ReLakhs.com is not associated with MySIPonline.com. This is a guest post and NOT a sponsored one. We have not received any monetary benefit for publishing this article. The content of this post is intended for general information / educational purposes only.
Kindly note that the above list of best & top ELSS mutual fund schemes is not an exhaustive one. Mutual funds' returns are not guaranteed, their values/returns change frequently and past performance may not be repeated. MFs are subject to various market risks.
(Featured Image courtesy of Stuart Miles at FreeDigitalPhotos.net) (Post first published on 02- January -2019)(Data Source & references : Valueresearchonline, Moneycontrol, Morningstar, Freefincal & The Economictimes)