Most of the Senior citizens in India who do not like the volatility that comes with Equities / mutual funds prefer to save and invest in Fixed Deposits, Recurring Deposits and Small Saving Schemes. The main reasons for saving in these financial products are – low risk, guaranteed returns and fixed income.
Is interest income earned on FDs, RDs or Savings account taxable? – Yes, it is a taxable income. However, a deduction of up to Rs 10,000 is allowed under section 80TTA to an assessee in respect of interest income from savings account.
The tax deduction u/s 80TTA can be claimed by any individual (Senior or non-senior citizens). The interest income on FDs and RDs is fully taxable. (Related article : 'Recurring Deposit Taxes & Fixed Deposit Taxes – How do they work?')
The Budget 2018-19 has proposed to insert a new section 80 TTB so as to allow a tax deduction of up to Rs 50,000 in respect of interest income from deposits held by senior citizens. This amendment is effective from Financial Year 2018-19 / Assessment Year 2019-20.
FY 2018-19 Section 80TTB | Income Tax Deduction of Rs 50,000 for Sr Citizens
Non-Senior Citizens can claim a tax deduction on savings accounts interest income of up to Rs 10,000 u/s 80TTA.
Senior citizens can either claim Rs 10,000 u/s 80TTA (or) tax exemption of up to Rs 50,000 u/s 80TTB. The scope of 80TTA is limited to 'interest income' on Savings Account only. Section 80TTB is applicable on interest income earned on Savings accounts deposits, Fixed Deposits & Recurring Deposits held with Banks, Post offices and Co-operative Banks.
Is interest income earned on Small savings schemes like Senior Citizens Savings Schemes deposits tax exempted up to Rs 50,000? – As of now, there is no clarity on this. But, I believe that interest income earned on deposits linked to Post office savings account can also be tax exempted up to Rs 50,000 u/s 80TTB.

Further, interest earned on other types of deposits with post offices such as post office time deposits, 5-year recurring deposits, NSC and Post Office Monthly Income Schemes can also be eligible for 80ttb deduction.

However, section 80TTB is not be applicable for pension schemes like Pradhan Mantri Vaya Vandana Yojana (PMVVY).
Interest received from any other sources such as interest from company FD, Bonds and Debentures will not be eligible for deduction u/s 80TTB.
Until FY 2017-18, if interest income on Bank/Post office deposits is more than Rs 10,000, TDS is deducted u/s 194A. Budget 2018-19 has proposed to raise the threshold for deduction of tax at source on interest income for senior citizens from Rs 10,000 to Rs 50,000. (Related Article : '

TDS Rates Chart for FY 2018-19 / AY 2019-20

')
Can NRIs claim 80TTB deduction? – This deduction is available to a senior citizen who is a resident of India as per the Income Tax Act. Thus, senior citizens with non-resident status (NRI) will not be able to claim deduction under section 80TTB.
Section 80TTB & Impact on Taxable Income of Senior Citizens
Senior citizens already enjoy a higher basic exemption limit when compared to normal taxpayers. The introduction of new Section 80TTB further aids in saving tax for senior citizens. Let us see the impact of sec 80TTB on taxable income with an illustration as below;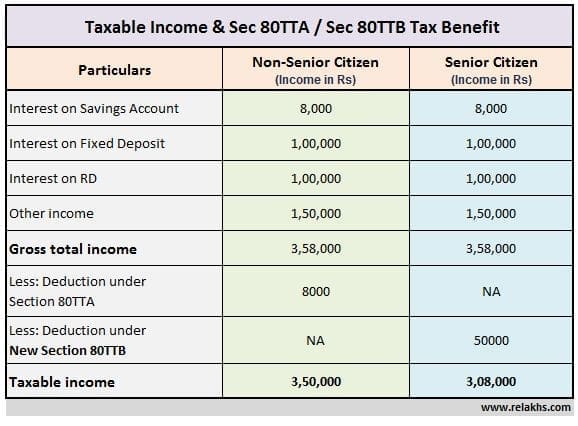 Budget 2018-19 has proposed the other below important amendments for the benefit of Senior Citizens ;
The premium paid on health insurance plans by senior citizens of up to Rs 50,000 can be claimed as tax deduction under Section 80D. (Kindly read : '

Health Insurance Tax Benefits (under Section 80D) for FY 2018-19 / AY 2019-20

.')
The limit under section 80DDB has been proposed at Rs 1 lakh towards medical expenses, for treatment of Critical Illnesses.
In the Union Budget 2018-19, the Finance Minister has also proposed to provide Rs 40000 Standard Deduction from salary income to all employees & pensioners.
The maximum investment under

Pradhan Mantri Vaya Vandana Yojana

has been increased to Rs 15 Lakh.
Overall, the Budget 2018-19 might have disappointed many but senior citizens have some good reasons to cheer!
Continue reading :
(Image courtesy of Sira Anamwong at FreeDigitalPhotos.net)
(Post first published on : 12-April-2018)