Indian Finance Minister, Shri Arun Jaitley has tabled today, the Union General Budget 2018-19 in the Parliament. Below are the latest Income Tax Slab Rates for FY 2018-19 or AY 2019 -20. Kindly note that there has been no changes made to personal Income tax structure. (FY is Financial Year and AY is Assessment Year)
Latest Income Tax Slab Rates FY 2018-19
The income tax slabs & rates are categorized as below;
* Individual resident aged below 60 years.
* Senior Citizen (Individual resident who is of the age of 60 years or more but below the age of 80 years at any time during the previous year) &.
*Super Senior Citizen (Individual resident who is of the age of 80 years or more at any time during the previous year).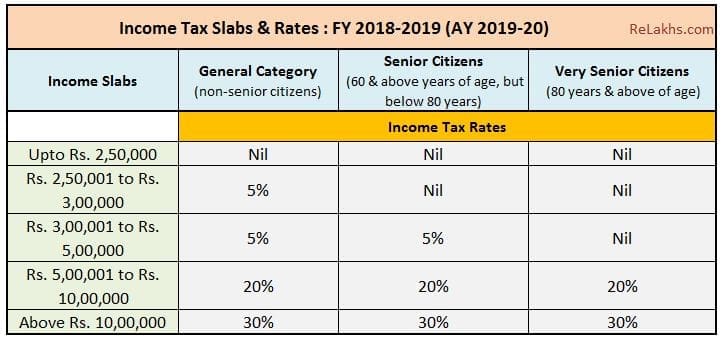 Budget 2018-19 : Key Highlights
Below are the latest proposals that have been made in Budget 2018-19 ;
Income Tax Slabs : No change has been proposed on tax slab rates.

Standard Deduction

: A standard deduction of Rs 40,000 in lieu of travel, medical expense reimbursement and other allowances has been proposed for salaried employees and pensioners.
Increase in Cess : Currently, there is 3% cess on personal income tax (2% for primary education and 1% for secondary and higher education). This will be replaced with 4% Health & Education Cess.

Senior Citizens & Income Tax exemptions

:

The Interest income earned on Fixed Deposits & Recurring Deposits (Banks / Post office schemes) will be exempt till Rs 50,000 (current limit is up to Rs 10,000). This deduction can be claimed under new Section 80TTB. However, no deductions under existing 80TTA can be claimed (the current limit for FY 2017-18 u/s 80TTA is Rs 10,000).
Currently, if interest income on Bank/Post office deposits is more than Rs 10,000, TDS is deducted u/s 194A. Budget 2018-19 has proposed to raise the threshold for deduction of tax at source on interest income for senior citizens from Rs 10,000 to Rs 50,000.
The premium paid on health insurance plans by senior citizens of up to Rs 50,000 can be claimed as tax deduction under

Section 80D

(current limit is Rs 30,000).
The limit under section 80DDB has been proposed at Rs 1 lakh towards medical expenses, for treatment of Critical Illnesses.
The maximum investment under

Pradhan Mantri Vaya Vandana Yojana

has been increased to Rs 15 Lakh.

No Section 80TTA Benefit : Section 80TTA of Income Tax Act offers deductions on interest income earned from savings bank deposit of up to Rs 10,000. From FY 2018-19, this benefit will not be available for late Income Tax filers.
Single/Multiple year Premium Health Insurance Policy : In case of single premium health insurance policies having cover of more than one year, it is proposed that the deduction shall be allowed on proportionate basis for the number of years for which health insurance cover is provided, subject to the specified monetary limit.
Long Term Capital Gains on Shares & Equity Mutual Funds :

The Budget 2018-19 has proposed to introduce tax on

Long Term Capital Gains

on sale of stocks and equity mutual fund units.
LTCG tax at 10% on gains of above Rs 1 lakh from Equities & Equity mutual funds.
No change has been proposed to STT tax rate.
No change has been proposed to holding period to arrive at LTCG/STCG.
STCG will continue to be taxed at 15%.
Any LTCG accrued on Stocks/Equity funds up to 31-Jan-2018 are tax-free, if held for 1 year period.

For Example : If the equity share is purchased 6 months before 31st January 2018 at Rs 1,000 and the highest price quoted on 31st Jan is Rs 1,200. There will be no tax on the sale, if the stock is sold after 1 year.
However, any gains in excess of Rs 200 earned after 31st Jan 2018 will be taxed at 10% if this share is sold after 31st July 2018.

Equity Oriented Mutual Funds will now have to pay a dividend distribution tax (DDT) of 10%. (Read : '

10% LTCG Tax on sale of Stocks/Equity Mutual Funds

.')

The Bonds issued

u/s 54EC

for saving of LTCG on sale of property will now have a lock-in period of 5 years instead of 3 years from fY 2018-19.
The four state-owned general insurance companies namely : New India Assurance, Oriental Insurance, National Insurance and United India may be merged into one Entity and the new entity would be listed on the Stock exchanges.

Gold Monetization Schemes

to be revamped.
Budget 2018-19 has proposed to keep the EPF deduction at 8% (instead of 12%) for women employees, in the first 3 years of their employment.
Govt to pay Employer's contribution 12% of wages to EPF for new employees of all sectors in the first three years of employment to boost job creation.
The new budget has proposed to launch National Health Protection Scheme, to provide Rs 5 Lakh health insurance cover for 10 cr poor families. This can benefit 50 crore individuals in India.
Loans to the tune of Rs 3 lakh crore would be sanctioned under

Pradhan Mantri Mudra Yojana

during the FY 2018-19.
Continue reading :
(Image courtesy of Stuart Miles at FreeDigitalPhotos.net)
(Post published on 01-February-2018)