I have been receiving lot of queries on Pradhan Mantri MUDRA Yojana (PMMY) or MUDRA Bank. Many blog readers have been asking for information on loan application procedure, whom to approach for assistance and which banks / financial institutions are offering loans under PMMY scheme.
In his last Budget speech (2015-2016), Finance Minister Arun Jaitley proposed to set up a 'Micro Units Development Refinance Agency (MUDRA Bank) with a corpus of Rs 20,000 crore. On 8th April, 2015 Prime Minister Narendra Modi launched MUDRA Yojana.
Since then many banks and financial institutions have been offering business loans to sole-proprietors or entrepreneurs of Small & Medium Enterprises under PMMY scheme. It is estimated that Banks may disburse loans worth Rs 1.22 Lakh crore under PM Mudra Yojana by end of this fiscal.
In this post let us understand – What are the types of loans offered under PMMY? How to apply for loans under on Pradhan Mantri MUDRA Yojana? What are the required documents for processing of loans under MUDRA scheme? What are the contact numbers for Mudra Bank Loans?
How to avail Business Loans under Pradhan Mantri MUDRA Yojana ?
As of now Mudra Bank is not a full fledged banker. In future this will be converted into a full-fledged one. Currently it is offering Refinancing services only.
So whom to approach for assistance under PMMY scheme? You can approach any of the following lending institutions in your respective regions to apply for loans under MUDRA Yojana. (Picture courtesy Mudra.org.in)
Following are the lending institutions;
Scheduled Commercial Banks (Public / Private Banks)
Regional Rural Banks (RRBs)
Scheduled Urban Co-operative Banks
State Co-operative Banks
Micro Financial Institutions – MFIs (like NBFCs, Societies, Trusts etc.,)
MUDRA has enrolled 27 Public Sector Banks, 17 Private Sector Banks, 27 Regional Rural Banks and 25 Micro Finance Institutions as partner institutions for channelizing Loan assistance to the end borrower.
Sanction of assistance shall be as per the eligibility norms of respective lending institution. The loan will be released to undertake small business activities / micro enterprise.
These lending institutions will then approach MUDRA Bank for financial assistance or for refinancing of the sanctioned loans.
Types of Loans under Pradhan Mantri MUDRA Yojana (PMMY)
It has been proposed to fund the business units based on the stage of growth or funding needs of an entrepreneur or a micro unit.
Under 'Shishu' Scheme, loans up to Rs 50,000 will be sanctioned. This is the first stage when the business is just starting up. (Click on the below image to download Shishu loan application form)
Under 'Kishor' Scheme, loans above Rs 50,000 and up to Rs 5 Lakh will be provided.
Under 'Tarun' category, loan of above Rs 5 Lakh and up to Rs 10 Lakh will be sanctioned.
Key features of Shishu loan are;
No collateral is required
No loan processing fee
Rate of interest is 1% per month
Repayable in maximum period extended up to 5 years
Working capital loans will be given through MUDRA cards.
(Mudra Cards are issued by a bank or in association with MFI. It is issued as 'RuPay' Debit card. Cash can be withdrawn from any ATM.)
For details regarding loans above Rs 50,000 under PMMY, you may have to contact your nearest bank branch.
Checklist for loans under Pradhan Mantri MUDRA Yojana
Following are the documents that are to be submitted along with the MUDRA loan application form;
Self-attested Proof of Identity (Voter ID / Driving license / Aadhar card / Passport etc.,).
Proof of Residence (Recent telephone bill / electricity bill / Voter Id / Aadhar card / Bank statement / Passport etc.,).
Loan applicant's recent Photograph (2 copies).
Quotation of Machinery / other items to be purchased (if any).
Name of supplier / details of machinery / price of machinery and / or items to be purchased.
Proof of Identity / Address of Business Enterprise, copies of relevant Licenses / Registration Certificates / other documents pertaining to the ownership identity and address of business unit (if any).
Proof of category like SC / ST / OBC / Minority etc., (if applicable).
MUDRA Bank Helpline / Contact numbers
If you wish to avail assistance under Pradhan Mantri MUDRA Yojana (PMMY), you can approach the local branch of any of the above referred institutions in your region.
For information on MUDRA products and for any kind of assistance, the borrower can either approach/contact MUDRA office at Mumbai or the identified MUDRA Nodal Officers.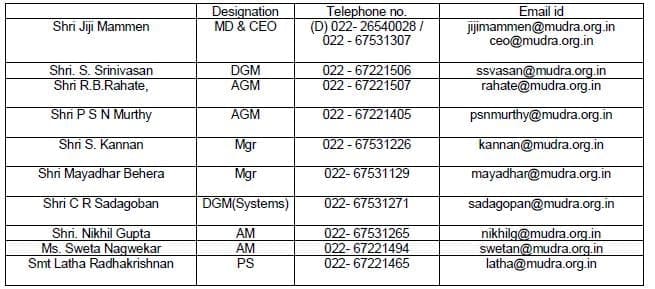 MUDRA has identified 97 Nodal Officers at various SIDBI Regional offices/Branch Offices to act as "first contact persons" for loans under MUDRA scheme.
The borrower may also visit MUDRA website, mudra.org.in and can send any query/suggestion to help@mudra.org.in.
---
Latest Update (26-Feb-2016) : Till 12th February, 2016, the loans extended are as follows:
| | |
| --- | --- |
| Category | No. of borrowers |
| Shishu | 2,50,54,052 |
| Kishore | 16,53,010 |
| Tarun | 2,93,566 |
| Total | 2,70,00628 |
Out of the total disbursement of Rs. 99, 467 crore as on 12th February, 2016, Rs. 21,119 crore is under Tarun Category. This constitutes 21.23% of the total portfolio. (Source : PIB)
---
My Opinion
It is estimated that there are around 5.77 crore Small Business units (mostly under individual proprietorship) which run small manufacturing, trading or service businesses in India. These sole-proprietors or entrepreneurs of Small & Medium Enterprises, find it difficult to get credit / finance from the financial institutions and end up acquiring loans at very high interest rates from financiers or money-lenders.
If Pradhan Mantri MUDRA Yojana is implemented well, it surely can be a boon to many of these small business owners. I believe these types of schemes are better than providing unnecessary subsidies.
"Give a man a fish you feed him for a day, teach him how to fish and he will never go hungry"
Kindly share your views and comments on Pradhan Mantri MUDRA Yojana 🙂