Online EPF Withdrawal facility has been one of the long-pending requests from the EPF members. At present, the turn around time to settle EPF withdrawal claims is around 30 days. In some cases, it goes beyond 30 days.
Online PF withdrawal facility can end the tedious paper work that it presently needs and make the process a lot simpler for EPF members. The EPFO has been planning to launch the online PF withdrawal facility for the last one year or so.
Good news is finally out.. Today, EPFO has released a press notice that henceforth all EPF Member's who have activated their UAN and seeded their KYC (Aadhaar) with EPFO will be able to apply for below claims through employees UAN interface / portal directly ;
PF Final Settlement

(Full PF withdrawal)
Pension Withdrawal Benefit

(EPS withdrawal)

&

PF Part Withdrawal

(PF Loan / advance)
The physical processing of the above three claims form around 80% of EFO's workload (claim-processing). So, online PF withdrawal facility may prove to beneficial for both EPF members and EPFO's employees.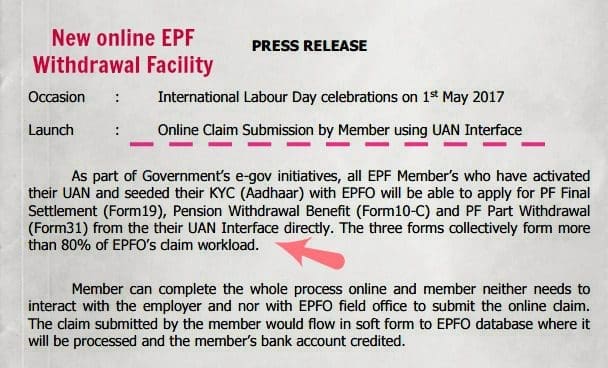 Online EPF Withdrawal : Details & Procedure
Below are the pre-requisites to submit online PF claims ;
UAN & Mobile Number : To avail online EPF withdrawal facility, you should have activated your UAN (Universal Account Number) and the mobile number which is linked to your UAN should be in working condition.
Aadhar : Your Aadhar number should have been seeded in EPFO website.

Bank Account

: Your bank account and its applicable IFSC Code should have been seeded with your UAN.

PAN

: Permanent Account Number (PAN) should also been seeded in EPFO database for PF Final settlement claims in case your service is less than 5 years. (Read : '

EPF Withdrawals & new TDS rules

')
How to withdraw EPF & EPS balance online?
You need to login to

UAN portal

(member interface) with your credentials.
Kindly check your KYC details whether they are correct and have been verified.
You have to select relevant withdrawal claim namely ; EPF full withdrawal (and / or) EPS withdrawal claim (or) EPF advance.
You have to authenticate online PF claim using OTP

(One-time password)

received against the mobile registered with UIDAI (Unique Identification Authority of India) to complete the online claim submission. So, your mobile number linked to your UAN and Aadhar should be one and the same.
EPFO will get your e-KYC (Aadhaar) credentials from UIDAI and processes your online PF claim.
An EPF member can complete the whole process online. As per EPFO, for online withdrawal facility, there is no need to interact with your employer / EPFO staff. The claim submitted by you would flow in soft form to EPFO database where it will be processed and your bank account will be credited with the claim amount.
For online EPF partial withdrawal, you are not required to give any supporting documents. Member's applying online will be taken as his / her self-declaration for preferring the advance claim.
EPFO says that with the launch of this online EPF withdrawal facility, the settlement of PF claims can happen within few hours. Let's hope this new provision proves to be useful and beneficial to all the EPF members.
(Kindly note that for 'Online EPF transfer' & 'EPS Withdrawals', seeding of Aadhaar number to UAN is not mandatory.)
---
Latest Update (27-June-2018) : EPF Subscribers who resign from their service can now withdraw 75% of their total Provident Fund (PF) kitty after one month from the date of cessation of service. This will be considered as a Partial PF withdrawal (Advance).
Members will continue to have the choice of withdrawing the entire / balance amount, if they want to close the account, after two months , provided the member is unemployed and/or do not make any fresh PF contributions.
Currently, the EPF Scheme allows Final withdrawal (full withdrawal) only after two months from the date of cessation of employment of the members.
---
Continue reading related Articles :
(Post first published on : 01-May-2017) (Source & Reference : EPFO's Press Release)