The corona-virus pandemic has thrown most of the global economies into a tailspin and shaken financial markets and investors profoundly.
We are witnessing – salary cuts, lay-offs, huge drop in business revenues and professional incomes.
These challenging times, reiterate the importance of 'core financial planning principles' – Asset allocation, diversification, re-balancing, living within means, lower exposure to debt (loans/mortgages) etc.,
This is a real test for us as investors. Some of us are getting jittery because we are watching our overall investment returns deteriorating and some of us are thinking it is an opportunity to add more to our existing investment portfolio.
Every individual is different and that is what makes us unique—some see problems while others see opportunity! It is a right time to relook / review at one's own investment strategy.
My new Equity Mutual Fund Portfolio 2020
I have been investing in Equities since 2003 and Mutual Funds from 2009 onwards. A major chunk of my investible surplus now goes towards mutual fund investments for two of my important financial goals i.e., my Son's higher Education and my retirement (wealth accumulation).
Below is the investment planning process that I follow without fail for my financial goals.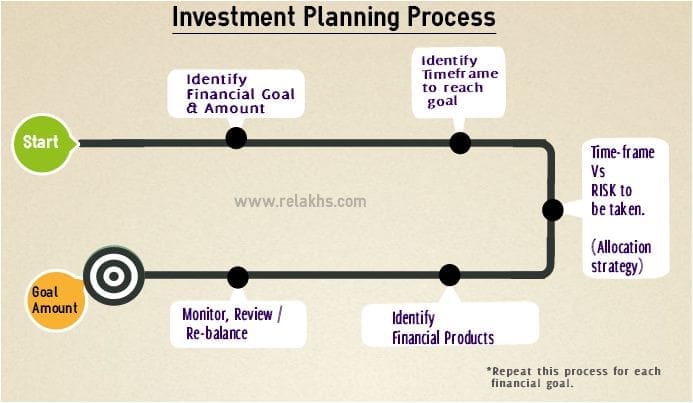 My previous article on 'my MF picks' (published in June, 2019) I had mentioned below mutual fund schemes as part of my MF portfolio;
Medium Term Goal(s)

HDFC Hybrid Equity Fund (erstwhile HDFC Balanced Fund)

Long Term Goal

Axis Long Term Equity Fund
UTI Nifty Next 50 Index Fund
HDFC Hybrid Equity Fund
Franklin Smaller Companies Fund
Below are the changes made to my Equity Mutual Fund Portfolio;
We (my spouse & myself) have decided to opt for 'new tax regime', hence ready to forgo Section 80c tax deductions. So, I have decided to discontinue my future investments in Axis LTE ELSS Tax Saving Fund (will hold on to the existing units though).
I have decided to discontinue my future investments in Franklin Smaller Companies fund as well, but, will keep the existing units.
I have added one more Equity Hybrid Fund to my MF portfolio – SBI Equity Hybrid Fund.
So, I have been actively making investments in three Equity Mutual fund schemes for now;

HDFC Hybrid Equity Fund
UTI Nifty Next 50 Index Fund &
SBI Hybrid Equity Fund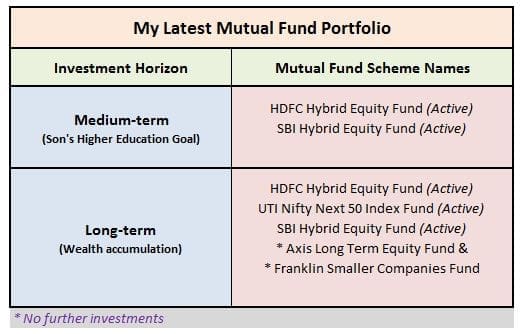 Some more important points on my investment planning & strategy..
You can notice that I am currently not investing in any Debt Mutual Fund Scheme(s).
For Emergency Fund, we (family) used to invest in Fixed Deposits & Liquid / Arbitrage Funds. We now prefer to keep the 'rainy day fund' in Bank Fixed Deposits only.
I follow a combination of SIP + Lump sum investment strategy. Off-late, my SIP amounts are meager and prefer to invest additional sum whenever financial markets give us an opportunity. I have made lump sum investments during March – May 2020.
Besides Emergency Fund (Cash Fund), we also maintain a 'Crash Fund' to invest lump sum amount (additional investments) in MF portfolio & Equities whenever there is a market crash/downturn.
Whenever I review the performance of my mutual fund portfolio, I give first priority to check my overall Portfolio returns. I do not initially get too worried about the not-so-good performance of individual Fund/scheme.
I prefer to compare my Funds' performances primarily with their Benchmark returns and not with its Peers. Trust me, the best performers list keeps changing every year, so the best strategy is to stick to consistent performers and also the Funds with decent 'downside protection'. (Though SBI Hybrid Equity Fund has relatively lower downside protection, it has been performing well during bull-run phases.)
I make sure that I keep an eye on 'who are the fund managers' of the MF schemes that I have invested in.
As much as possible, I make sure that overlap % among my Equity Mutual Funds is reasonable. It should be as little as acceptable because if there is a 50-70 per cent overlap then this diversification (holding multiple funds) is only optical. Actually, there is very less diversification. In case of equity, the least of overlap is more desirable. (But, do note that the Fund Portfolios do change over a period of time, so keep keep a track of overlap %.)
So, are these the only best Mutual Fund Schemes to invest for your financial goals? – The answer is NO. These are just my Picks.
Please note that the above mentioned Mutual fund investments are done based on my financial risk profile and goals. This article is for information & knowledge sharing purposes only. If required, kindly take help of a Registered Investment Advisor in designing a Portfolio that is based on your requirements.
Continue reading :
(Post first published on : 30-June-2020)