We all follow certain principles, rules, beliefs or maxims which control or influence our behavior. We learn these principles to be correct through our own personal experiences.
A 'principle' is a kind of rule, belief, or idea that guides you. We generally say that a good, ethical person has a lot of principles.
Even when it comes to investment planning or financial planning, most of us do follow and believe in certain principles.
I strongly believe that most of us inculcate certain personal financial planning principles through real-life experiences (knowingly or unknowingly) and also based on certain real-life incidents.
For example : One of my friends had incurred huge losses during 2011 stock market crash, since then his investment principle is not to touch Equities/stocks.
Below are certain factors that generally influence ones investment decisions and thus form part of his/her own principles and rules ;
Past investment experiences

Your attitude to risk and ability to bear risk

Family members' opinions and perceptions about investments

Your Family's back-ground

Investment decisions taken by your peers and other well-wishers

Your financial resources

Your Age

Family commitments

Investment horizon (Time-frame to reach your goals)

Micro & Macro economic factors

Your investment knowledge
In this post, I would like to discuss about my personal financial planning principles with you all. These are the investment principles that I have been following over the last many years and hopefully may follow for many years to come.
I have inculcated these financial planning principles based on my personal real-life experiences, life events and to certain extent, based on my family members' perception about investments.
Personal Financial planning principles that I follow..
'Think Negative' First

(be prepared for the worst but hope for the best!)

As far as Investments are concerned, I strongly believe in 'positive power of negative thinking'. We (as a family) make sure that we are prepared for the worst first and then plan/hope for the best.
I have lost my father when I was a very young boy and may be to a great extent this has influenced my way of thinking. I always think negative first, prepare for any adverse event(s) mentally. But, at the same time I put sincere efforts to overcome any challenges.
When I prepare/plan for the worst, I am actually planning for something negative that may or may not happen. When I hope for the best, it instills a positive feeling in me.
May be because of this attitude, I have taken adequate

life insurance

,

health insurance

, personal accident insurance cover and

home insurance

covers, long-time back. I always give high priority to protect what I (we) have first.
I follow this principle when I plan for

my Emergency Fund

too. We maintain adequate 'rainy day fund', to meet any unforeseen expenses.
My wife keeps saying to me that whenever I expect any income/profit, I expect a lower figure and whenever I had to pay for something or meet any expenses, I plan for a higher amount.
Save & Invest more

I follow

goal-based investment approach

. I set a goal amount which is more than adequate, with a clear time-frame and with a realistic rate of return.
The amount of savings that I can make is in my hands, whereas I can only hope for the best possible returns on my investments, as the investment returns are subject to various risk factors, especially for investment avenues like Equities, mutual funds, real estate etc.,
I do not know whether 'Red Bull' can give us Wings or not, but surely believe that 'saving more and investing in right avenues' can give us the Wings to fly (freedom). So, say 'More' to Savings -> Say WINGS!
My Wife often says to me that we are always in investment/savings mode, never in expenses mode. I reply to her, 'let's save and invest as much as possible NOW & as early as possible!' But, we are not making any major sacrifices – we just Invest as much as we comfortably can. We live a content and comfortable life but not a luxury life.
We invest more when markets fall, we stick to our conviction, as much as possible, we do not alter our long-term investment plans based on 'market-slump'.
Realistic Expectations

As opined in the above points, I assume realistic returns on my investments. My

portfolio

primarily comprises

Equity Mutual Funds

and Real-estate investments

(land, residential and commercial buildings and not Flats)

. For example: From

Balanced Equity funds

, I expect around 10% over a period of 5+ years and on Equity funds, around 12% over a period of 10+ years, anything above is a bonus! From my real-estate investments, I am not really worried about capital appreciation, as I am expecting only rental income from them, so my expectation on Rental yield is around 4 to 6% on my property investments.
I review

my Mutual fund portfolio

's performance once in 6 months, and give higher importance to my overall portfolio returns than to individual fund returns. If my portfolio total returns are in-line with my expectations, I make sure to track the low performers once in 1-3 years and then take the decision to churn the portfolio (if required).
There were times when I had unrealistic expectations from equity markets and

burnt my fingers

, realized that its almost impossible to make

quick money

! We invest in a Time Deposit (Fixed Deposit) and wait for 365 days to get 8% returns. So, why not implement the same strategy with respect to stock markets.

Aiming for 'Two Income streams' (Active & Passive incomes)

I was a salaried individual till 2009, was happy with my salary, but always used to feel this is not my cup of tea (due to low job satisfaction), often used to feel that I need to do more meaningful work. In 2009-10, decided to give more importance to LIFE PLANNING than CAREER PLANNING! I have been doing what I like to do, the work which gives me more job satisfaction and of-course the MONEY as well!
We have been aiming for two steady income streams, active as well as passive incomes. I get Advertisement revenues (active income) from my blogging work and have been planning to achieve the same quantum of money through my real-estate investments. Glad to inform that we will soon be going to achieve it!

Cash Flow Planning & Budgeting

My spouse and myself, we both know the exact cash inflows and cash out-flows every month (planned ones). This helps us to save, invest and plan well.
Whenever there is a major life event happens, we maintain an Expense book to track our family's expenses. For example : After getting married, we tracked our living expenses for one full year. Recently, after relocating from Bengaluru to my home-town in Andhra Pradesh, we tracked our living expenses for 6 months, to know the difference in cost of living in Bangalore Vs my home-town (it's a small town).

No Debts (Loans)

Since my childhood I have been hearing my mother saying that if we have to acquire/buy anything by taking a loan then we do not deserve having it, as of now. Personally, even I do not like taking loans, hence never took any type of loan till date. (May be, this is not applicable for an Education loan!)
The only 'Credit' I have is 'Credit Card balance'. I use credit card (have only one card) to pay all my utility bills. But, we make sure to pay entire outstanding balance every month, well before the due date and there has been no late payment or defaults since 2004. I check my

credit report

once in a year.
For me, family always comes first! They have been supporting me in whatever I do and its my responsibility to earn, save and invest adequately for their well-being (financially & non-financially). I make sure to discuss about these investment principles very often and also share all the investment details with my family members. In fact, all the major investment decisions are taken together.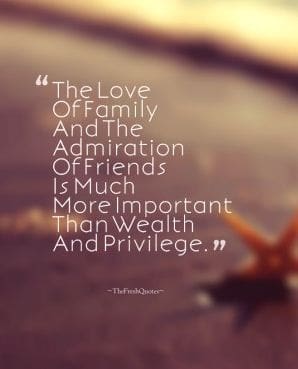 Now that you know my personal financial planning principles, it's time to share yours! Kindly share the investment principles that you follow. Cheers!
Continue reading :
(Image courtesy of Stuart Miles at FreeDigitalPhotos.net) (Post published on : 23-August-2017)