LIC has recently launched their new single Premium Pension plan called ' LIC Jeevan Shanti' (LIC Plan No. 850). It offers the guaranteed pension to the policyholder, with options like an immediate pension or deferred pension.
"What is a Single Premium Plan? – It is the insurance policy where you pay insurance only in the first year but continue to enjoy the life cover and other plan related benefits throughout the term of the policy.
With 'Financial Year end' fast approaching; most of the investors look out for investment avenues during Dec to March, to save Taxes.
I have observed that LIC's Jeevan Shanti plan is being aggressively marketed/promoted by Advisors/Agents. The features of this plan that are being highlighted in marketing materials are as below;
Life Long Guaranteed & Regular Income
Guaranteed Annuity Rates
Guaranteed Additions during Deferment Period
Make one time investment and get Guaranteed life long income….and so on..
The above features are really enticing for you to invest in Jeevan Shanti, am I right? So is it worth investing a lump sum money as a single premium, in this new pension plan? Is LIC Jeevan Shanti a best pension plan? Let's discuss..
LIC Jeevan Shanti – Key Features & Plan Illustration
Let's first understand how this kind of pension plan works with two main concepts – i) What is Deferred Pension? & ii) What is Immediate Annuity (pension)?
Under a deferred annuity pension plan, you make payment to the insurance company (in form of a single premium or regular premium). The money gets invested as per the investment mandate of the plan. After the end of the deferment period, you (policyholder) will start receiving the Annuities (periodic pension).
For example : A policyholder (aged 40 years) pays Rs 10 lakh as a Single premium and opts a deferment period of 20 years (tenure). The Insurer (LIC) invests this lump sum amount and guaranteed additions (like bonuses) gets accrued during this deferment period. Once the policyholder attains 60 years, the pension payment period starts and continues for his/her life-long.
Death benefit is available during Deferment period as well as Annuity payment period under 'Deferred Annuity options' of Jeevan Shanti.
Death Benefit: Death Benefit (applicable only in case of Deferred Annuity) shall be, Higher of :
Purchase Price (single premium) plus Accrued Guaranteed Additions minus Total annuity payments made till date of death, if any (Or)
110% of Purchase Price.
Under an immediate annuity plan, you pay a lump sum amount once and the insurance company pays you a pension for life. The pension payment starts immediately on purchase of insurance policy. The insurer will pay you a pension for life.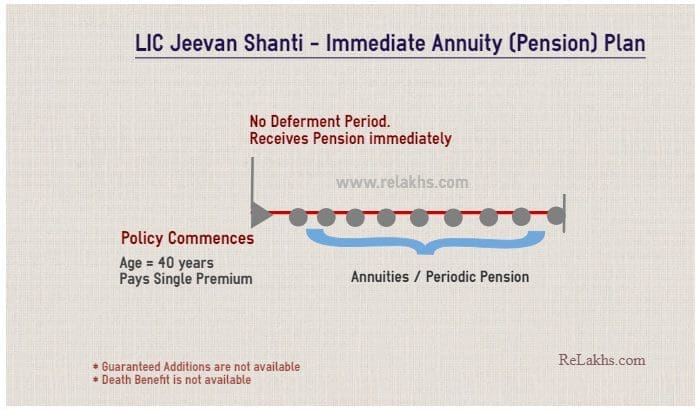 For example : A policyholder (aged 40 years) pays Rs 10 lakh as Single premium and opts an immediate annuity payment plan/option. The Insurer (LIC) pays you Pension immediately.
Kindly note that GA and death benefit are not available under the Immediate Annuity plan options.
---
Latest Update : LIC is soon planning to stop offering the 'immediate pension' option under 'Jeevan Shanti' plan. LIC launches single premium plan with immediate annuity option 'LIC Jeevan Akshay VII Pension Plan (857) on 25th August 2020. Read more @ LIC Jeevan Akshay VII Pension Plan (857) – Details & Review
---
LIC Jeevan Shanti offers different kind of annuity variants under Immediate and Deferred Plans. You may kindly download the product brochure (for detailed features & plan options) by clicking on the below image.
LIC Jeevan Shanti – Illustration & Returns Calculation
Let's analyze the returns part with an Illustration.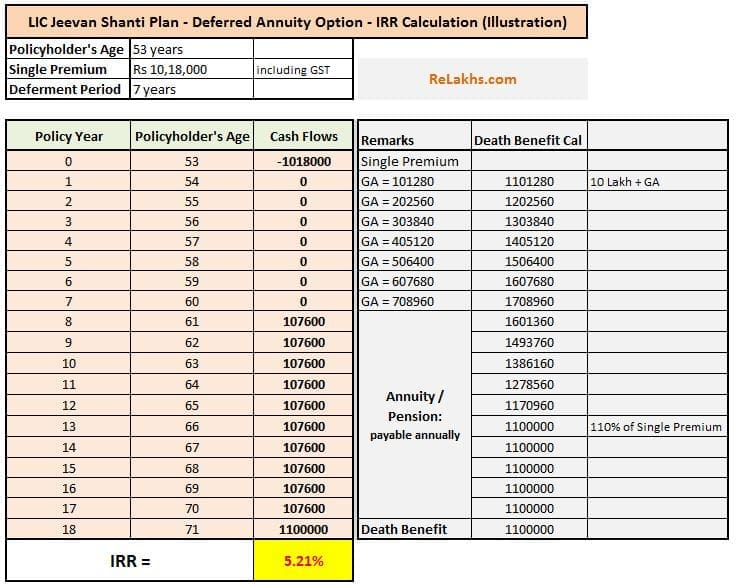 Let me now explain the above calculation with an illustration. Mr Shantiram (aged 53 years) invests LIC Jeevan Shanti for a single Premium of Rs 10 lakh. He opts for 7 years as a deferment period and wishes to receive the annuity (pension) when he completes 60 years of age.
The Guaranteed Additions gets accrued till 7th year of policy and he starts receiving Pension amount of Rs 1,07,600 p.a. from 8th policy year onwards.
Unfortunately, he gets expired after attaining 71 years of age and his nominee receives a death benefit of Rs 11 lakh.
In this scenario, if we calculate the Internal Rate of Return on his investment then it comes around 5.21%.
LIC Jeevan Akshay Pension Plan Vs LIC Jeevan Shanti – LIC already offers a Pension plan called 'Jeevan Akshay'. Jeevan Shanti provides both immediate and deferred annuity option, while Jeevan Akshay provides only immediate annuity. So, a person who needs immediate pension may choose any of the two plans. But the annuity rate can be slightly higher in Jeevan Akshay.
Should you invest in LIC's Single premium pension plan – Jeevan Shanti?
Why (not) to invest in LIC Jeevan Shanti?
I am assuming that you now have a fair idea on how this new pension plan from LIC works and let's discuss if this is the right pension plan for you ;
Age & Tenure : The quantum of your pension is highly dependent on factors like Age, deferment period, type of plan (annuity variant) etc.,

Higher Age : For immediate annuity variants, the interest rate (annuity rate) depends on your age and the annuity variant. The Annuity rate will increase with the age of the Policyholder.

A 30 year old person is likely to receive pension for many more years (as compared to a 60 year old). Therefore, the annuity rate will be lower for a 30 year old and higher for a 60 year old. The insurance company pays a higher rate when its liability is lower.

Deferment Period : For the deferred annuity variant, the annuity rate shall mainly depend on age and also the quantum of deferral period and the age of the second annuitant (in case of joint life policies). So, Annuity rate will increase with the increase in the deferral period.
If you are young and/or have a time horizon of say 10+ years, advisable not to consider investing in a Pension plan. There are better investment alternatives.
Annuity Rate : Kindly remember that the pension amount is dependent on the annuity rates. The current prevailing annuity rates are very low (can be in the range of 5% to 7%).

(What is annuity rate? – In return for a lump sum; the money you have saved in your pension pot, an annuity provider (insurance company) will give you an annual income for the rest of your life).
I personally believe that it is like you accumulate wealth and lose all the wealth to Annuity Plan Provider.

Guaranteed Additions : The term guaranteed additions has been coined by the Insurer just to explain the interest that is earned on the initial investment over the years that a policyholder defers annuities. Kindly don't get too excited by looking at the term 'Guaranteed'. The annuity rate can be very nominal.
Return on Investment : The marketing materials shown by most of the Agents/ financial intermediaries just ignore the Time Value of money concept. According to the numerous illustrations/flyers being used by agents to sell the plan, show rates as high as 10%-20% are achievable on the initial lump-sum investment. However, a closer inspection of the available data reveals these rates to be nothing but ploys used to lure the investor.

For example, below is one such illustration (agent's training material) that I have found on Social media. As per this image, the policy holder can get double digit return (annuity rates) under most of the scenarios, which is very mis-leading.
Real Rate of Return : Annuity (pension) payments are not adjusted to Inflation rate. (Just because you have retired does not mean that Inflation also retires. In a growing economy like India, we can expect positive Inflation rate for the next 20 to 30 years.) So, when you are withdrawing money or taking pension you need to factor-in the Inflation rate. You got to consider Real Rate of Return and not just Annuity rate during Withdrawal stage (Retirement or Consumption phase).
Liquidity : Kindly note that you can not exit from this Product very easily (except in few options). The Surrender benefit is available only in very few annuity variant options. But, I have noticed that most of the Agents are mis-leading the prospective investors in this regard. Also, Surrendering the pension plan before maturity has serious tax implications.
Tax Benefit u/s 80c : Investment under LIC Jeevan Shanti plan is eligible for tax benefit under Section 80CCC. Benefit under Section 80CCC comes under the overall limit of Rs 1.5 lacs (only) under Section 80C.
Death Benefit : Kindly note that Death Benefit is available under 'Deferred' annuity variants only.
Investment objective : If your investment objective is to get adequate life cover then LIC Jeevan Shanti is not a right choice for you. You can consider buying a pure Term Life Insurance Plan.
Last but not the least, Annuity Income is taxable as per your applicable tax slab rate.
Who can invest in LIC's new Single premium pension plan – Jeevan Shanti?
I believe that we have gone through enough reasons for not to invest in LIC Jeevan Shanti. But, who actually can consider investing in this type of pension plan, let's discuss ;
If you want a fixed pension for life-long and do not want to take any 'interest rate' risk, you can consider this plan.
If you are OK with annuity rates of around 4 to 6% then this plan is for you.
If you are an NPS Tier-1 investor then you need to mandatorily invest 40% of your retirement withdrawal corpus in an Annuity product. In such a scenario, can consider investing in LIC Jeevan Shanti.
If you have lump sum corpus (can be your retirement corpus) and would like to pick an annuity (especially immediate annuity option) then you can consider investing a portion of your lump sum corpus in LIC Jeevan Shanti. But, kindly do not invest entire corpus in this product alone. There are better alternatives as well, like;

Senior Citizen Savings Scheme
Bank Fixed Deposits
NCDs & Bonds
Debt or Hybrid Mutual Funds (relatively riskier options) etc.,
There is no doubt that you need to plan for your retirement. But, you may do it with investment products which are more flexible, transparent, simple and easy to understand. If I have to invest for my Retirement, I will give it a miss.
I hope you find this post informative. Do share your views on LIC Jeevan Shanti Pension Plan. Cheers!
Continue reading :
Post first published on : 21-December-2018