LIC's single Premium Pension plan ' LIC Jeevan Shanti' (Plan No. 850) is currently one of the popular Pension plans. It offers the guaranteed pension to the policyholder, with options like an immediate pension or deferred pension.
However, LIC is soon planning to stop offering the 'immediate pension' option under 'Jeevan Shanti' plan.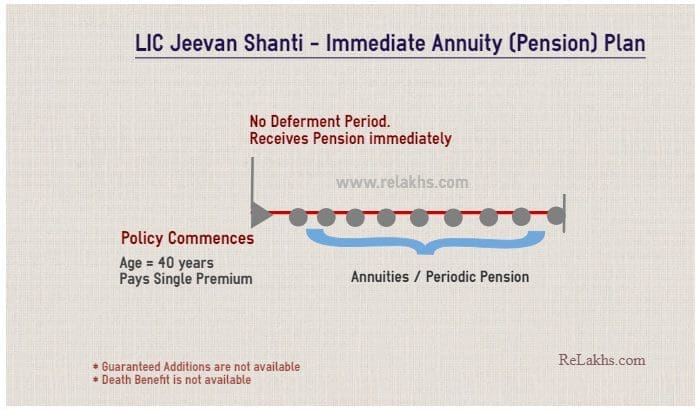 LIC is now proposing to launch new single premium plan – 'LIC Jeevan Akshay VII Pension Plan (857) on 25th August 2020. It offers various versions of 'immediate pension'.
LIC Jeevan Akshay VII Pension Plan – Key Features
Below are some of the key features of LIC's new pension plan – Jeevan Akshay VII;
| | |
| --- | --- |
| Minimum Purchase Price | Rs 1,00,000 |
| Maximum Purchase Price | Not Applicable |
| Premium Payment | Single (one-time) |
| Annuity Payable Mode | Monthly, Quarterly, Half-yearly & Yearly |
| Minimum Entry Age | 30 years |
| Maximum Entry Age | 85 years |
| Joint life cover | Available |
LIC Jeevan Akshay VII Pension Plan Features
How does an Immediate Annuity Plan work?
Under an immediate annuity plan, you pay a lump sum amount once and the insurance company pays you a pension for life. The pension payment starts immediately on purchase of insurance policy. The insurer will pay you a pension for life.
For example : A policyholder (aged 40 years) pays Rs 10 lakh as Single premium and opts an immediate annuity payment plan/option. The Insurer (LIC) pays you Pension immediately.
Kindly note that Guaranteed Additions and death benefit are generally not available under the Immediate Annuity plan options.
LIC Jeevan Akshay VII Pension Plan offers different kind of annuity variants under Immediate Plan. (Note that annuity or pension amount is a taxable income.)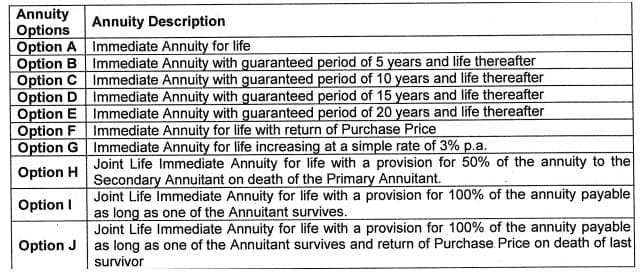 The maximum entry age for Option-J alone is 100 years.
LIC Jeevan Akshay 7 New Pension Plan | Illustration & Returns Calculation
Below is an illustration of annuity payment under different plan options.
Example : Jeevan Akshay Plan for a 50 year old male and yearly annuity payment mode.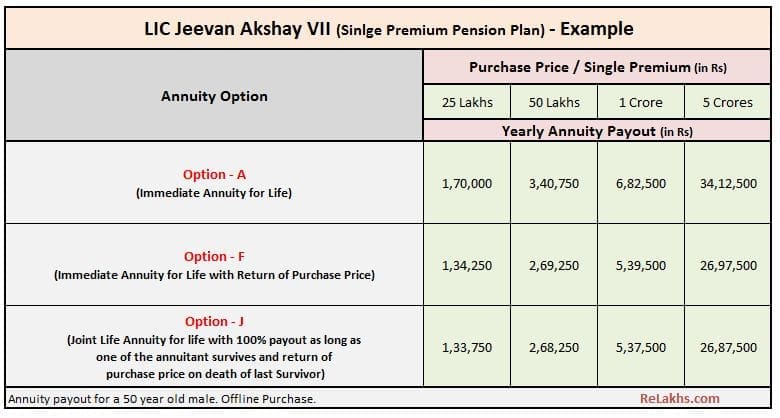 Once the Premium quotes are available, this section will be updated with IRR calculation ….
Who can invest in LIC's new Pension Scheme – Jeevan Akshay VII?
If you want a fixed pension for life-long and do not want to take any 'interest rate' risk, you can consider this plan.
In case, you are not worried about the impact of 'inflation' on your purchasing power then you can consider this plan.
If you are OK with annuity rates of around 4 to 6% then this plan is for you.
If you are an NPS Tier-1 investor then you need to mandatorily invest 40% of your retirement withdrawal corpus in an Annuity product. In such a scenario, can consider investing in this LIC New Pension plan.
If you have lump sum corpus (can be your retirement corpus) and would like to pick an annuity (especially immediate annuity option) then you can consider investing a portion of your lump sum corpus in LIC Jeevan Akshay VII plan. But, kindly do not invest entire corpus in this product alone. There are better alternatives as well, like;

Senior Citizen Savings Scheme
Bank Fixed Deposits
NCDs & Bonds
Debt or Hybrid Mutual Funds (relatively riskier options) etc.,
If you are young and/or have considerable 'earning phase' of your life is still available, you may plan your retirement with better investment alternatives.
There is no doubt that you need to plan for your retirement. But, you may do it with investment products which are more flexible, transparent, simple and easy to understand.
Continue reading :
(This article is based on the very limited available information. If required, will update/edit the above given information.)
(Post first published on : 20-August-2020)