Unclaimed investments to the tune of around Rs 33,000 Crores are lying with financial institutions like Banks, Life insurance companies, Post office, Provident Fund office, Income Tax departments etc., Let us understand with whom this money is? How are they utilizing it? And how you can reclaim it?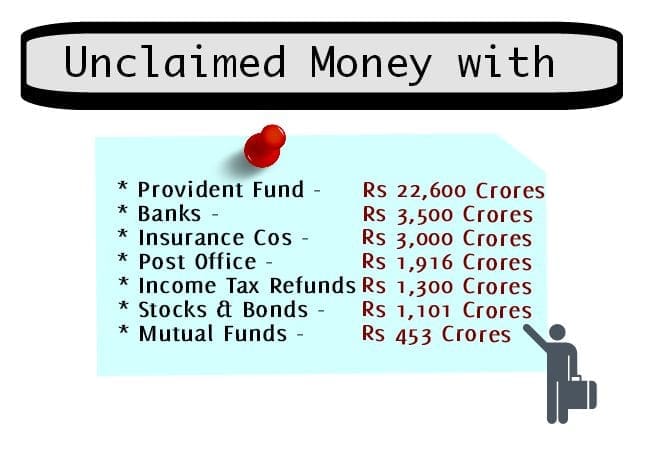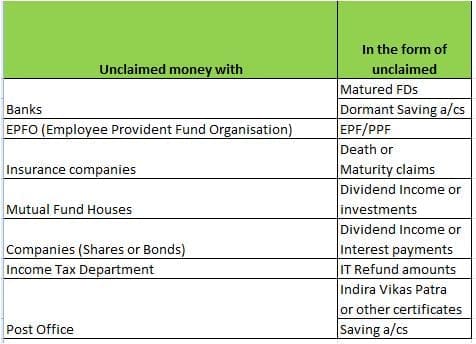 What do financial institutions do with the unclaimed money? And how you can reclaim it?
Banks:
The maturity proceeds of unclaimed Bank Fixed Deposits will earn the savings bank rate of interest. If you withdraw the maturity amount of a forgotten FD then you may receive only savings bank interest rate from the date of maturity. If you agree to reinvest the proceeds then you may get the applicable FD interest rates from the date of maturity
The interest on Savings bank accounts is credited irrespective of whether the bank account is operative or dormant
As per the Reserve Bank of India (RBI), the bank deposits which have not been claimed for 10 years or more will be transferred to 'Depositor Education and Awareness Fund Scheme.'
How to Claim old Bank Fixed Deposits? – Approach the bank with the FD receipt / bank account no / passbook. You may have to submit photo identification proofs (KYC docs). If you are representing your parents then you may have to submit proof of being the legal heir.
Mutual Funds:
The mutual Fund houses issue dividends on a regular basis. Earlier, they used to issue cheques and send them to Unitholders' addresses. Investors who have not updated their communication addresses or bank account details might not have claimed the dividend cheques.
The mutual funds keep the unclaimed dividends for three months. After that, they are reinvested in the money markets.
The Mutual Fund houses can invest these amounts for three years. After that they have to transfer the gains made on these re-investments to Investor Education fund.
Investor can claim the dividend money anytime. The principal amount with gains earned in 3 years will be paid back.
They may charge upto 0.5% on the dividend amount when the unit-holder claims the dividend.
How to Claim unclaimed Mutual Fund Dividends? – You should have the folio no. of the mutual fund investment. Approach the mutual fund house with folio no. If the investor is no more then the nominee has to submit the required proof of legal heir documents.
Post office:
The forgotten post office deposits or accounts earn interest only for two years after the maturity period. Only Savings bank account rate is paid.

How to Claim old & forgotten Post office Deposits?

– You have to approach the post office where the account was opened. You have to submit the passbook or the post office certificates along with the KYC documents.
Life insurance:
It is highly advisable to claim the maturity amounts or death claims on time with the insurance companies.
A delayed claim may lead to lot of investigation by the insurance companies. It may become a sticky issue
How to claim Life Insurance policy maturity amount? – Approach the home branch or zonal office of your life insurance company. You have to submit the policy bond and bank account details to them.
Provident Fund:
Every time you change a job, you might have opted to withdraw / transfer / do nothing with the EPF balance. If you have ignored the account then it is entitled to get interest amount only for three years.
How to claim? – You can submit EPF transfer form in 3 copies to your present employer. One copy is sent to the EPF Commissioner. Another one is sent to your old employer and third copy will be retained by your present employer. If you are unemployed currently then you may to approach the regional PF office.
Stocks & Bonds:
Before dematerialization (Online mode) the shares/bonds were issued and held in physical form. There is a fair chance that you (or your family members) might have completely forgotten about these investments.
Companies issue dividend warrants (interest payments in case of bonds) on a regular basis. The unclaimed dividend money is shown as "unclaimed dividend" on company's annual report. This procedure is followed for seven years after-which the money is transferred to Investor Education and Protection Fund.
How to Claim? – You have to contact the company's registrar or share transfer agent. You can find the registrar's contact details on the company's website. You have to provide them with stock folio numbers (or bond certificate),bank account details and KYC proofs.
Income tax refunds:
Income Tax department is now remitting all the tax refunds directly to the assessees' bank accounts. Till few years back, the department used to send refund warrants in the physical form.
Interest amount is not paid on the unclaimed tax refunds (once the refund cheque is issued)
How to claim? – If you have filed the tax returns online (e-filed) then contact the Bangalore Centralized Processing Centre (CPC) with acknowledgement number. If you have filed the returns manually then contact the local PRO (Public Relations Officer) at the Income Tax office. You can also submit your grievance online at

e-Nivaran portal

.
To avoid the above situations, it is advisable to follow below points while making investments:



Maintain a file or Excel-sheet with all your investment details. (Consider creating a portfolio on portals like www.moneycontrol.com )
Monitor and Track all your investments regularly
Try to invest online wherever and whenever it is possible
Update your latest contact details with your bank or other financial institutions
Keep your family members updated about all your investments
Assign nominees for all the investments
File your income tax returns online (e-file)
( You may like visiting my post on " Do you know this interesting fact on Bank Fixed Deposits?")
Hope this post is useful to you. If you have forgotten about any of your old investments then reclaim now. Do not postpone!
(References : RBI, Central Information Commission (CIC), The economic Times documents. Unclaimed Income tax refunds are for Karnataka circle. Figures are as of 2012/2013)
(Image courtesy of Stuart Miles / FreeDigitalPhotos.net)