The Reserve Bank of India (RBI) has recently released its third bi-monthly rate review of financial year 2019-20. The key announcement under the policy is the rate cut by 35 basis points(1 bps is 0.01%). This is the fourth consecutive rate cut from RBI , after a rate cut in February, April and June of calendar year 2019.
In view of the above, most of the banks and financial institutions have been reducing the interest rates on their deposits schemes, Bonds, NCD Public Issues etc.,
Contrary to some rate reduction that many were expecting, the Central Govt. has decided to keep 'Post Office Small Saving Schemes Interest rates Oct – Dec 2019' unchanged.
The National Savings Schemes (NSSs) are one of the very popular saving schemes in India. These are regulated by the Ministry of Finance. They offer complete security of investment combined with attractive returns.
These schemes also act as instruments of financial inclusion especially in the geographically inaccessible areas due to their implementation primarily through the Post Offices, which have reach far and wide.
It is estimated that nearly $137 billion or over Rs. 9 lakh crore are tied up in small savings schemes.
Some of the very popular schemes which fall under NSS are as below;
PPF (Public Provident Fund)
Monthly Income Scheme (Monthly Income Account)
Senior Citizen Savings Scheme
KVP (Kisan Vikas Patra)
NSC (National Savings Certificate)
Time Deposits &
Recurring Deposits
Latest Post Office Small Saving Schemes Interest rates Oct – Dec 2019
The latest rates of interest applicable on various small savings schemes for the quarter from October to December 2019 effective from 1.10.2019 would be as below;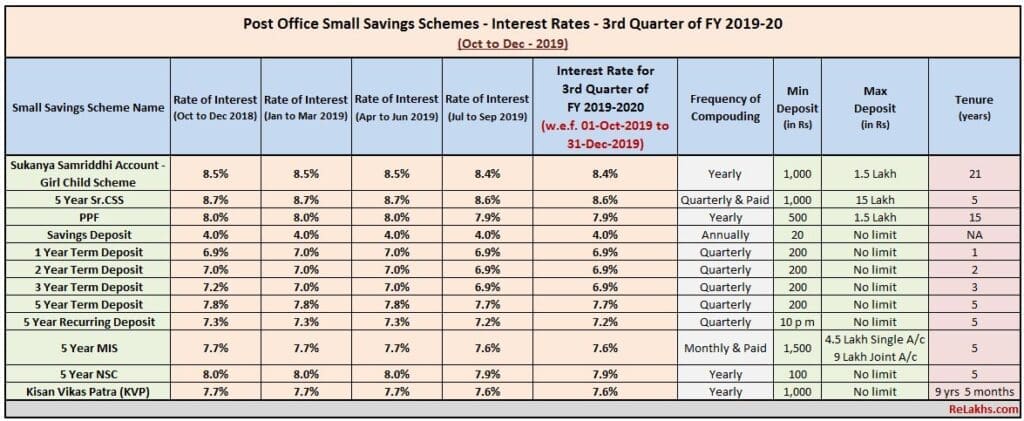 The latest interest rate on Sukanya Samriddhi Scheme (SSA ) is 8.4%.
The new rate of Interest on PPF (Public Provident Fund) would be 7.9%.
The interest rate on Senior Citizen Savings Scheme (SCSS) has been retained same at 8.6%.
New interest rate on Kisan Vikas Patra (KVP) would be 7.6%.
The rate of interest on 5 year National Savings Certificate (NSC) is 7.9%.
New interest rate on post office MIS (Monthly Income Scheme) is 7.6%.
The rate of interest on a 5 year Post Office RD (Recurring Deposit) would be 7.7%.
Kindly note that interest rates of Small Savings Schemes are now reviewed and reset (if any) on a quarterly basis.
The revised rates (if any) are applicable for all the new investments MADE during the respective period.
For the existing investments under all the schemes (EXCEPT PPF & SUKANYA SAMRIDDHI SCHEME), the contracted interest rate remains unchanged until maturity.
Continue reading :
(Post first published on : 01-Oct-2019)