LIC has launched 2 new plans in the calendar year 2018. In this post I have tried to list down the important features, details and my recommendations on all LIC New Plans that were launched in 2018-2019.
From January 2018 to December 2018, LIC has launched one Money-back plan and one Single Premium Guaranteed Pension Plan. These new plans are namely; LIC Bima Shree & LIC Jeevan Shanti.
Before discussing more on the LIC New Plans list, let us understand more about the different types of Traditional Life Insurance plans.
What is an Endowment plan? – It is a combination of insurance and investment. The insured will get a lump sum along with bonuses (if any) on policy maturity (or) on death event.
What is an 'Whole-Life Insurance Plan'? – It is a life insurance policy which is guaranteed to remain in force for the insured's entire lifetime. The Sum assured is paid to the Policyholder's nominee in the event the insured dies.
What are Money-back policies? – They provides life coverage during the term of the policy and the maturity benefits are paid in installments by way of Survival Benefits (money-back payments).
What are Limited Premium Payment Insurance Plans? – A limited premium payment plan is a plan where you pay the premium for a shorter span of time and enjoy the benefits of an insurance cover for a long time.
What is a Single Premium Plan? – It is the insurance policy where you pay insurance only in the first year but continue to enjoy the life cover and other plan related benefits throughout the term of the policy.
What is Term Life Insurance Plan? – Term insurance is the simplest and most fundamental insurance product. These insurance plans are designed to ensure that in the event of the policyholder's death, the family gets the sum assured (the cover amount). Term plan provides risk coverage for a certain period of time (policy term/duration). If the insured dies during the time period specified in the policy and the policy is active – or in force – then a death benefit will be paid. It is the cheapest form of Life insurance in terms of premium.
You may go through my previous Annual Reviews : LIC's New Plans List 2016 & LIC New Plans List 2017.
LIC New Plans list 2018-19 – Snapshot & Review
I have listed down the important features of LIC of India's new plans that were launched in 2018 along with my recommendations (whether to ignore a plan or to buy).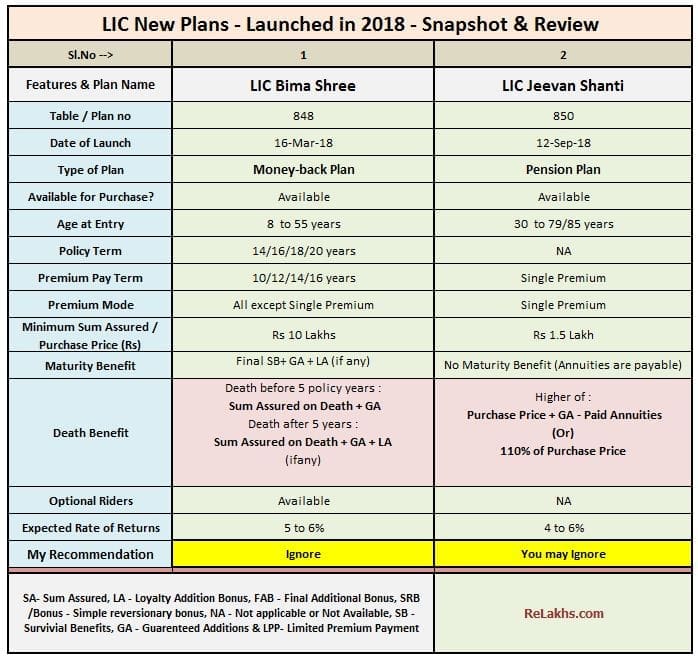 LIC Bima Shree (Plan No. 848) :
LIC has launched Bima Shree plan in Mar, 2018.
Bima Shree is a Non linked, Money back, Limited premium payment with guaranteed additions plan. This plan is specifically designed for HNIs (High Net-worth Individuals).
The Maturity benefit under this plan is "Sum Assured on Maturity" along with Guaranteed Additions + Loyalty Addition (LA), if any, will be payable. Where "Sum Assured on Maturity" is equal to Final Survival benefit amount.
The expected returns on this plan can be around 5 to 6%. But do remember that the returns are highly dependent on the LA rates.
For more details on this plan, kindly visit this link – 'LIC Bima Shree – New Moneyback Plan | Features, Review & Returns Calculation.'
If you have already invested in this policy, you may let it lapse (if your requirements are higher life cover and decent returns on maturity).
If you are planning to buy this plan, ignore it.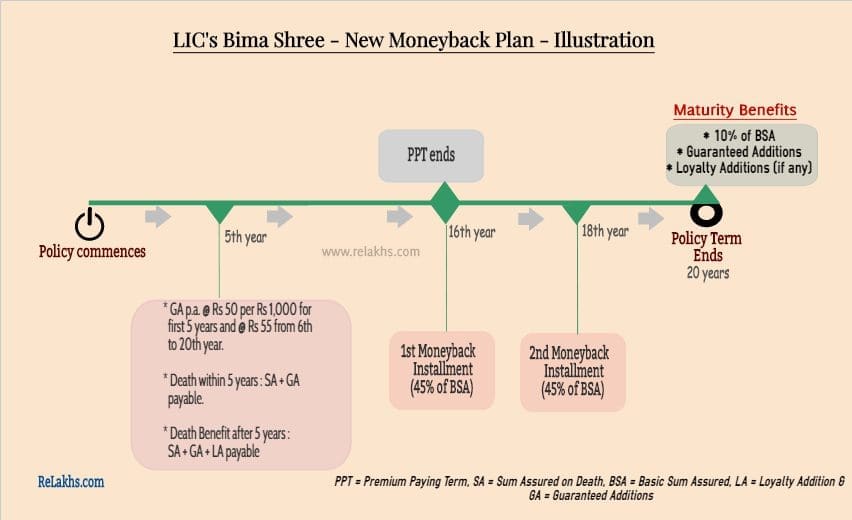 LIC's Jeevan Shanti – Single Premium Guaranteed Pension Plan (No.850) :
LIC has launched this new pension plan in Sep, 2018.
Jeevan Shanti is a Single Premium guaranteed pension plan. This plan offers the guaranteed pension to the policyholder, with options like an immediate pension or deferred pension.
Death benefit is available during Deferment period as well as Annuity payment period under 'Deferred Annuity options' of Jeevan Shanti.

Death Benefit: Death Benefit (applicable only in case of Deferred Annuity) shall be, Higher of :

Purchase Price (single premium) plus Accrued Guaranteed Additions minus Total annuity payments made till date of death, if any (Or) 110% of Purchase Price.

The expected Internal rate of return on LIC Jeevan Shanti can be in the range of 4 to 6%.
For more information on this plan, kindly visit this link – 'Why (not) to invest in LIC's new pension plan – Jeevan Shanti?'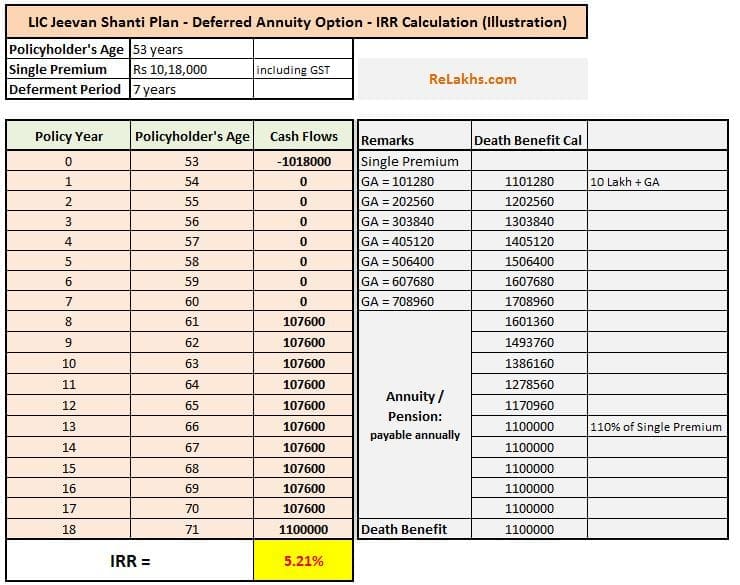 My standard suggestions :
Returns : Are you investing in these kind of plans for maturity returns? – The traditional life insurance plans can offer returns in the range of 4 to 6%. Personally, I believe that this is a very low return on investment, considering the fact that one has to remain invested for 10+ years. So, unless you are content with low returns and also have adequate life cover, these kind of conventional insurance plans may not be for you. (Read : 'Traditional life insurance plan – a terrible investment option?')
Life insurance cover : Are you investing in these kind of plans for insurance cover? – The main point to note here is, 'quantum of life cover'. These kind of plans are very costly to get high sum assured. So, if your requirement is to get adequate life cover, affordable Term insurance plans are the right choice.
Tax Saving : Are you investing in these kind of plans for tax saving under section 80c? – if that's the case, even a long term Small Savings Scheme like PPF (Public Provident Fund) can be a better choice than traditional life insurance plan. (Read: 'PPF + Term plan Vs Traditional life insurance plan'). You can also consider investing in Best ELSS tax saving mutual funds for long-term goals.
Pension : Are you investing in these kind of plans for periodic Pension (Annuities)? –

The quantum of your pension is highly dependent on factors like Age, deferment period, type of plan (annuity variant) etc.,
Kindly remember that the pension amount is dependent on the annuity rates. The current prevailing annuity rates are very low (can be in the range of 5% to 7%).
Annuity (pension) payments are not adjusted to Inflation rate.
You got to consider Real Rate of Return and not just Annuity rate during Withdrawal stage (Retirement or Consumption phase).
Surrendering a pension plan before maturity has serious tax implications.
Last but not the least, Annuity Income is taxable as per your applicable tax slab rate.
Generally, December to March is the peak season for the life insurance companies in India. Most of the life insurance plans are offered as 'tax-saving cum investment' schemes. So, kindly be aware of the pros & cons of the financial products before you invest.
Kindly share your view son LIC New Plans List 2018-19. Cheers!
Continue reading :
(Featured Image courtesy of bplanet at FreeDigitalPhotos.net) (Post published on : 05-January-2019)