There are different types of Provident Funds (PFs) which can be used by an individual for investment and saving purposes. These are – i) Statutory Provident Fund or General Provident Fund (GPF), ii) Recognized PF or EPF, iii) Unrecognized PF & iv) Public Provident Fund (PPF).
The rules related to subscription, withdrawal and taxability of Provident Fund (PF) vary depending on the type of Provident Fund.
The GPF Withdrawal rules have been very restrictive. The Central govt has now raised the GPF withdrawal limits and also is offering much simplified withdrawal procedure.
This can be beneficial to around 50 Lakh Central Govt employees.
What is GPF (General Provident Fund)?
GPF is also known as Statutory Provident Fund (SPF). The key points on GPF are;
These are maintained by Government / Semi Govt bodies, Railways, Universities, Local Authorities etc.,
The contributions made by the employer are exempted from income taxes in the year in which contributions are made.
The contributions made by the employee can be claimed as tax deductions under

section 80c

.
Interest amount credited during the financial year is not treated as income and hence it is exempted from income tax.
The redemption amount at the time of retirement is exempted from tax.
If an employee terminates the PF account, the withdrawal amount too is exempted from taxes. Same is the case with resignation.
New Rules & guidelines on GPF Withdrawal
Below are the latest GPF withdrawal rules, options & guidelines;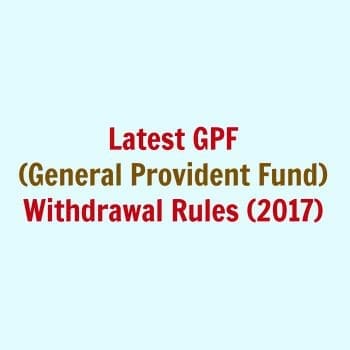 Service period : The subscribers of GPF can now withdraw the fund for select purposes after completing 10 years of service, as against 15 years of service earlier. Below are the purposes for which withdrawals from GPF will be allowed;

Education Expenses : The GPF can be taken for education — including primary, secondary and higher education, covering all streams and institutions. Earlier, a subscriber could withdraw GPF for courses beyond the high school stage only.

Obligatory Expenses

: It has been decided to permit withdrawals from the fund by the subscriber for obligatory expenses viz. betrothal (engagement), marriage, funerals, or other ceremonies of self or family members and dependents, besides illness of self, family members or dependents.
The withdrawal will also be allowed for

housing

including building or acquiring a suitable house or ready built flat, repayment of outstanding housing loan, purchase of house site for building a house, constructing a house on a site acquired, reconstructing or making additions on a house already acquired besides renovating, additions or alterations of ancestral house.
The GPF can be withdrawn for purchase of motor car, motor cycle, scooter etc. or for repayment of loan already taken for this purpose.
The GPF can be withdrawn for purchase of consumer durables also.

Turnaround Time : All types of withdrawals (full or partial) will be paid within 15 days. In case of emergencies like illness etc., the time limit maybe restricted to seven days only.
Extent of Partial Withdrawal amount : For illness, the withdrawal may be allowed up to 90 per cent of the amount standing at credit of the subscriber. For other purposes, up to twelve months pay or three-fourth of the amount standing at credit, whichever is less.
No documents required : You (GPF subscriber) do not have to furnish any documentary proof in support of your request to withdraw from GPF, except for a self-declaration. If you provide the reasons for withdrawal in the declaration form, that would be sufficient. In all cases of withdrawal from the fund , you just need to get it sanctioned by your head of department (HOD)
It has also been proposed that GPF withdrawal of up to 90 per cent of balance will be allowed for government servants who are due for retirement (or) superannuation within 2 years.
These new rules are quite liberal on various purposes of withdrawal, but kindly note that you are saving in GPF for your long term goal like 'retirement'. Hence, withdrawal from your GPF should be considered as a last resort and not a first one.
(Post first published on 09-March-2017)