All these years, SEBI/AMFI has been allowing multiple funds under same fund categories from same AMCs, in order to bring the desired uniformity across mutual funds and to standardize the various MF scheme categories, the SEBI through Mutual Fund Advisory Committee has issued new guidelines on 'new Categorization of Mutual Fund Schemes.'
To meet these new guidelines all the mutual fund houses have already implemented the required changes. Some Schemes have been merged, some have been just re-named and for some their investment strategy/portfolio allocation have been changed.
If you are an existing mutual fund investor, you would have already received notices through email(s) from respective Fund AMCs. These notices give you the information about the proposed fundamental changes being implemented by the fund houses to meet SEBI's new reclassification norms.
In case, you are holding multiple mutual fund schemes from different fund houses then you have to go through a set of emails to understand the mutual fund schemes changes.
For a new MF investor, the task can be a little challenging as he/she has to visit different fund house websites and comprehend the proposed changes.
Whether you are an existing mutual fund investor or a new investor, is n't it good to have an online facility to get a consolidated view of 'Mutual Fund Scheme change list' at one place.
Let's now discuss the 3 different ways to get the Mutual Fund Scheme change list.
3 ways to check Mutual Fund Scheme change list
Check Email(s) from your AMCs : As discussed above, if you are an existing investor, you would have already received email(s) as the one below, informing you about the changes implemented for the funds that you have invested in. Kindly do not delete these emails without going through the details given in them.
The second source is to visit the respective mutual fund house websites and can access the links related to Notices/Downloads/Addendum section to get information on 'MF Schemes re-categorization'.

For example :

HDFC Mutual Funds Website -> Downloads ->

Notices

-> Kindly click on 'Notices' like 'Notice for Change in Fundamental Attributes of Select Equity & Hybrid Schemes'.
Aditya Birla Mutual Fund house website -> Forms & Downloads ->

Addendum

-> 2018 -> 'Notice-cum-addendum dated 14.04.2018 – Categorization and Rationalization of the Schemes of Aditya Birla Sun Life Mutual Fund.'

SBI Mutual Fund AMC Website -> Forms & Downloads ->

Notices & Addendums

-> 'SBI Mutual Fund – Addendum – Scheme Categorization.'

How to get a consolidated view of Mutual Fund Scheme change list? –

A few mutual fund online distribution platforms have provided online facilities to get a consolidated view of the entire mutual fund scheme change list.

For example;

The online facility provided by 'FundsIndia' has the entire list of changes being implemented across all the schemes offered by various mutual fund houses. Click on the below image to visit this online facility.
Using this online facility, you can sort the list based on Scheme name, Fund category (Equity/Debt related) or effective date. You can also download/view 'notices' issued by the respective AMCs.

There are some more platforms like ClearFunds or Upwardly that provide a consolidated view.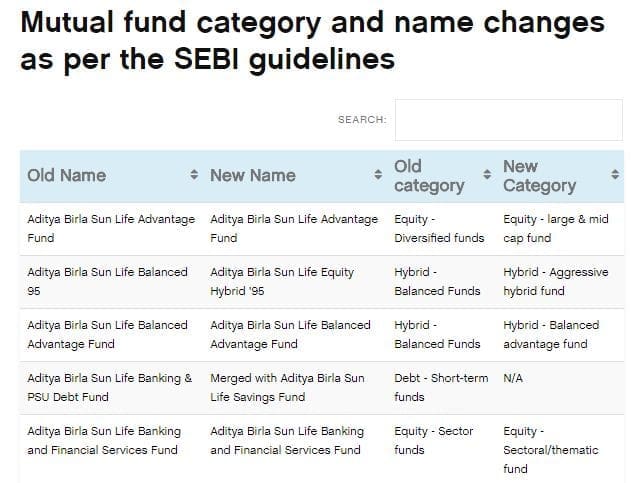 I hope you find this information useful in reviewing/planning your mutual fund investments. Cheers!
Continue reading :
This post is for information and knowledge sharing purposes only. Kindly note that ReLakhs is not associated with any of the financial service providers mentioned in the above article.
(Post first published on : 15-June-2018)