The Government of India rolled out the National Pension Scheme (NPS) for all the citizens of India from May 1, 2009 and for corporate sector from December, 2011.
The Centre made NPS scheme mandatory for all the employees who joined the service on or after January 1, 2004. It has since been adopted by most state governments also. Currently, NPS has more than 1.7 Crore subscribers with total Asset under Management (AUM) of more than Rs. 2 lakh crore.
National Pension System (NPS) offers two types of accounts – Tier I and Tier II.
The Tier 1 account is non-withdrawable till the person reaches the age of 60. Partial withdrawal before that is allowed in specific cases. After attaining 60 years of age, you are allowed to withdraw 60% of the total Corpus amount and at least 40% of the accumulated wealth in the NPS account needs to be utilized for purchase of annuity/pension plan when you turn 60 years.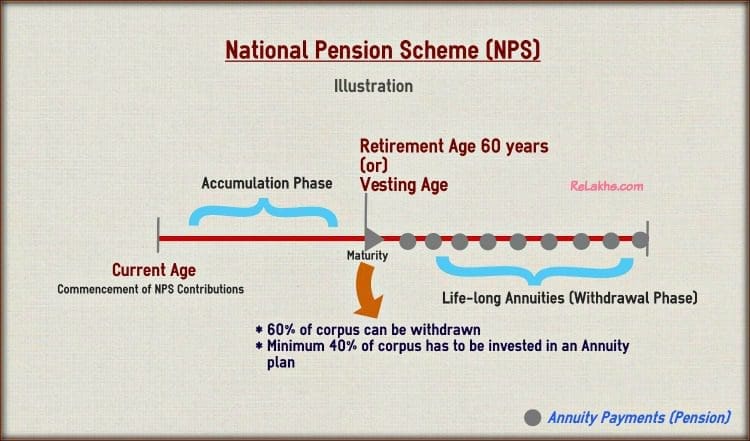 On the other hand, the Tier II National Pension Scheme account is just like a savings account and subscribers are free to withdraw the money as and whenever they require. Tier 2 NPS Account does not qualify for tax rebate under section 80C of the Income Tax Act.
Latest Update : Contribution by government employees (only) under Tier-II of NPS will now be covered under Section 80 C for deduction up to Rs 1.5 lakh for the purpose of income tax provided there is a three-year lock-in period. This is w.e.f April, 2019.
In the latest rule change, PFRDA (Pension Fund Regulatory And Development Authority) has relaxed the withdrawal norms to the effect that now the subscribers can withdraw upto 25% of contributions starting from the third year of opening of NPS (National Pension System) account. These revised NPS Partial Withdrawal rules are effective from January 10, 2018. (As per previous rule, partial withdrawals were not allowed in the first 10 years.)
Latest NPS Partial Withdrawal rules (2018)
The guidelines notified by the pension regulator stipulates the below terms & conditions, purpose, frequency and limits;
Quantum of Partial Withdrawal

: You shall be permitted to withdraw accumulations not exceeding 25% of the contributions made by you and standing to your credit (but excluding contributions made by the employer), as on the date of application of withdrawal.

Purpose of Withdrawal

: As per the guidelines you (NPS Subscriber) can make partial withdrawal for the following purposes:

For higher education of your children including a legally adopted child (or) for self.
Further, individual NPS subscribers who wish to set up a new business or acquire new business will also be allowed to make partial withdrawals from his contributions. (updated on : 04-May-2018)
For

marriage

of your children, including a legally adopted child
You can make partial withdrawal for the

purchase or construction of residential house

or flat in your name or in a joint name of your spouse. In case, you already own a residential house of flat (either individually or in the joint name), other than an ancestral property, no withdrawal under these regulation shall be permitted. (Related article : '

What is an Ancestral Property? Definition & Important Legal rules

')
If you /your spouse, children, including legally adopted child or dependent parents suffer from any

specified illness

, a partial withdrawal request can be submitted by you or any of your family members. (Specified illness – which shall comprise of hospitalization and treatment in respect of the following disease) :

cancer
kidney failure,
Primary Pulmonary Arterial Hypertension
multiple sclerosis,
Coronary Artery bypass graft
Aorta graft surgery
Heart Valve surgery
Major Organ transplant
Stroke
Myocardial Infraction
Coma
Total Blindness
Paralysis
Accident of serious/life threatening nature
Any other critical illness of a life threatening nature as stipulated in circulars, guidelines or notifications issued by the authority from time to time.

Limits : To make a partial NPS withdrawal claim, you should have been contributing to NPS for a minimum period of 3 years. You can withdraw up to 25% of your contributions.

Frequency of partial withdrawals

: You will be allowed to withdraw a maximum of three times during the entire tenure of subscription to NPS.

Tax implications

: Kindly note that partial withdrawals are tax-exempt.
My Opinion on NPS :

A long-term investment option for your retirement planning should ideally have below features;
It should be simple and easy to understand.
Should be flexible.
Should have high liquidity.
Should be a tax efficient product and ideally should fall under

Exempt – Exempt – Exempt category

.
You should be able to withdraw the whole corpus at the time of retirement and you should be allowed to re-invest the corpus as per your choice/requirements.
Retirement planning is a long-term goal, so when we are investing for a longer period, I prefer to invest in a simple, flexible, easy to understand, tax efficient & highly liquid investment option.
If it is mandatory for you to contribute to NPS then you do not have any choice but to contribute. If you want to make voluntary contributions then I believe that NPS is not a great investment avenue with the given product structure & current tax implications.
Continue reading :
Tax Implications of EPF, PPF & NPS Withdrawals (Full / Partial) & Maturity proceeds
(Image courtesy of Mister GC at FreeDigitalPhotos.net) (Source & Reference : PFRDA Circular) (Post first published on : 20-January-2017)